Common Core Takes Another Hit; Bobby Jindal Announces Plan to Pull Louisiana Out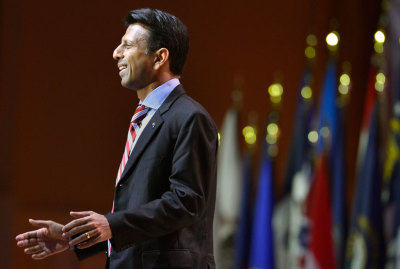 Gov. Bobby Jindal made Louisiana the fourth state to withdraw from the Common Core State Standards Initiative. Jindal announced Wednesday a series of executive orders that will pull his state out of the education standards.
Jindal sent a letter to the Partnership of Assessments for College and Career Readiness, an organization that provides testing for states that have adopted the Common Core standards, asking the organization to withdraw from Louisiana.
"We won't let the federal government take over Louisiana's education standards," Jindal said. "We're very alarmed about choice and local control over curriculum being taken away from parents and educators. Common Core has not been fully implemented yet in Louisiana, and we need to start the process over. It was rushed in the beginning and done without public input."
Jindal also issued a series of executive orders that will enable his state to pull out of the Common Core. One of those, for instance, instructs the Louisiana Department of Education to purchase a new assessment that would not rely upon organizations formed to further the Common Core.
Jindal still needs the support of the Louisiana legislature to replace the Common Core standards with a new set of standards. Louisiana can have high standards without adopting the Common Core, Jindal argued.
"Additionally," he said, "proponents weren't up front about federal involvement in PARCC and Common Core. Now that we understand the federal overreach involved, we need to slow down and make the right decision. Some Common Core proponents suggest that we cannot have high standards without Common Core. That is a false statement. We need a Louisiana test that ensures children are performing at high levels so they can compete not only around the country, but around the world. We can certainly have high standards without giving up control of Louisiana's education system to the federal government.
"If other states want to allow the federal government to dictate to them, they have every right to make that choice. But education is a primary responsibility of states, and we will not cede this responsibility to the federal government."
Louisiana will become the fourth state to withdraw support from the common core, after Indiana, Oklahoma and South Carolina. Forty-five states and the District of Columbia originally adopted the standards.
Jindal may run for president in 2016. Opposition to Common Core will likely help his chances should he do so. Republican activists have denounced the standards as a top-down approach to education that takes away community control.