Controversial televangelist Ernest Angley dies at 99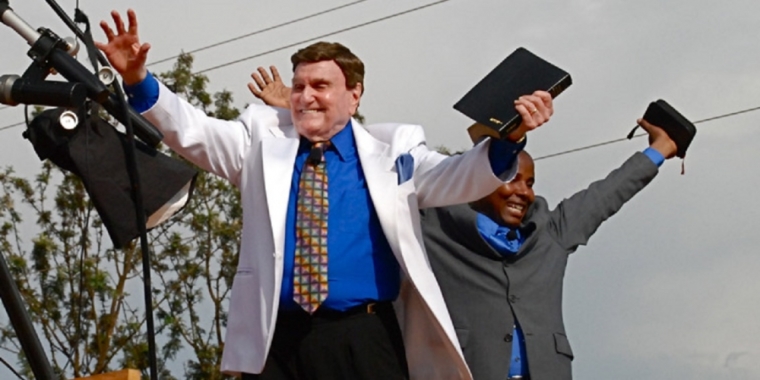 Members of Grace Cathedral in Ohio wept openly in the sanctuary as leaders announced the death of their controversial founding pastor, televangelist Ernest Angley Friday. He was 99.
"First off, we'd like to thank all of you for praying for Rev. Angley, and Rev. Angley made so many sacrifices for all of us, and he showed us so much love," began Grace Cathedral's Rev. Steve Millar in a Friday night service broadcast on Facebook.
"But Rev. Angley, because of his decline this past week, around 4:30 today went to Heaven. Rev. Angley was our father, our pastor. He was an author," he announced through sniffling as audible weeping erupted from the congregation in the background.
Millar said that Angley, who never remarried after his wife, Esther Lee "Angel" Sikes, died in 1970, is reunited with her.
"Angley was dear to our hearts, but we know he's in Heaven now with his wife, Angel, and [her death] was over 50 years ago," Millar stated. "Now he can see his wife [and] he doesn't have any ache and pain in his body."
On Sunday, as the church celebrated Mother's Day and continued mourning the passing of their founder, Rev. Chris Machamer noted that Angley was also reunited with his mother too.
"The Lord called his servant home, and it was such a quick calling. Rapidly, his health went down. And in a matter of a couple of days, he was in Heaven," Machamer said during the livestreamed service. He snapped his finger to indicate how quickly Angley died.
"I was just thinking as they were singing the last song, Rev. Angley's mother had such a great impact on his life growing up down through the years. And it's been many, many decades since he's been able to see his mother. But he's seeing her now."
Angley's church operates campuses in Cuyahoga Falls and Akron, Ohio. His weekly one-hour program "The Ernest Angley Hour" is broadcast both nationally and internationally.
While he has ministered to millions over the years, Angley also attracted attention due to multiple controversies.
In 2017, the church was forced to close its Cathedral Buffet after a U.S. District Court ordered the congregation to pay $388,000 in back wages and damages to more than 200 congregation members who had worked at the restaurant. Even though Angley won an appeal, the restaurant did not reopen.
A report in 2019 also presented 23-year-old recorded evidence suggesting Angley had sexual relations with a man. The scandal, which began in 1996, led to a significant drop in membership at his church. It is unclear how many members remain.
The allegations came to light after a longtime associate pastor suddenly resigned and told friends and family that Angley had touched him inappropriately for seven years.
Angley and two other members of his ministry addressed the allegations during a church service on July 13, 2014, a recording of which was reviewed by The Beacon Journal.
"I'm not a homosexual. God wouldn't use a homosexual like he uses me. He calls me his prophet, and indeed I am …," Angley reportedly said in the recording, according to The Journal.
"They called Jesus a homosexual. Did you know that? And still do because he was with men. Oh, Mary Magdalene and a few women. But you can't stop the people's lies," Angley was quoted as saying. 
Angley, who was also accused of inappropriately touching the genitals of male members, denied touching them at the time but admitted to inspecting their "privates" and asking them to come in for follow-up inspection sessions following vasectomies. 
"I've helped so many of the boys down through the years. They had their misgivings. Sure, I'd have them uncover themselves, but I did not handle them at all," he said in the recording of the service.
"I would tell them how that would work. And they'd have to watch it. I'd have some of them come back to me that I felt needed to. And I would tell them, I would look at them, their privates — I, so I could tell how they were swelling."
Former church members explained at the time that church members were often threatened and bullied into following Angley's orders, which included life-changing decisions that broke up some families. 
The former members accused the pastor of controlling what they read, what they watched on television, who they married and when. 
Pam Cable of Akron, who left the church in 1988, told The Beacon Journal at the time that the "man is a monster."
"He's a monster. And I can't understand why all these years have gone by and nobody's ever really been able to do anything about him," she said. "The people in Akron, Ohio, have a Jim Jones sitting in their backyard. ... These people in his congregation would drink the Kool-Aid if he told them to. They would."