'Conversion Therapy' Warnings Are 'Fake News,' Pulse Nightclub Shooting Survivor Says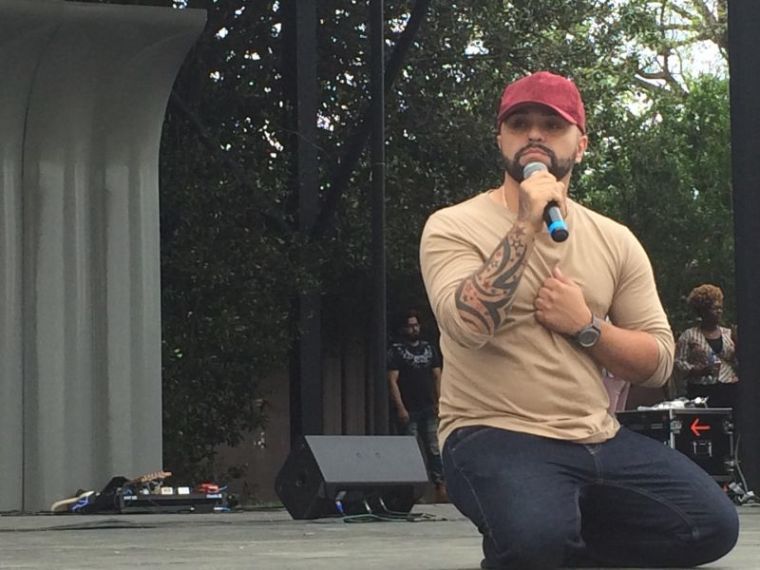 WASHINGTON — A survivor of the Pulse nightclub shooting in Orlando, Florida, believes it's time for Christians to exchange "church Christianity" for "lifestyle Christianity," and that the mainstream media narrative about "conversion therapy" amounts to "fake news."
At the Freedom March, a gathering of men and women who shared their stories of abandoning the lesbian, gay, bisexual, transgender, and queer lifestyles and identity labels, which occurred at the Sylvan Theatre next to the Washington Monument Saturday, Luis Javier Ruiz, who survived the June 2016 massacre at the Pulse nightclub, began his speech by kneeling and proclaiming forgiveness.
"I come as a pastor's child to ask forgiveness of the Church. Because we have kicked out, we have thrown [LGBTQ persons] out, including myself, and I want to ask [for] forgiveness, and I want to welcome the LGBTQ, I want to welcome anybody to come into the Church, to come worship in a safe place."
"Maybe we didn't know how to do it back in the days, but we sure do now. The Holy Spirit is pouring out. And He is raising up a generation with boldness. And I just want to thank Him ... my identity is Jesus."
Ruiz no longer lives or identifies as a homosexual.
He explained that he lost many friends at the Pulse nightclub that night in Orlando, and described the massacre as one of the scariest events of his life. Ruiz stressed that those who hold hateful signs and express hate for homosexuals are "not us."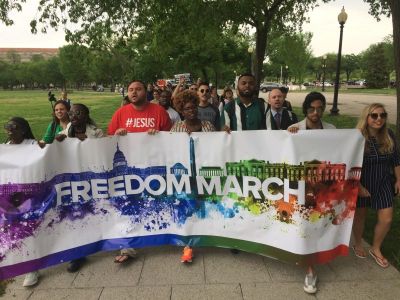 "We love," he said, "and the same love that Jesus gave us when He forgives us on the cross, He also does the same for anybody."
Those in attendance were marching to proclaim their freedom from all kinds of issues, not just from homosexuality, he went on to say.
Ruiz then prayed for God to raise up a generation who will be bold, for men and women who would not compromise nor water down the Word of God, for people to love others radically, and for a revival to be ignited in Washington, D.C.
He told The Christian Post in an interview following his talk that life in Christ is about "falling in love with Him in that secret place and allowing Him to take things off of you, whatever they may be, however they may look."
"The Holy Spirit and Jesus will be the only ones to tell you what you can and cannot do. And of course, reading the Word, because He is the Word," he said.
When asked what he would like to communicate most and what God's heart is for the LBGT community, he said: "I feel like God's heart right now is that he wants your heart. He wants to fall in love with you."
"You are His creation, you are His child, no matter what you're going through. And I believe that as soon as you forget about everything and fall in love with Christ deeply, everything is going to change. It's going to cause you to come out [of the LGBTQ life], and His perfect love that will cast out fear, and boldness."
He added that too many Christians tend to live a "church kind" of Christian faith, "but God is calling us to lifestyle Christianity, and you can only find that and only do that through Christ."
CP asked Ruiz what he makes of the media coverage about him no longer identifying as gay, particularly the reports emphasizing the harms of what is often referred to as "conversion therapy."
"What's that?" he replied with a laugh.
"Honestly, I don't know what that is. I've never been through conversion therapy. I've been through Holy Spirit therapy. That's the only [kind] I know. All they are trying to do is, I think, it's lies. It's fake people and fake news."
"Jesus said 'Follow me.' He didn't give you a list of rules. He said: 'Follow me. So trust Him to do the rest."
Freedom March organizer Jeffrey McCall, who once lived as a gay male prostitute and then as a transwoman named Scarlett, commented to CP following the event that the Freedom March was "a public declaration, a public pushback against darkness in not only our capital but our country," in the spiritual realm.
"It was a public pushback that people can be free not only from homosexuality and transgender lives but from anything. That it is through the power of the Holy Spirit, and it's through the grace of Jesus Christ of Nazareth."
"The heart of God for LGBTQ people is the same that it is for all people. His heart loves them, and He wants all of them. And [what] I want to say to them is: you're so special, you are worth more than rubies and jewels and diamonds."
"This is the Gospel for all people."