Coptic Christians 'Expelled' From Egyptian City, Christian Businesses Vandalized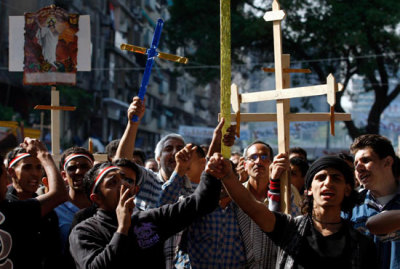 A family of six Christians has been expelled from the southern Egyptian city of Zakaria after they were unable to afford to pay a fine imposed on them after accusations made by Muslims in the region, according to the Assyrian International News Agency.
The incident was sparked when a Muslim family accused Kirollos Sabet, a Coptic Christian, of having an illicit relationship with a Muslim woman. Those accusations caused Muslim villagers to attack and vandalize his family's furniture and household appliance store, breaking items and looting it of many of its goods, the Bishop of Minya, Anba Makarios, described in a statement.
In that incident, while security forces did eventually arrive to halt the attack, they did not prevent some Muslims from verbally threatening Christians and throwing rocks at their homes.
In a "reconciliation" meeting yesterday supervised by the Director of Minya security, the families of the accused man and woman met, along with the "heads of Muslim and Christian families in the region [and] a number of mayors."
Though both families were technically fined — Sabet's family was ordered to pay 300,000 Egyptian pounds, and the Muslim woman's family was told to pay 150,000 pounds — the woman's family was determined too poor to pay, and so her fine was added to the Sabet family total.
After the Sabet family complained about paying the increase, the case's arbitrators expelled Sabet and his five brothers from Zakaria. According to the Bishop, the outcome also emboldened many of the village's Muslim extremists to take to the streets calling for an attack on Coptic neighborhoods, and stoking fears that the incident could reignite a larger wave of Christian-targeted violence in the region.
Zakaria has a population of 4,000 and is evenly split between Muslims and Christians.
Christians living in southern Egypt have been among the most vulnerable citizens of the country; in August pro-Morsi protests left over 70 Christian churches and institutions vandalized, burned or destroyed. While the military has a relatively strong grip over Cairo and most of northern Egypt, they have struggled to keep control in the south, where most of deposed-president Mohammed Morsi's supporters live.
Pro-Morsi supporters also took over the nearby city of Dalga for more than two months in a reign that caused many Christians to flee the town due to fears of violence or a lack of finances, as many were forced by the Islamic extremists to close their businesses.