Coptic Christians Getting Ancient Tattoos Showing They Belong to Jesus Amid Hostilities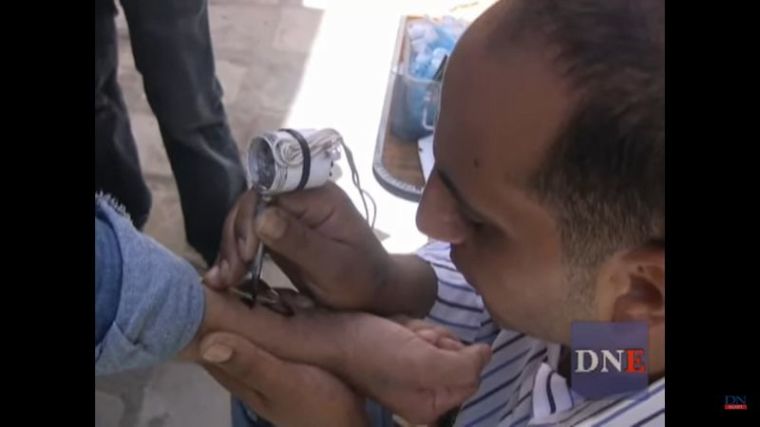 Coptic Christians in Egypt enter into this year's Islamic celebrations of Ramadan under intense pressure, a persecution watchdog group has said, but they are showing their faith in Jesus by continuing a centuries-old tattoo tradition.
Open Doors USA said on Tuesday, the start of Ramadan, that the minority Copts have faced brutal terror attacks on churches and their communities over the past couple of years, with the Islamic State terror group spreading its influence into Egypt.
Instead of cowering in fear, however, many Copts, including children, are preserving the centuries-old tradition of getting tattooed on their wrist with a symbol of a cross.
Originally, when Egypt went from being a largely Christian country to a Muslim one, Christians were tattooed to show their identity and they were required to pay a tax because of their faith, according to the watchdog group.
Today, the Copts are choosing to tattoo their faith as a way to honor the dead and show their faithfulness to Jesus no matter what they are facing.
"To bear a symbol that will never go away means, no matter what, you carry with you a reminder of your commitment to God — and His commitment to you," Open Doors explained.
"The declaration of your faith is public and available for all to see; there is no hiding your allegiance to Christ when it's permanently marked on your hand."
Earlier this week, the Christian community in the village of al-Our in Minya province was finally able to lay to rest the 20 Copts who were beheaded by the Islamic State terror group in February 2015 in a graphic video that shocked the world.
The relatives of the victims hailed the men's decision to stand by their faith in Jesus, despite it costing them their lives at the hands of the Islamic radicals.
"I wanted to see Milad come back from Libya on his feet after his struggle and hard work to earn a living in a harsh life abroad," said 55-year-old Zaki Hanna, the father of one of the victims.
"But thanks be to God, he died a hero, did not beg anyone to spare his life and he and his brothers, the martyrs, did not abandon their faith or homeland."
The bodies of the victims, who have been declared martyrs of the Christian faith, were returned to Egypt from Libya earlier in the week.
Some Christian leaders in Egypt have said that despite the persecution they face, such as the 2017 Palm Sunday twin bombings that left 45 people dead and 126 injured, followers of Christ are winning new converts in the Islamic country.
"The mood is very, very good amongst Christians who are living in Egypt. Not because the situation is good or bad — that is not the reason. We have two kinds of news — earthly news, which is very ugly, very discouraging and I think in the West, you get only the earthly news — a bombing here or there," Rev. Sameh Hanna, associate pastor at the Evangelical Church in Cairo, told Premier in April.
"But there is heavenly news. We know what is going on spiritually. We see things that not everybody is seeing. We see things you are not hearing. We see the multitude coming to the knowledge of Christ from every background, so this brings joy to us."