Costco vs. Walmart Tires – Which Is Cheaper?

Buying tires is a big and costly deal, especially if you like to change all four tires at the same time. Being the bargain hunter I am (see my track record here), I set out with steely determination in my eyes to do my research and get the detailed price breakdown to find out who wins the price war when it comes to cost versus what you get.
Anecdotal accounts of family and friends reveal two big-box stores with a strong reputation for low prices – Costco and Walmart. Before driving to the nearest Costco and Walmart for a price quote, I did research to narrow down and select the exact tire I wanted to avoid the chaos of juggling multiple factors.
I called up my trusty dad who is a pro bargain hunter (especially when it comes to cars and home improvement), and found out that he recommends Michelin. But being a journalist, the cliché phrase, "If your mother tells you she loves you, check it out," rings in my ears and I can't help but factcheck my dad's choice against an unbiased source. I turn to Consumer Report, a monthly product review magazine that is trusted by subscribers because it does not accept advertising and pays for all the products it tests, and is a non-profit organization with no shareholders.
A 2015 article published in Consumer Report titled, "What brands make the best tires? Consumer Reports rank the top tire maker," ranks Michelin ("Dad, you're right!") as the number one tire brand after careful performance test. The magazine boasts that it offers a list of detailed comprehensive test findings on over 170 models.
"Across the board, Michelin offers nearly a perfect blend of grip, handing, low rolling resistance for good fuel economy, and long tread life," read part of the review.
I decided to specifically go with the Michelin Defender, an all-season tire suitable for family cars with an impressive 90,000 mile warranty.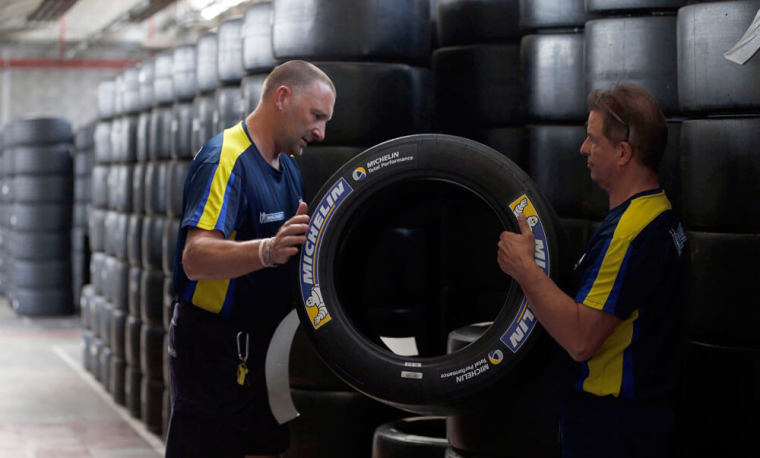 Now here comes the fun part you've all been waiting for.
My local Costco Tire Center (note taken: too busy on Saturday with 2.5 hour wait. Go on weekdays as early as possible) informed me that the total cost before tax will be $541.12. Costco sold the Michelin Defender 205/55R16 for $133.99 per tire but had, at the time, a $70 instant savings for any member who bought a set of 4 new Michelin tires.
The store offers a flat rate $15 installation package per tire that includes:
• mount and balance
• balance and rotation for the life of the tire
• new rubber valve stem
• inflation checks for the life of the tire
• nitrogen tire inflation
• flat repairs for the life of the tire
• Costco scrap tire disposal
• reset tire pressure monitoring system
• wheels hand torqued to manufacturer's specifications
• mileage warranty
• road hazard warranty
• manufacturer's defects warranty
As for Walmart, my local store does not carry Michelin tires and I would have to order them using the company's website and have them delivered for free. A Michelin Defender tire 205/55R16 costs $136.23 per tire, which is $2.24 more expensive than Costco's price. Moreover, Costco offers the $70 instant discount when you buy four Michelin tires, which is a deal Walmart doesn't offer. That means we are talking about a $78.96 price difference (Costco $465.96 vs. Walmart $544.92) in terms of a set of four tires.
Walmart quoted the installation of the tire as including:
• balance for lifetime of tire – $9/tire
• new rubber valve stem – $3/tire
• road hazard warranty – $10/tire
• tire disposal – $1.50/tire
This price breakdown means we are talking about an installation package at Walmart of $23.50 per tire, which is higher than Costco's $15 per tire.
Just out of curiosity, I went to another popular auto service center, Mr. Tire, which states on its website that it has over 1,000 locations nationwide. Mr. Tire sold the Michelin Defender 205/55R16 for $169.99 per tire for a total of $679.96 for a set of four.
In terms of installation, Mr. Tire says there is no charge for the following: tire mounting and balance, lifetime rotation, new valve stem, and tire disposal. But Mr. Tire charges $23.78 per tire for road hazard coverage and $10.49 for shop supply fee.
At the end of my tire bargain hunting, I concluded that Costco won out by a long shot. Check out the price breakdown for yourself.