Kid Rock, country stars boycott Bud Light over partnership with trans influencer Dylan Mulvaney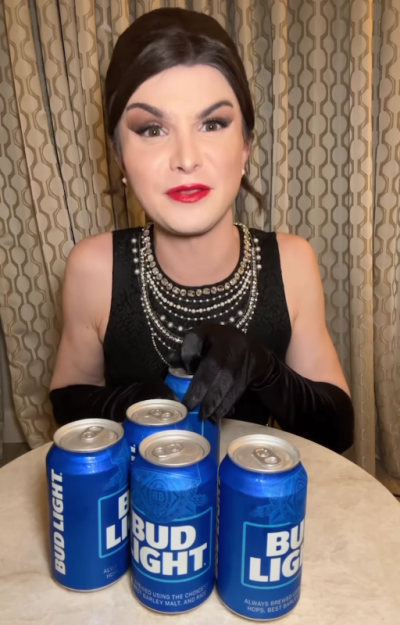 Kid Rock and country music stars John Rich and Travis Tritt are among others participating in a boycott of Bud Light after the beer brand named a trans-identified activist Dylan Mulvaney a brand spokesperson to "authentically connect with audiences."
The 26-year-old biologically male trans activist is known publicly for detailing a gender transition in daily videos on the social media platform TikTok. Along with millions of followers on TikTok, Mulvaney's "Days of Girlhood" videos have received over 1 billion views.
Mulvaney announced on Saturday that the company sent packs of Bud Light featuring the influencer's face to celebrate a year of "girlhood." 
The activist, who called the cans "most prized possessions" on Instagram with the hashtag #budlightpartner, can be seen featured in a video drinking a Bud Light.
Following the announcement, critics took to social media to express their disapproval of the campaign, claiming it is part of "gender propaganda." 
Country musician Rich tweeted: "What beer should my bar [Redneck Riviera] in Nashville replace #BudLight with?"
Tritt also tweeted that he plans to remove all products from his tour hospitality rider made by Anheuser-Busch — the originally American beer company that produces Bud Light which Belgium-based AB InBev now owns. 
"I know many other artists are doing the same," Tritt wrote. "In full disclosure, I was on a tour sponsored by Budweiser in the '90s. That was when Anheuser-Busch was American owned. A great American company that later sold out to the Europeans and became unrecognizable to the American consumer. Such a shame."
Wearing a white "MAGA" hat, popular singer Kid Rock used a few expletives when reacting to the new partnership in an Instagram video showing him using an assault rifle to fire at cases of Bud Light in a field by a body of water. 
"Grandpa's feeling a little frisky today," the 52-year-old said in the clip. "Let me say something to all you and be as clear and concise as possible. F— Bud Light. F— Anheuser-Busch. Have a terrific day."
Anheuser-Busch said the personalized cans with Mulvaney's face are not for sale. 
"Anheuser-Busch works with hundreds of influencers across our brands as one of many ways to authentically connect with audiences across various demographics and passion points," a company spokesperson told Fox News.
"From time to time, we produce unique commemorative cans for fans and for brand influencers, like Dylan Mulvaney. This commemorative can was a gift to celebrate a personal milestone and is not for sale to the general public."
Others on social media were more supportive of the partnership, including celebrities like Paris Hilton. Some social media users suggested they may need to start drinking Bud Light now that they are promoting Mulvaney. 
For over 20 years, Bud Light has been a corporate partner with the LGBT advocacy group GLAAD. In 2019, the brand released limited-edition rainbow-themed bottles for LGBT pride month. The group donated 1$ to GLAAD for every case sold. 
In recent months, the Daily Wire's Matt Walsh has expressed disapproval on Twitter with Mulvaney's portrayal of "girlhood," documented through Mulvaney's social media videos and a performance that Mulvaney displayed at the Rockefeller Center in New York in March. 
"Dylan Mulvaney had a glamorous celebration for his "day 365 of womanhood" at the Rockefeller Center this week. The entire [Daily Wire] lineup made it into the show as the villains. He's trying to play the innocent victim here but only proves our point in the process," the political commentator and author wrote on Twitter in mid-March. 
"Dylan Mulvaney is intentionally degrading women every time he does this women-face menstrual show routine. He is insulting and demeaning them and doing it on purpose and profiting off of it, and he doesn't care. If that is the most attractive you will ever look, then I don't even want to imagine what you'll look like when you're at your ugliest," Walsh continued in a video clip he posted to Twitter. 
Candace Owens of The Daily Wire took a similar stance last September, calling Mulvaney's portrayal of "girlhood" a "creepy, fetisized version of what it means to be a girl."