CP's Most Popular Entertainment Stories of 2017
4. Morgan Freeman Visits Pentecostal Church to Witness the Act of 'Heaven on Earth,' Speaking in Tongues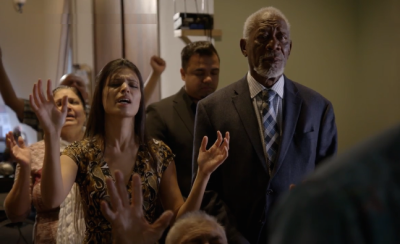 During the second season of National Geographic's "The Story of God with Morgan Freeman," the Academy Award-winning actor visits a Pentecostal church to find out more about speaking the heavenly language of tongues.
The series premiere of "The Story of God" aired Jan. 16 and on episode two, "Heaven and Hell," Freeman visits a Pentecostal church in the United States.
"Where there's darkness there is also light," Freeman says as he introduces the Christian segment. "Some people feel they are touched by Heaven in a physical way every Sunday."
The actor traveled to Albuquerque, New Mexico, where he met with a Pakistani immigrant named Annie. Freeman visited Newlife United Pentecostal Church, a Christian church that is filled with parishioners who speak in tongues. The 79 year old proceeded to touch on the Bible story found in Acts 2 of the day of Pentecost when the followers of Jesus were baptized with the gift of speaking in tongues.
He described the act of speaking in tongues as "Heaven coming down to Earth." After a time of worship and an exhortation from the pastor, the Spirit of God began to move throughout the church as the congregation erupts with praise, many speaking in tongues, others crying and one woman is even seen jumping up and down.
The camera pans to Freeman who is looking at everyone in admiration, though he is not partaking in the worship experience.
"All around me people have been swept up by an invisible force. And now they speak, what they believe is the language of Heaven. I can see it on their faces that they are genuinely somewhere else," Freeman said of his experience.
"That was quite a powerful experience. I could feel the energy in that space. Normal people suddenly transformed by some power and then just as suddenly return to normal. But Pentecostals believe that they are bringing Heaven down to Earth.