8 Crazy Things That Happened at the Democratic Convention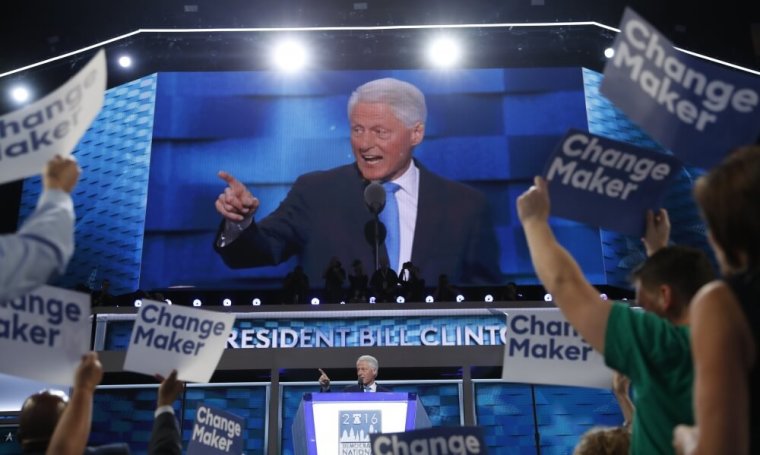 5. Sanders supporters held 'fart-in' to protest Clinton
Americans have found interesting ways to protest throughout the country's history. But Wednesday's fart-in organized by former Green Party vice presidential candidate Cheri Honkala might just take the cake.
NBC News reports that Honkala originally planned to hold the fart-in on Tuesday at the subway station outside the arena. However, police interrupted her plans and cited her for disorderly conduct. The next day, Honkala returned and served up at least 100 cans of beans to help protesters get their flatulence ready.
Around 6 p.m. on Wednesday, a group of protesters strategically passed gas to protest a party nomination process that they believe "stinks."
6. Man's skirt caught fire as he stomped burning flag
The Daily Caller reports that a man set himself on fire when he tried to stomp on a burning American flag outside the Wells Fargo Center prior to President Barack Obama's speech on Wednesday night.
A video posted to Twitter by USA Today editor Natalie DiBlasio shows a crowd of onlookers watching as flames engulfed the flag. One man, wearing some kind of long skirt, appears to have begun dancing over the flag when his skirt caught fire.
The man was forced to stop, drop and roll in order to put the flames to rest. Meanwhile, one onlooker asked "What are you doing?" and another said "What an idiot."
7. Bill Clinton detailed how he stalked Hillary at Yale
During his speech Tuesday night, America's 42nd president gave some background on how he met his wife.
"In the spring of 1971, I met a girl. The first time I saw her we were appropriately enough in a class on political and civil rights. She had big blonde hair, big glasses," Clinton explained. "She exuded this sense of strength and self possession that I found magnetic. After the class, I followed her out intending to introduce myself. I got close enough to touch her back but I couldn't do it. Somehow I knew this would not be just another tap on the shoulder, that I might be starting something I couldn't stop."
Clinton said he saw her several more times over the next few days but still didn't speak to her. One night, when he was in the library talking to a classmate, he saw Hillary again and noticed that she was "staring back at me."
"So I watched her," Clinton added. "She closed her book, put it down and started walking toward me. She walked the whole length of the library, came up to me and said, 'Look, if you're going to keep staring at me and now I'm staring back, we at least ought to know each other's name. I'm Hillary Rodham, who are you?'"
Commenters took to Twitter to voice their reactions to Clinton's play-by-play. Jim Roberts, formerly of the New York Times, Reuters and Mashable, wrote in a tweet "Bill Clinton starts his speech by description how he stalked/courted Hillary."
USA Today columnist Kirsten Powers quipped in a tweet that Clinton's actions "would count as a micro aggression on Yale's campus today."
On MSNBC directly after the speech, host Rachel Maddow commented it was "shocking and weird."
8. Cecile Richards hit Donald Trump for saying pregnancy is an 'inconvenience'
During her speech Tuesday, Planned Parenthood president Cecile Richards criticized the Republican nominee for suggesting that pregnancy is an "inconvenience" to employers.
Although Richards chastised Trump for suggesting pregnancy is an "inconvenience," Ilyse Hogue, president of NARAL Pro-Choice America, said during a speech on Wednesday that she aborted her child because her pregnancy came at an inconvenient time in her life.
"I wanted a family, but it was the wrong time," Hogue said. "I made the decision that was best for me  —  to have an abortion  —  and to get compassionate care at a clinic in my own community."
Richards comments also come as Planned Parenthood and other abortion organizations like to claim that abortion gives pregnant teens and young adults the ability to live their lives and maintain their dreams.