Creation vs. Evolution Debate to Continue at Iowa Conference on Sunday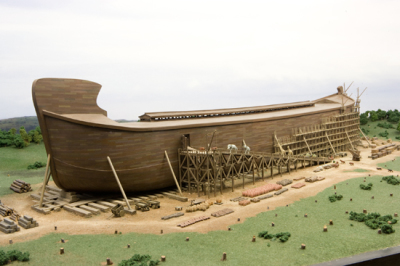 One session of a five-day conference in Iowa will feature a debate about whether the Genesis account of Noah's flood is a more viable way to explain the earth's history than the theory of evolution.
On Sunday, Iowa State University professor of religious studies Hector Avalos and senior pastor at Iglesia Centro Evangelico in Miami, Fla., the Rev. Juan Valdes will argue in favor of evolution and creationism, respectively, at Indianola High School.
Rev. Jordan Cleigh, who serves at the First Assembly of God Church in Indianola, one of the churches that organized the conference, said that creationism is the only origins theory that "lets people believe in the Bible and Jesus."
"For the past 50 to 60 years public schools have been teaching evolution even though evolution doesn't have all of the answers either," Cleigh told The Des Moines Register.
Avalos, an atheist, told the newspaper in an email, that he hopes that the debate will change some minds.
"My hope is that the debate will demonstrate why the belief that Genesis chapters 1-3 accords with modern science reflects both scientific and biblical illiteracy," Avalos wrote.
Avalos also said that those who reject creationism should also come out to the debate because they will still find themselves under policies that have been influenced by those who take a literal interpretation of Genesis seriously.
"That level of scientific and biblical illiteracy is harmful for any nation that wishes to maintain an educated citizenry," Avalos said.
The Indianola Hope Conference debate follows on the heels another creation vs. evolution debate held at the Creation Museum in Kentucky earlier this month between Answers in Genesis President and CEO Ken Ham and Bill Nye, of "Bill Nye the Science Guy" fame. The event was estimated to have been watched by 3 million people online and focused on the question "Is creation a viable model of origins in today's modern scientific era?"
The Indianola Hope Conference, an "an ecumenical collaboration to bring the Truth of God's Word, the Holy Bible, to the area" opened on Friday, and according to its Facebook page will feature speakers discussing "creationism, flood geology, evolution, and race relations."
Among the churches organizing the conference are the First Assembly of God Church, the Indianola Regular Baptist Church, the Grace Evangelical Free Church, the Indianola Community Church and the Cornerstone Church.
A livestream of the event is available for users to watch on Sunday here.