Creflo Dollar Says Eddie Long 'Sacrificed for This World, Wonders 'Were We Worthy of Your Grace'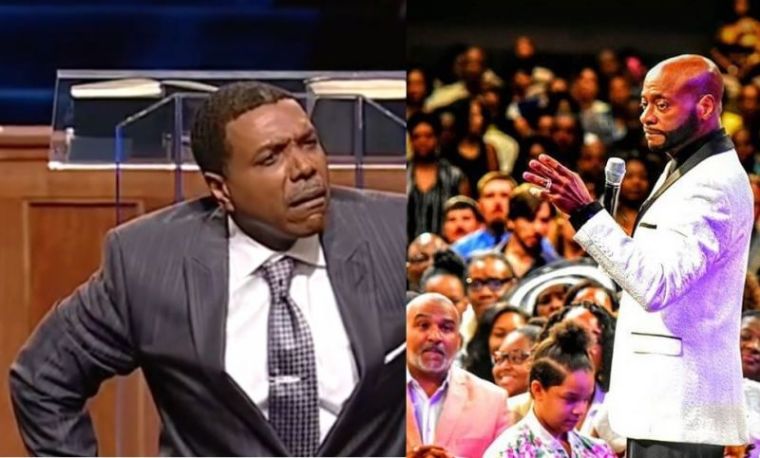 Creflo Dollar of World Changers Church International in Atlanta, Georgia, has spoken out on the death of controversial Pastor Eddie Long by wondering whether people "were ever worthy" of the New Birth Missionary Baptist Church leader's "grace."
"We will forever be appreciative of the great love you have shared with us all, and we will continue to be impacted by the way you ministered to the saints, loved people, and sacrificed continually for the betterment of this world," Dollar wrote in a message on Facebook Tuesday. 
"The Bible says in Hebrews 11 verse 38, 'Men of whom the world was not worthy ...' We will continue to wonder if we were ever worthy of your grace and anointing. Rest in peace, Great General. Rest in peace."
New Birth announced in a statement on Sunday morning that Long had died after "a gallant private fight with an aggressive form of cancer."
The late megachurch pastor's daughter, Taylor, called her father "perfect" in a tribute post online.
"I love you Dad. Thank you for being perfect. I cherish every moment I've shared with you even up to your last breath. I don't blame God for wanting you back, I would too. Everything I do is for you, it's been my honor to be your daughter. Thank you for being the greatest example of a wonderful father and husband," she wrote in part.
Other prominent pastors, such as T.D. Jakes of The Potter's Church in Dallas, Texas, also sent their condolences to Long's family, calling him a "mighty man of valor."
"We are deeply saddened by the passing of a mighty man of valor, embattled warrior, learned and beloved pastor and man I call friend, Bishop Eddie L. Long," Jakes wrote.
"We will miss his enigmatic catchphrase uttered just above a whisper, 'watch this ...;' his love for the Gospel shared liberally and a ministry that impacted lives around the globe."
For years Long faced serious controversies, however, including a lawsuit filed by multiple men who claimed he engaged them in sexual acts. Long settled with the accusers in May 2011, though he never discussed in public the details of the case.
Some of his critics blasted him for keeping secrets around his life.
"He was ill, what the illness was we may never know. However, HE KNEW and somehow not using the moment to teach (being a bishop and leader) was a disservice and disingenuous 'This is my struggle, here is what I'm doing to overcome' that wasn't the battle cry," commenter Celeste Mckenzie wrote on Facebook. 
"Instead a cloak of secrecy which is what makes people distrustful. SECRETS. I hope that his family will find strength and can make peace living under the cloud of secrecy which they have now inherited."
Dollar's ministry has also faced controversy, especially after he asked the public for $65 million in donations to help him purchase a luxury jet for his work in 2015.
After a major backlash over the request, Dollar decided to end the fundraising campaign, though former members have accused him of making other extravagant requests for money from his congregation in the past as well.
The ex-member, identified only as Theresa, told Advise Show TV in 2015 that Dollar tried to pacify his congregation with two flat screen televisions amid the upheaval surrounding the jet.
"Trust me, I'm not defending him; because after I heard about this whole jet thing I was like, 'this is ridiculous. Is he serious?' I was upset because he came back from his so-called sabbatical 'oh yeah, I'm well-rested' but he didn't even offer no apology for what he did," the woman revealed.