Men Who Say Eddie Long Coerced Them Into Sexual Acts as Teens React to His Death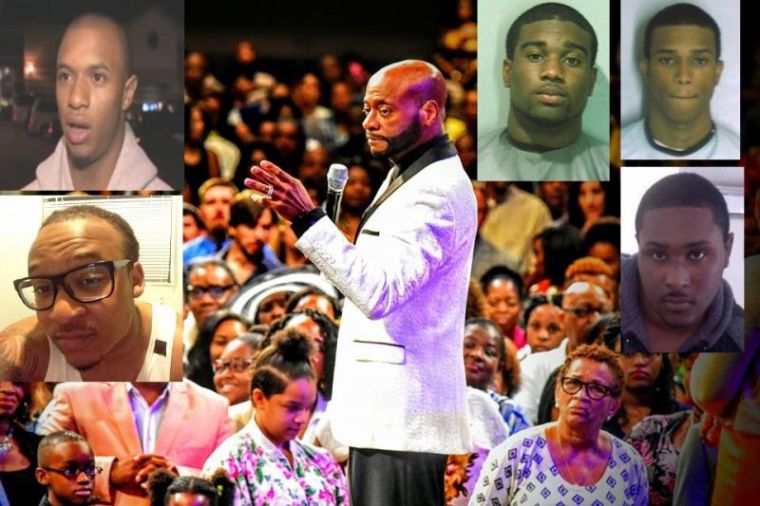 Several men who accused the late megachurch preacher Eddie Long in a lawsuit of coercing them into sexual acts while they were teenage members of his congregation, reacted to his death Sunday and announced that they are shopping a book about their lives.
Long, who remained at the helm of New Birth Missionary Baptist Church in Lithonia, Georgia, until his death from an "aggressive cancer" Sunday, never publicly discussed the specifics of the lawsuits but settled with his accusers — Anthony Flagg, Maurice Robinson, Jamal Parris and Spencer LeGrande — in May 2011, approximately eight months after they leveled charges against him. Centino Kemp, a fifth accuser, had also come forward as the lawsuit entered a mediation process.
The preacher's accusers, all in their mid- to-late-20s now, according to the Atlanta Journal-Constitution, say they have been fielding a lot of calls since Long's death on Sunday.
"We've been hearing from people from all walks of life — the media, celebrities, gospel singers — wanting to hear what we think," said LeGrande.
He is now living in Charlotte where he co-owns a thriving sneaker cleaning company.
Two of the other plaintiffs in the lawsuit, Maurice Robinson and Anthony Flagg, told The AJC Sunday that when the time is right, they'll comment.
"As much as we'd like to make a statement about the passing of Bishop Eddie Long, we've all decided to remain silent, for now," the men told the publication in a joint response. They said Jamal Parris, the fourth former New Birth member to sue Long, also consented to the statement.
"We're all brothers in this," LeGrande said.
Their statement ended, "Our perspectives will be addressed in our book, Foursaken, which we hope to release soon."
In a post on Twitter Sunday, Kemp revealed that people had also been reaching out to him and said Long was now an "angel in the sky." It is a far different tone than the one he held in early 2016 when he reportedly accused Long of raping him as a teenager inside a Holiday Inn in downtown Atlanta.
"I would like to thank everyone who sent their wishes in this time of grief. If I was born a female would not be so much hate but I am truly appreciative of every message and every text and call. Eddie should be celebrated and we all should be mindful and remember he who is without sin cast the first stone," he wrote.
"Eddie was a wonderful person and he did great things while on this earth and he should be remembered and celebrated for everything that he has done. To the family and friends, kids, my heart is with you in this terrible time. To Vanessa, I know exactly how you feel. His road might end here but his legacy will live on forever in the hearts of everyone that he has touched. Stars fill the night skys and love never dies. #RIPEddie until we meet again. I know you're an angel in the sky," his message ended.
LeGrande said he and the other accusers are still shopping for a publisher for the book which will focus on their lives after breaking ties with Long who consistently denied the allegations against him, according to the AJC.
LeGrande told the AJC in 2011 that he was 15 when he met Long at one of New Birth's satellite churches in Charlotte. Long preached a sermon on the importance of fathers that he said left him in tears.
"When I started crawling, that was the day [my father] left," LeGrande told the publication.
According to LeGrande, Long told him "I got you ... I will be your dad" and soon they were talking regularly on the phone.
Parris explained to the publication in 2011 that his father was abusive and rarely present and Long became his "daddy" after he met him at age 14 in Atlanta. Both Parris and LeGrande said they were 17 when the sexual advances began.