Critics of Evangelical Trump Supporters 'Sit Around and Think Too Much,' Franklin Graham Says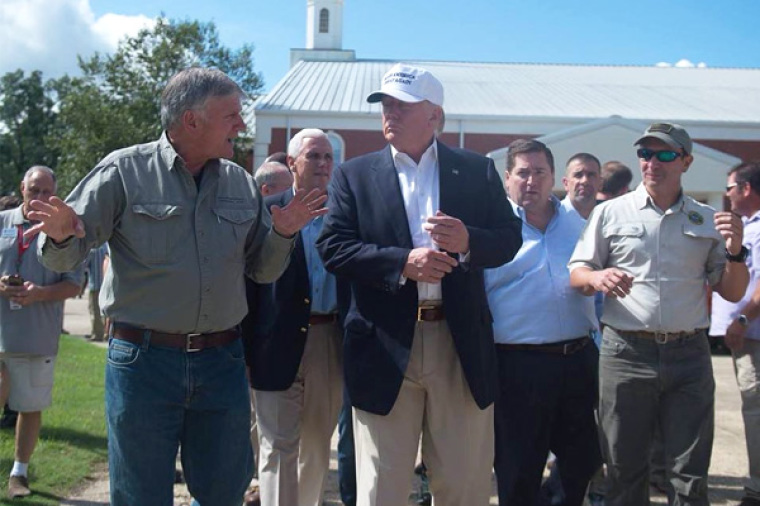 Leading evangelist Franklin Graham has responded to a prominent critic who questions whether evangelicals who have engaged with the Trump administration have sacrificed morality for political favor.
Graham, the son of legendary evangelist Billy Graham and president of the Billy Graham Evangelistic Association, sat down with The New Yorker during his recent Decision America tour through the Northwest part of the United States to answer a number of questions involving evangelicals and President Donald Trump.
During the interview, journalist Eliza Griswold told Graham that she recently spoke with Ed Stetzer, an evangelical author and executive director of the Billy Graham Center at Wheaton College in Illinois, who has long been critical of conservative evangelical leaders who have engaged with and supported Trump.
Griswold asked Graham, who has attended a few functions for evangelical leaders held at the Trump White House, to respond to Stetzer's claim that evangelicals leaders sacrificed their morality and witness for the sake of Supreme Court nominations and the protection of religious freedom.
"No," Graham said in response to Stetzer's argument. "Some people sit around and think too much."
"President [Bill] Clinton did a lot of good for this country but he brought the country also to a low that we have never had before," Graham continued. "A lot of the moral issues that Donald Trump has had to deal with go back a number of years."
Referring to criticisms of Trump's past sinful and moral transgressions, Graham asserted that people "do change."
"I know I am not the same person I was 20 or 15 years ago. And I hope we all learn from mistakes and we get better for that," he said. "All I know is that as human beings we are all flawed, including Franklin Graham."
Graham, who regularly voices his social conservative views on social media, was also asked about reports that his father, who served as a spiritual adviser to many U.S. presidents, regretted crossing over a line in his career when it comes to "closeness to politics."
As Graham is regularly among the first handful of pastors to be named when evangelicals and Trump are discussed in the media, Griswold asked Graham about what his late father would think about his "closeness to politics."
Graham contended that he is not as close to politics or the Trump administration as many might think.
"I am not that close. You meet politicians from time to time and for me, I stay out of Washington as much as I can. I don't go up to lobby congressmen or senators," Graham, who is also the president of the evangelical Samaritan's Purse humanitarian nonprofit, said. "I have been at the White House for a few functions but I try to keep my distance. I want to speak out on issues that I think are moral issues that we should be speaking out and addressing."
Graham assured that while he might agree with a number of the administration's policies, there are some things that Trump has said and tweeted that he disagrees with.
"I don't agree with everything he says. I don't agree with everything he tweets but he has been very strong on religious freedom issues, which I appreciate," Graham stressed.
Trump has received much criticizism for the harsh and seemingly insensitive remarks he has posted to Twitter over the last couple years. Most recently, the president received backlash for calling Omarosa Manigault Newman a "dog."
When asked if he thought Trump was "mean," Graham didn't condemn the president but instead explained how many politicians and media figures are also mean. Graham suggested that Trump may be misunderstood because he is from New York City.
"I went to high school in New York and New Yorkers have a little bit of an edge and that's just the way they are," Graham said. "I don't think he always means it that way. He says things and sometimes they are very blunt."
Graham was also pressed on the issue surrounding the administration's policy earlier this year to separate illegal immigrant children from their families at the U.S.-Mexico border. The policy at the time received widespread scrutiny from Graham and other evangelical leaders.
Graham explained why he opposed the policy, arguing that pedophiles are working in facilities for detained immigrant children. In August, a worker for a nonprofit contracted to provide shelter for immigrant kids in Arizona was arrested on charges of molesting a 14-year-old girl.
"We should never be taking children from their parents, hold them together as a family [rather than] taking children away so they can be exposed to pedophiles," Graham said. "I believe pedophiles should be dealt with very harshly, not only incarcerated. But if they molest a child, I think they would be probably a candidate for the death penalty. You do not, under any circumstances as an adult, force yourself on a child. That gets me mad."
Graham continued by arguing that Democrats really don't want to solve the immigration issue and claimed that Democrats are using immigrant children as a "political football" to try to show that Trump is a bad president.
"They are not real eager to address this border issue. It's a point for them," Graham remarked. "This is the sad thing about this — to take human lives and children and make a political football out of it. I am all for children and families coming in legally. I do believe that if you are caught at the border, you ought to be turned around and sent back and come legally. People have been waiting, eight, nine, 20 years to get their legal status and to have someone just walk across the border and get in? No, we need to be a country of law."
Earlier this summerr, Graham spoke out against Walmart for selling T-shirts calling for Trump's impeachment. In response, Graham and the Billy Graham Bookstore began selling "Pray for 45" T-shirts.