Cuba Plane Crash: 10 Evangelical Pastors, Their Wives Among 110 Dead
Ten evangelical pastors and their wives are among the 110 people who died in a plane crash near La Haban in Cuba on Friday, their church has confirmed.
"The Church of the Nazarene in the region of Mesoamerica confirmed that 10 couples of pastors of our church in the East district of Cuba were on that flight," said Carlos Sáenz, regional director of the group of churches, according to Evangelical Focus.
"We ask you with all respect to unite with us in prayer for all the families and relatives that have been affected by this tragedy. Let's ask God for peace and strength in these moments of so much doubt, shock and pain," he added.
The Council of Churches of Cuba, which brings together evangelical churches, explained that the pastors and their wives "were leaving an event at the El Nazareno evangelical seminary and were returning to their province in the eastern region."
The first funeral for the victims took place on Sunday, where an art instructor and her small child were laid to rest, according to Reuters. 
Only three people, all women, survived Friday's crash, where the Boieng passanger jet came down shortly after takeoff from Havana, heading toward Holguin. 
"Everyone is hoping and praying for them," said retired Havana telephone operator Marlen Rodriguez Rebasa. "Everyone is very attentive and wants them to survive. They are very young and have families."
The cause of the crash has not yet been identified, though Mexican company Damojh, which leased the airplane to Cuban flagship carrier Cubana, had suffered safety problems in the past.
The identification of the bodies is also proving to be a challenging task, with many relatives still without confirmation about the fate of their loved ones.
"Out of all these corpses, we have 20 identified so far," said Sergio Rabell, head of the National Institute of Forensic Medicine, warning that the process could take up to a month.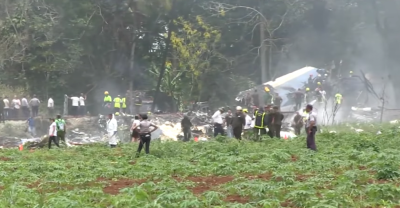 Adel Yzquierdo Rodriguez, Cuba's transportation minister, says that 102 Cubans were on board the flight, along with three tourists, two foreign residents, and six crew members from Mexico.
It was the country's worst plane crash since 1989.
"On behalf of the Cuban government and the Communist Party, we regret the events and we join in the condolences of the families," the president of Cuba, Miguel Díaz Canel, said.
Carlos Alberto Martinez, the director of the Calixto Garcia Hospital in the Cuban capital, where the three survivors are being treated, revealed that the women are in a very serious condition.
He said that they have suffered "severe injuries" and that their state is "critical," though hopes remain that they can recover.