EgyptAir Now Says Debris Found Is Not From Flight MS804
66 People on Board EgyptAir Flight From Paris; Terror Attack Suspected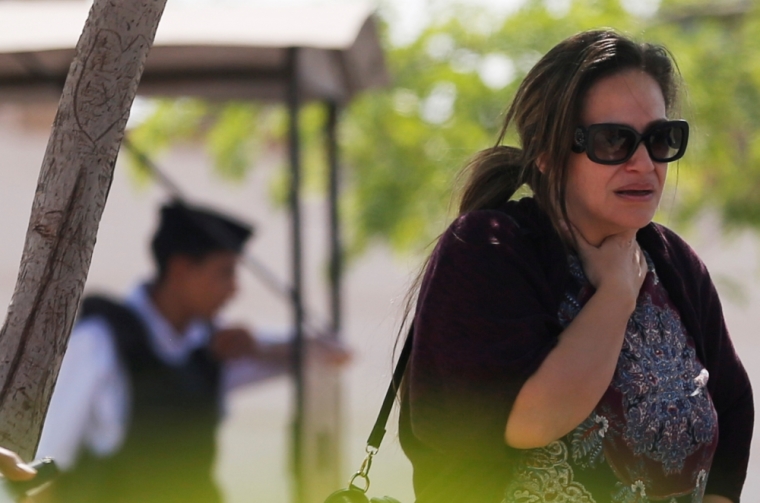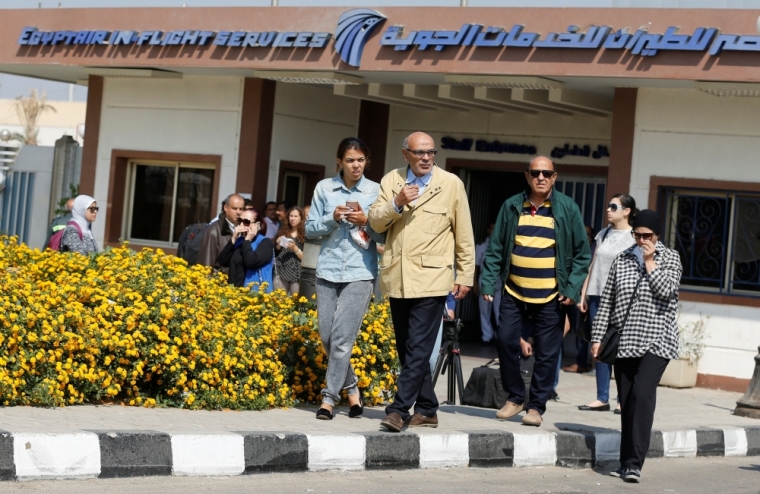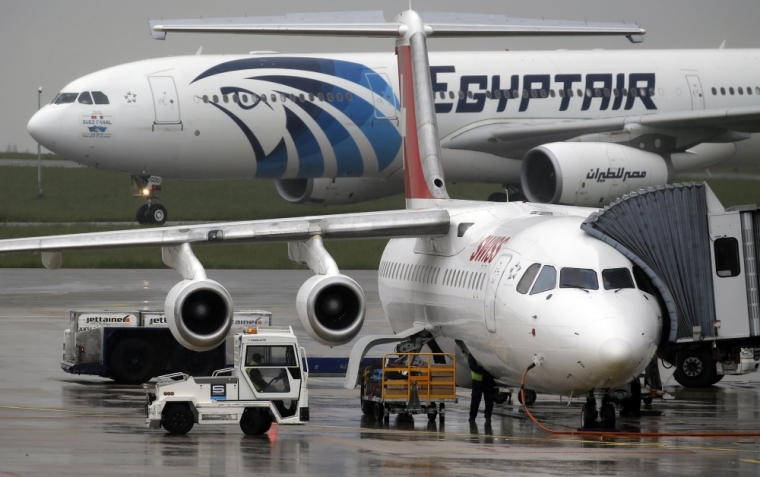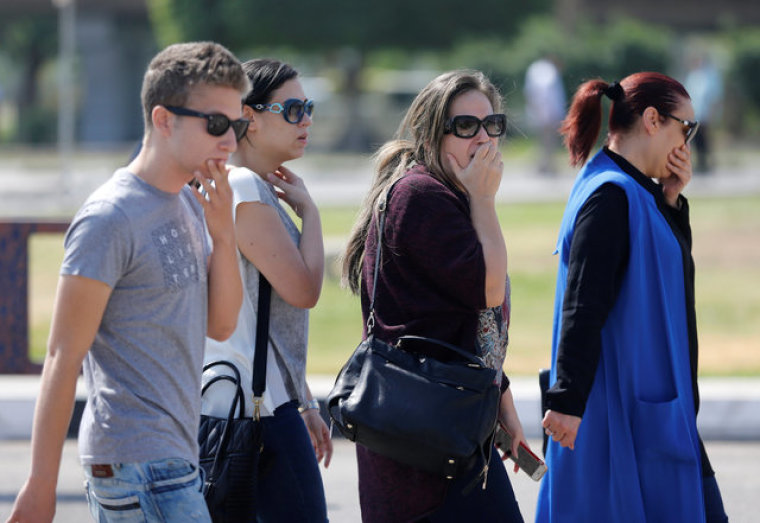 View Photos
UPDATE: MAY 19, 5 p.m. ET:  Debris found near the Greek island of Karpathos thought to be wreckage from flight MS804 did not come from the plane, the head of the Greek air safety authority said late Thursday.
Plane wreckage has not yet been found in the Mediterranean Sea, Athanasios Binis, the head of the Greek air safety authority, told Agence France-Presse.
UPDATE: MAY 19, I p.m. ET: White and blue debris from EgyptAir Flight MS804 was found as part of a search for the missing plane, Greek authorities confirmed Thursday. 
"All I will say is that our embassy in Athens told us that it was contacted by Greek authorities who signalled that they found white and blue debris corresponding to EgyptAir's colours," Egypt's envoy to France, Ehab Badawy, told BFM television.
"I can't confirm it is the debris, but it would be reasonable to think it is the debris of this plane," he said.
EgyptAir said Greek authorities found life vests and floating debris near the island of Karpathos, but the plane likely went down near the island of Crete.
EgyptAir Flight MS804 in route from Paris to Cairo with 66 people on board was confirmed to have crashed by French President Francois Hollande, with officials searching for survivors and suspecting possible terror activity.
BBC News reported that Airbus A320 disappeared from radar at 2:30 a.m. Cairo time (8:30 p.m. ET) after crossing through Greek airspace, with Greek Defence Minister Panos Kammenos revealing that the plane made "sharp turns and a descent" before vanishing from radars.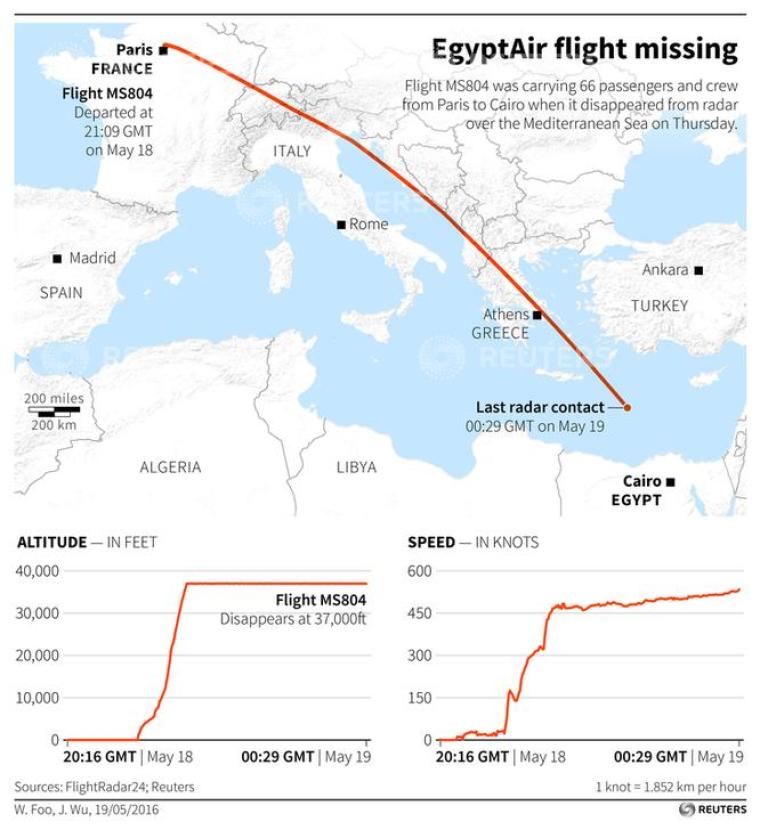 EgyptAir confirmed that there were 56 passengers on board, along with seven crew members and three security personnel. Greek and Egyptian armed forces are currently undertaking a major search and rescue operation in the Mediterranean Sea, looking for possible survivors.
Officials have not yet revealed what led to the plane crash, but have not ruled out the possibility of terrorism, which BBC Security Correspondent Frank Gardner said will have to be looked at closely.
"There were no distress calls that we know of, which would imply that something sudden and catastrophic took place that gave the crew no time to put out a distress call. This is 2016 — planes don't just fall out of the sky," Gardner said.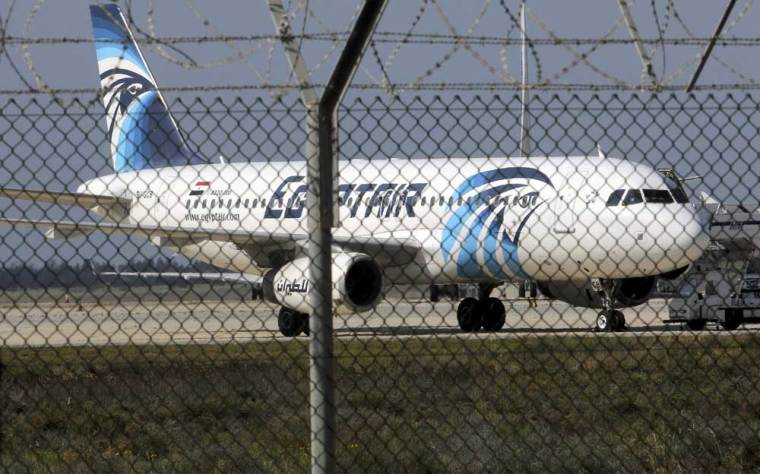 "The suspicion is that it's an act of terrorism of some form, which means was it shot down or was a bomb put on board, if that is the case."
The Islamic State terror group, which has captured major territory in Syria and Iraq, but has also spread its attacks in surrounding nations as well, admitted it was behind the attack that brought down a Russian passenger jet in Sinai in November 2015, killing 224 people on board.
As the Daily Mail pointed out, Patrick Calvar, the head of France's DGSI agency, told a parliamentary committee on national defence in Paris less than 10 days ago that the terror group is planning a "new form of attack."
"We risk being confronted with a new form of attack: a terrorist campaign characterised by leaving explosive devices in places where big crowds gather, multiplying this type of action to create a climate of panic," Calver warned at the time.
Egyptian Prime Minister Sherif Ismail responded to a question by reporters over the possibility of terrorism being involved in the plane crash of EgyptAir Flight MS804 by stating:
"We cannot exclude anything at this time or confirm anything. All the search operations must be concluded so we can know the cause."
"Search operations are ongoing at this time for the airplane in the area where it is believed to have lost contact," he added, according to Reuters.
French Prime Minister Manuel Valls said that France and Egypt will need to cooperate in both the search and rescue operation and the investigation into the cause of the crash.
"We are in close contact with the Egyptian authorities, both civil and military," Valls told French radio. "At this stage, no theory can be ruled out regarding the causes of the disappearance."