Cuban Pastor and Wife Sentenced to Jail for Homeschooling Their Children; Advocates Demand Asylum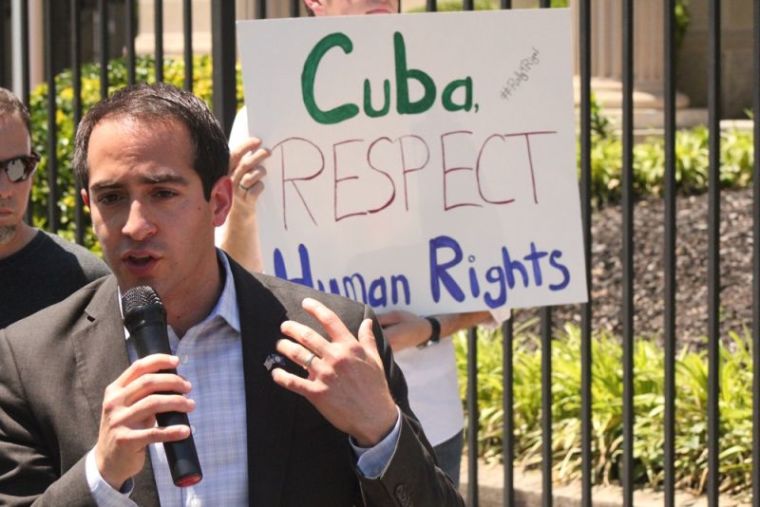 WASHINGTON — A Cuban evangelical pastor was sentenced to prison because he removed his kids from the state-run communist schools to homeschool them. Homeschooling advocates are calling upon the Trump administration to grant them asylum in the United States.
A crowd of two dozen people protested outside the Embassy of Cuba in Washington in 95-degree heat Wednesday in support of Pastor Ramon Rigal, who on April 25 was sentenced to one year in prison for the "crime" of homeschooling his own kids in the communist island nation. Rigal's wife, Adya, was sentenced to a year of house arrest.
The group attempted to deliver a CitizenGo petition signed by nearly 31,000 people demanding better of the Cuban government. Embassy officials refused to receive them and turned them away.
Mike Donnelly, an attorney and director of global outreach for the Virginia-based Home School Legal Defense Association, decried the Cuban government's actions.
The right to homeschool children is "a human right that is recognized around the world as a fundamental human right," Donnelly said.
"And Cuba has signed international treaties acknowledging this fact," he added, noting that in 2008 the island nation signed the International Covenant on Civil and Political Rights which recognizes the role of parents having the ability to conform the education of their children to their religious beliefs and philosophical convictions.
The Cuban government schools indoctrinate the nation's children in creeds fundamentally opposed to the Christian faith, like atheism and Marxism.
Yet when the Rigal family took their kids out of the school they were harassed by the authorities and threatened. In February, the Rigals were arrested. In April, they were put on trial where Ramon's witnesses were not allowed to give testimony.
Donnelly and his group called on the U.S. government for the Rigal's to be granted political asylum in the United States, where homeschooling is a protected right.
Will Estrada, director of federal relations for HSLDA, said that if the Cuban government continues to repress Christians the Trump administration should "tear-up the normalization of relations that the Obama administration did and change things."
"We should not be rewarding a communist country if they continue to crack down on religious minorities," he said.
Though the Internet is highly restricted, Rigal somehow managed to make online contact with the HSLDA and the group is now actively advocating for him.
Pastor Mario Lleonart, a Cuban pastor who very recently immigrated the United States shared with the group in Spanish. In remarks translated by Frank Calzon, executive director of the Washington-based Center for a Free Cuba, Lleonart recounted how Christian children in Cuba are routinely mocked and mistreated for their faith. The government restricts churches from opening education centers of their own.
When Lleonart was five years old he went to a government school. The principal came to his class during the first week asked the class if any of the students were religious and believed in God.
"The way he asked, it was as if he was asking 'who is drug addict, who is a thief?'" Lleonart said.
Lleonart, who now blogs regularly about religious freedom issues in Cuba at CubanoConfesante, said he would so scared at the time to say he was a Christian but he felt like he had denied the Lord like Peter did before Christ was crucified. The experience was so traumatizing for him that he told himself he would never back down from his faith again.
The Cuban education system brainwashes children, he added, ordering them to chant political slogans where they proclaim themselves to be "pioneers of communism" and "we will be like Che Guevara."
"If the children refuse to say those things then they are bullied by other students and by their teachers," he said.
Pastor Rigal is one of the few who have been willing to stand up to the Raul Castro regime and refuse to let his kids be indoctrinated.
Many of the families who leave Cuba are Christians who want to escape that system.
"But I understand that the answer is not to continue leaving Cuba but to remain in Cuba," he said, hoping that many other families and pastors take the same tack as the Rigal's and fight for their rights.