We Live in Dark Times, but Light Always Wins, Samuel Rodriguez Says (Author Interview)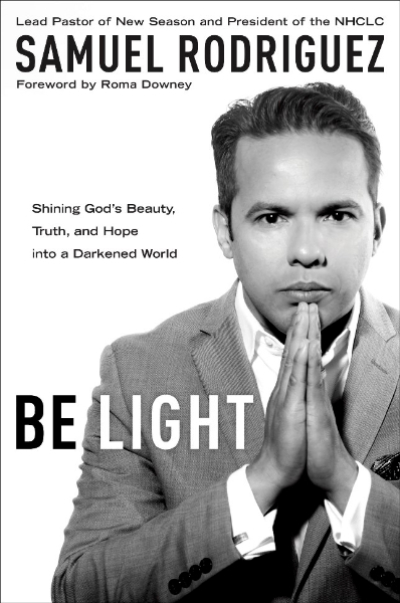 A book by the notable Hispanic evangelical leader the Reverend Samuel Rodriguez is calling upon Christians to become light in a messy, dark world.
Released earlier this month, Rev. Rodriguez's latest book is Be Light: Shining God's Beauty, Truth, and Hope into a Darkened World.
In an interview with The Christian Post, Rodriguez explained that he decided to write the book because he wanted the Church to "stand up and make a difference."
"I think the world is messy right now — full of spiritual apathy, cultural decadence, religious extremism and intolerance, consumerism, selfishness, terrorism, and the list goes on. It is time for the Church to stand up and make a difference," explained Rodriguez.
"Because when light stands next to darkness, light always wins. While we may live in dark times, we have hope, because the Light always wins."
Published by WaterBrook Press and including a foreword by Christian actress and producer Roma Downey, within its text Be Light presented a 30-day challenge for readers.
"Throughout the 30 days, readers will learn about two powerful declarations in the Bible: 'Let there be light' and 'You are the light of the world'," said Rodriguez to CP.
"By examining these two statements, the reader goes on a discovery of what it truly means to generate and reflect an everlasting light."
The current president of the National Hispanic Christian Leadership Conference, this is not the first time Rodriguez has centered a message on Christians needing to be the light that overcomes the darkness in the United States and the world at large.
At the Southern Baptist Convention's Ethics & Religious Liberty Commission's 2015 national conference in Nashville, Tennessee, Rodriguez invoked this imagery during a speech.
"We cannot deny the fact that there is a spiritual battle to turn off the light. We can't deny the fact. It is a great, intense spiritual battle," said Rodriguez.
"The spirit of pharaoh is alive holding people captive in the Egypt of bondage and fear, the spirit of Goliath still lives, mocking and intimidating the children of God. The spirit of Jezebel makes men and women hide in caves with sexual perversions and manipulation. The spirit of Absalom is dividing homes churches and relationships."
Regarding his recent book and the theme of being light, Rodriguez told CP that to be light is an important "biblical mandate" for believers.
"The word 'light' is mentioned more than 200 times in the Bible. Light is an important part of the Christian narrative beginning in Genesis when God said, 'Let there be light,'" he said.
Before hearing God's call at age 14 to become a preacher, Rodriguez was interested in math, science and engineering. He was able to include those interests in Be Light, which includes scientific details about the nature of light in each chapter.
"In examining the properties of light, I have found many intriguing insights that also help me understand what it means, spiritually, to Be Light. Like all facets of creation, light reveals clues about God and His characteristics, so understanding more about light helps us know more about Him."