Samuel Rodriguez Laments: America Is In 'One of Its Darkest Hours'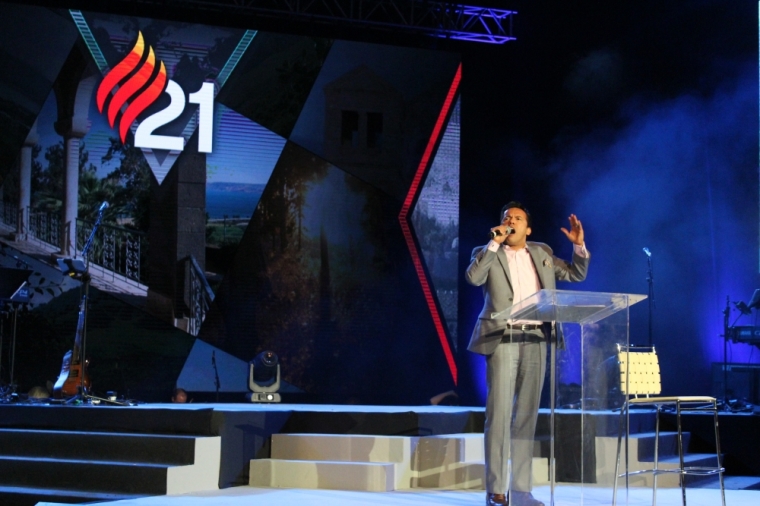 America is facing "one of the darkest hours our nation has experience," said one of the most prominent Hispanic-American evangelical leader as he called on the Church to stand up for its values.
The Rev. Samuel Rodriguez, president of the National Hispanic Christian Leadership Conference, made his comments in a Friday live interview with conservative radio host Glenn Beck, ahead of his visit to Washington, D.C., this weekend to attend two political events: the United Cry rally and the Wilberforce Weekend.
In his interview, Rodriguez urged American Christians to stop living out a "lukewarm faith," especially at such an important time for American politics.
"[…] [W]hile the church is waiting for Jesus to come down, Jesus is waiting for the church to stand up," Rodriguez told the radio host.
He went on to say that this message is especially important ahead of the 2016 presidential election, urging Christians to hold true to their religious values and reject political campaigns that preach a message of hatred or bigotry.
"Christians are selling truth at the altar of political expediency," the pastor charged. "White, black, yellow and brown Christians must stand up and build a firewall against hatred, bitterness, and bigotry."
Although there is a large portion of America that is angry with the country's current political leadership, we as Christians cannot allow that anger to boil over into hatred, Rodriguez said.
"Jesus turned over the tables in the temple [but] when does anger become hatred and hatred become acceptable?" Rodriguez questioned. "That's sin..."
Rodriguez, author of the new book Be Light, is traveling to Washington D.C. this weekend to attend the national United Cry rally, set to be held at the Lincoln Memorial on Saturday.
United Cry is calling pastors across the country to gather in D.C. and pray for America's future and the nation's well-being.
"Our nation is in crisis right now," said the event's founder, Lewis Hogan, to The Christian Post in an earlier interview. "But my answer to that crisis is that we're not without hope. Joel 2 is our response to the state that we find ourselves in right now, and it begins with prayer."
"We are gathering, not to protest or complain about politics, but to honor our leaders and pastors by praying for them. We are coming with humble hearts and asking God to heal the spiritual condition of our nation."
The goal of the event, according to its website, is to bring "spiritual and social transformation" to the U.S., especially in the context of the 2016 presidential election.
Rodriguez will also be speaking alongside prominent Christian leaders, including Hobby Lobby president Steve Green, at the Wilberforce Weekend gathering, an annual event focused on talking about Christian values in modern society.