Offensive 'Dartboard Jesus' Part of Rutgers Art Exhibit
Anne Frank Milk Carton, Stack of Condom Coins Still on Display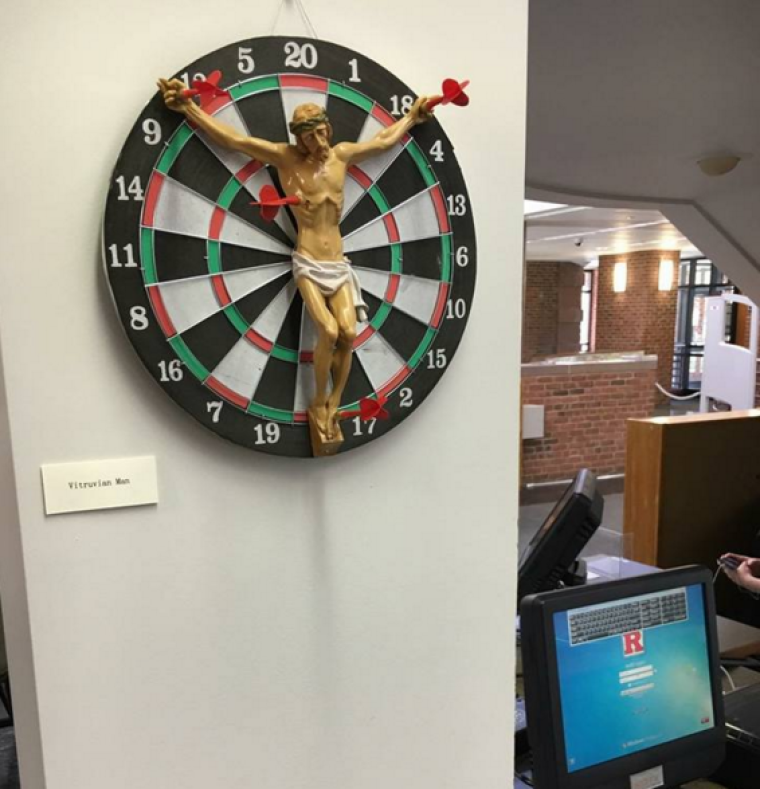 A controversial art display depicting a crucified Jesus Christ on a dartboard with red darts strategically placed to show where Jesus was nailed to the cross, was prominently featured at a Rutgers University exhibit until it was removed Thursday after officials received complaints about the offensive piece.
Known as the "Vitruvian Man," the artwork was removed from an exhibit at a campus library on Thursday following many complaints over it being sacrilegious.
Jessica Pellien, communications director for Rutgers University Libraries, provided The Christian Post with comments regarding when and why "Vitruvian Man" was taken down.
"The artwork in question was removed from the exhibit on April 21 because it did not meet Rutgers University Libraries policy, which requires art exhibitions and their pieces to be based on university events, curricular offerings, and topics of interest to the university community," stated Pellien.
"The process that the libraries use to determine how artwork is selected for inclusion in an exhibit takes into consideration freedom of expression as well as the criteria listed above. We have concluded that the policy and process the libraries use to select artwork for exhibitions was not followed."
The "Vitruvian Man" art piece was just one among several offensive art displays.
"The other pieces include a stack of coins covered with a condom (titled "Tower of Babel"), a milk carton with a photo of Holocaust victim Anne Frank on the back (titled "Cute Kids Make Good Advertising"), and a Rutgers diploma hanging from a real estate sign (titled "The Bullfighter Extends His Cape")," reported Kelly Heyboer of local news outlet nj.com.
Unofficially known as dartboard Jesus, the piece of art received immense attention after photos of the display were posted online, according to Peter Fricke of Campus Reform.
"Natalie Caruso, who describes herself as a former Rutgers student, posted a photo to a Facebook group for the class of 2016 showing the display," reported Fricke Thursday morning. "The post quickly gained traction on social media, inspiring numerous Campus Reform readers to share their own (uniformly disapproving) reactions."
"It is surprising that a state university would allow this," Caruso wrote in the post, according to Campus Reform. "I asked them to take it down because I found it disrespectful and they refused. How is this acceptable!?"
Heyboer added that "The names of the artists are not included with the artwork. Rutgers officials did not identify the artist who created the dartboard Jesus piece or whether he or she is a student or faculty member."