Daughter of Controversial Bishop Carlton Pearson Auditions for 'The Four' and Wins a Seat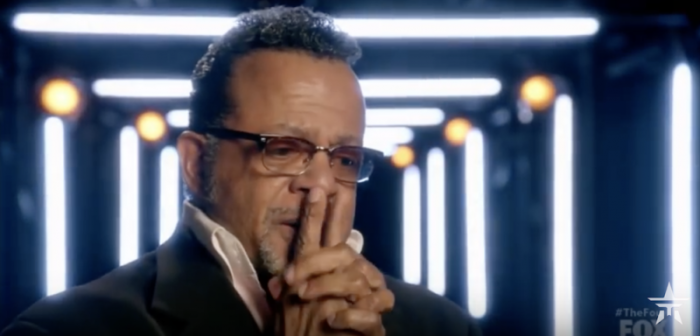 Majeste Pearson auditioned for the new singing competition "The Four" where she tearfully shared her father Bishop Carlton Pearson's controversial story.
Pearson hit "The Four" stage hoping to battle one of the four singers selected by the judges in the competition. Before singing on Thursday she shared her background, revealing that her father is the bishop whose theology changed and he started teaching the universalist belief that no one is condemned to Hell.
"My dad was at the height of his career and suddenly he had a shift in his beliefs and decided that there was no Hell and that everybody was going to Heaven," Pearson says. "The community labeled my father a heretic."
The young singer explained that her father's decision caused her to lose friendships she'd had her whole life as members of the church stopped talking to them. They also lost their thriving church, Higher Dimensions Family Church, which at the time was one of Tulsa's largest congregations with 5,000 members.
"We lost everything. I can't even imagine all that he had to go through for him to still come home and smile," Pearson said as she broke down in tears.
"His heart and his determination has always been consistent and that's what inspires me and I feel like it's what I have because that's my dad," she added.
Pearson then sang her rendition of Adele's hit song "Someone Like You" and blew the judges away. After getting voted to the next round, she battled singer Carvena Jones and beat her, which secured her seat on the competition until next week's show.
The Pearson family made national news in the 2000s, when Pearson publicly announced that he no longer believes there is Hell. His doctrine then became "a variation on universal reconciliation and the Gospel of Inclusion."
which highlighted the backlash that Pearson faced after adopting the Universalist teachings claiming that all people go to Heaven.
Adapted from an episode of NPR's "This American Life," in 2017, Netflix released "Come Sunday," a movie about Bishop Pearson's religious transition that started after he watched TV footage of the Rwandan genocide which led him to rejected the idea of eternal damnation.
In the film, Pearson, a mentee of the late Oral Roberts, said he heard God's voice "clear as my own," say: "They don't need to get saved. They're already saved. ... They will all be with me in Heaven.'"
From that point on, the pastor started adhering to the false doctrine that there is no Hell, and thus no need to be saved. Unsurprisingly, this revelation led church leaders and congregants to abandon the church, eventually resulting in the building's foreclosure in 2006.
Christian leaders nationwide labeled Pearson a "heretic," and he was subsequently barred from preaching at Oral Roberts University, a school in which he had been greatly involved and esteemed. According to ORU, Carlton has not been banned from stepping foot on campus and has even attended various events there.
According to his website, he is now the leader of "Streaming Consciousness Network" in Chicago. He also speaks at All Souls Unitarian Church where he's listed on their website as an affiliate minister.