David Platt answers 'does prayer change God's mind?' at Secret Church event
David Platt answers 'does prayer change God's mind?' at Secret Church event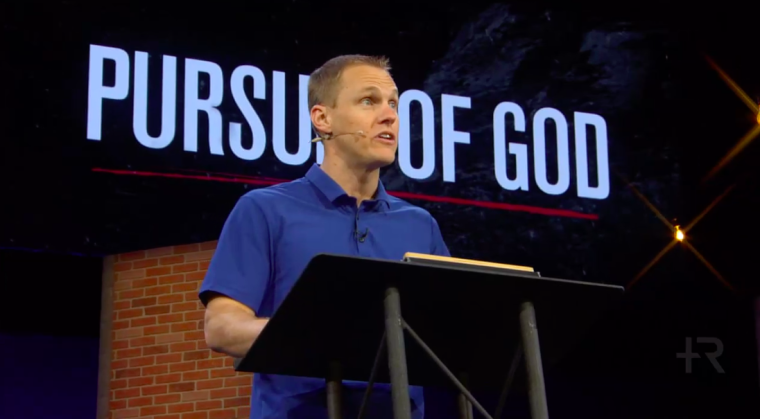 McLean Bible Church Pastor David Platt recently answered some common questions about prayer and highlighted how God uses the prayers of his children for the good of His people and ultimately, for His glory in the world.
During the Secret Church event held at McLean Bible Church in Washington, D.C., Platt acknowledged that many Christians struggle to pray because they don't understand how their prayers fit with the purposes of a sovereign God.
"Does prayer change God's mind? And does prayer change anything, for that matter?" Platt asked. "If God is sovereign, if God's in control of all things, and all of God's promises will come to pass, then why pray?"
To answer that question, one must know four things about God, he said: The perfections of God are unchanging; the purposes of God are unchanging; God's promises are unchanging, and the plans of God are unfolding.
"God has designed prayer to be a powerful means by which we participate in His plans in the world," he said. "God brings about a remarkable change in the world in response to the prayers of His people. When we pray, God acts. Our prayers affect the way God acts in the world."
The Radical author pointed to Exodus 8:13, which reads: "God did according to the word of Moses."
"God did according to the word of man," he said. "What a testimony to prayer. Prayer is an invitation to join with God in effectively shaping the course of history ... through prayer, God has called you and me not to watch history, but to shape history for the glory of His great name. That'll change the way you pray."
Believers must pray, he said, because we have an assignment we cannot fulfill: "None of us can be [who] God has called us to be on our own," he explained. "This is the way it's designed to be ... it's a massive moment when we realize we can't do anything without God's help. This drives us to pray."
"We pray because we have a privilege we cannot forsake," he said. "We pray because we have a family we cannot forget, and we pray because we have a God we cannot fathom."
When we fail to pray, we essentially say we're content with "little knowledge of God's glory," Platt warned, adding that we can't help but "become like what we behold."
God saves His people, he explained, so that they might "seek His face in worship."
But because God is holy, we must be contrite — and not casual — when we approach Him: "Sin is no small thing in the sight of a Holy God," he warned, adding that the "propensity to sin is strong, and the punishment for sin is severe."
Seeking God is a choice that "each of us has," Platt said, adding: "Do you want to live in the pursuit of God, or do you want to die not pursuing God?"
Platt's message was one of four teaching sessions focusing on prayer, fasting, and the pursuit of God held during the five-hour Secret Church event.
The idea behind Secret Church comes from time Platt spent teaching and ministering among underground Asian house churches. The event remembers Christians around the world who cannot meet openly.
"My goal tonight is that ... you would walk away with a passion, a passion to pursue God. The purpose tonight is not to entertain you, but to equip you," Platt said at the beginning of the night. "This is about equipping you not just to know and pursue God in your own life, but to live your life in such a way that others around you know and pursue God as a result of your life."
"I want us to feel throughout this night that God is with us, that He is speaking, and that we have the opportunity to speak to Him," he added.
Throughout the night, attendees asked God to sustain the faith of those persecuted, to change the hearts and the actions of their persecutors, and to use their witness for the spread of the Gospel. The focus of this year's Secret Church event was the Somalis of East Africa.
During the first session of the night, Platt offered the reminder that people were created uniquely to enjoy a relationship with God, to rule over all creation, and to reflect and multiply God's glory to the ends of the earth. Yet, because of sin, humans need a faithful intercessor: One who is fully like us, and One who is fully like God.
"God seeks the guilty," Platt said. "A relationship with God begins not with your pursuit of God, but with His pursuit of you ... the God who pursued you out of love in the past has not stopped pursuing you out of love today."
Purity of heart is essential to being in the presence of God, the pastor said, and His grace alone keeps us from experiencing His eternal wrath.
"You cannot have a relationship with God, come to God in prayer, on your own," he emphasized. "You have sinned against God, you are separated from God, and we all deserve judgment for our sin. The only way any one of us can come before God is by trusting in the sacrifice of Jesus for our sin. That's how a relationship with God begins."
The antidote to sin and selfishness, the pastor said, is seeking God above us, and the pursuit of God involves taking radical risks and trusting in a radical reward.
"Our goal in prayer is not ultimately to get things from God; our goal ultimately is to know, love, and enjoy God," he said. "Prayer will not be very satisfying if you just want things...prayer is the pursuit of God, not just His gifts. If we just want gifts and we don't want God, we will completely skew prayer from the start."
Still, the Bible tells us we have the opportunity to approach God on behalf of those in need, Platt said, adding: "We present our requests to God with bold humility."
As a result of prayer, we walk away having been literally changed by God, he continued. "God wants to bless us, He wants to bless His people, He invites us to experience His blessing through prayer ... God never gets old, boring, or uninteresting."
In his sermon, Platt also touched on the subject of fasting, a practice he defined as "abstaining from physical food for spiritual purposes."
God created us with physical cravings — and those are designed to be satisfied by their Creator, Platt said.
"God uses physical cravings to teach us we are ultimately sustained by God," he said. "Our spiritual need for God is far more fundamental than our physical need for food and water."
Later in the evening, Platt warned that not seeking God's counsel in prayer is "detrimental."
"Never underestimate the effect of praying to the God who will fight for you," he declared, later adding: "One day, all of our praying and all of our fasting in pursuit of God will culminate in the goal of our salvation: everlasting, uninterrupted, uninhibited, unimaginable, indescribable, all-satisfying, communion with God."