Death Toll From Nigeria Church Collapse Rises to 45; Preacher TB Joshua Alleges Attack Was by 'Islamic Extremists'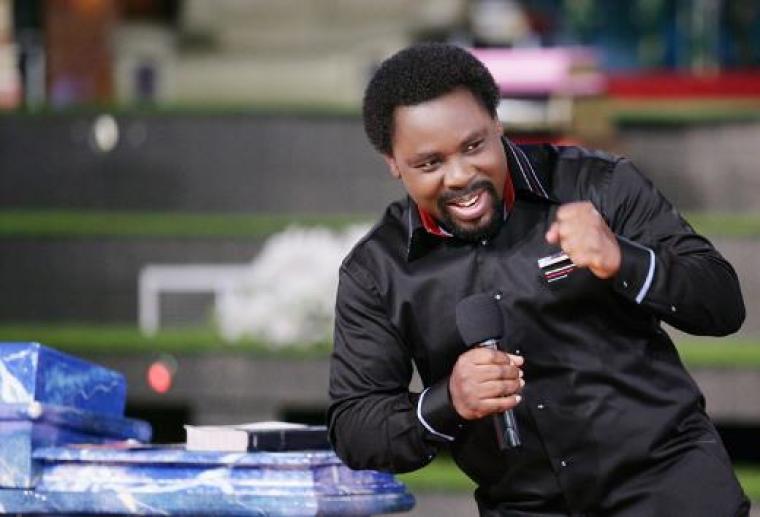 As the death toll from a collapsed guesthouse at the campus of T.B. Joshua's Synagogue Church of All Nations rose to 45 on Monday, the Nigerian preacher said he believes "Islamic extremists" launched an attack using an aircraft.
Joshua is broadcasting a video, alleging a low-flying aircraft flew four times over the building before it collapsed Friday, according to The Associated Press.
The preacher said his church compound on the outskirts of Lagos was attacked by Islamic extremists.
From the short video clip, a jet was observed to have hovered at 11:30 a.m., 11:43 a.m., 11:45 a.m. and 11:54 a.m. before the building caved in, according to AllAfrica.com. After the fourth passage over the building, the structure collapsed at exactly 12:44 a.m.
Joshua said in the video that the building might have collapsed as a result of chemical substances.
However, the National Emergency Management Agency blamed the collapse possibly on the construction of two additional stories to the four-story building without any fortification of the foundation, according to agency spokesman Ibrahim Farinloye.
"In a few weeks, the truth behind the collapsed building will be revealed," Joshua says in the video. "The last time the Boko Haram issue occurred, the press were against the church including the police but after some weeks, the truth behind the attack was revealed."
Joshua adds, "I do not want to put fear in the minds of Nigerians. We are still battling with the Ebola virus disease, and that was why I have decided to delay my comment till now."
On Monday, rescuers were searching for more bodies even as 105 survivors had been rescued.
"The toll may increase as rescue operation is still ongoing because many people are believed to be trapped under the rubble," Farinloye told CNN, adding that church members refused to allow emergency workers access to the collapsed building, delaying rescue operations.
"The church members were very aggressive and tried attacking emergency responders," he said.
"The purpose of life is to glorify God in both good and hard times alike," the preacher wrote on his Facebook page Monday.
On Friday, the day of the incident, Joshua wrote, "A building, not the church auditorium as was reported. The few people that were there are being rescued. What you wish to others, God wishes to you. Nothing makes us love a person as much as praying for him. The more I love you, the more I will pray for you."
According to the church's website, "T.B. Joshua's journey is a humbling story of how God raised a young man from a poverty-stricken home to lead an international ministry that would attract thousands worldwide to witness the reality of God's power today."