Deceased Wife's Christmas Wish for Her Husband Goes Viral; Community Grants Cancer Victim's Last Request
Deceased Wife's Christmas Wish for Her Husband Goes Viral; Community Grants Cancer Victim's Last Request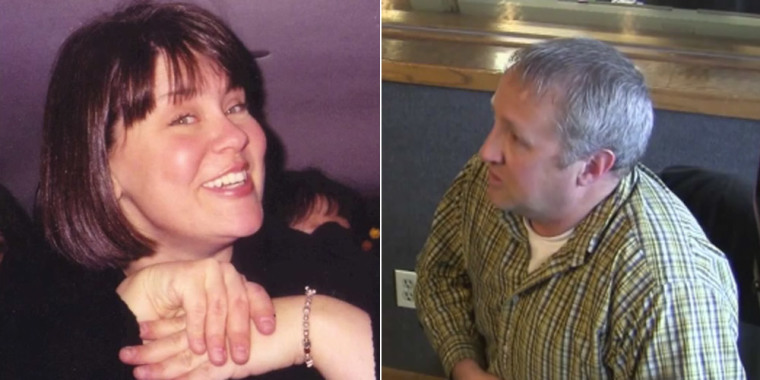 Brenda Schmitz, a wife and mother of four, died of ovarian cancer in September 2011. But last Friday, a local radio station read and granted her final requests for her family on air, and the video of her husband's stunned amazement has gone viral.
"We've been doing the Christmas wish program for 20-plus years, we've never received a wish like this – ever," Des Moines radio station KSTZ "Star" 102.5 FM Host Ken Auge said. "There wasn't a dry eye in the room, it really inspired us to do something for her."
In a letter delivered by an anonymous friend, Brenda, praised the station's "Christmas Wish" program as "a tremendous and thoughtful deal" that "truly exemplifies what Christmas is all about."
She also expressed her love for and confidence in her husband David, and asked for three wishes: that her husband's new fiancé would be pampered at a spa, that the family could go on a "magical trip," and that the doctors and nurses at the hospital would have "a night full of drinks, food and fun." The friend gave the letter to the radio station this year because Schmitz recently got engaged to his girlfriend, Jane.
Radio co-host Colleen Kelly read the letter to Schmitz, and he broke down in tears.
"When you are in receipt of this letter, I will have already lost my battle to ovarian cancer," Schmitz's late wife wrote.
"As I was thinking about my last months on Earth I told David my wishes after I was gone that I believe he followed through with the attitude and courage I know he possesses. What a great husband and father he is," Brenda wrote. She also expressed a desire to meet the woman whom Schmitz chose to help raise their children. "Thank you, I love you, whoever you are," the mother wrote.
When they married, Brenda and David each brought children to the family – David's two sons, Josh and Justin, and Brenda's son, Carter. Max, the son they had together, was only two years old when his mother passed away.
"No child as young as Max should lose his mother and it brings tears to my eyes now thinking of it," the mother wrote. "He is such a bright, intelligent, beautiful boy. I will miss all my boys."
After listing her wishes, she concluded with a final farewell. "May God bless and keep all of you safe there," she wrote. "When you wish upon a star… Brenda."
After Kelly read the letter, Schmitz shared "signs" of his late wife's presence in the past two years. "The biggest one is the day she died," the husband said. "Somewhere Over the Rainbow" was Max and Brenda's special song. Max "was not even two and he would sing that song." The day she died, there was a double rainbow, and Max has the picture of that rainbow in his room today.
"There's no doubt in my mind who did that," Schmitz said.
The husband told another story of his late wife's presence when his girlfriend, Jane, and his son, Max, went jet skiing. As he left them, Schmitz saw a seagull fly over the two. Brenda loved seagulls. Later that day, Jane was crying, and she told Schmitz, "Max came up to me and asked me if I'd be his mommy." Brenda had told her husband that he would sense her presence when he found the right person – "You'll know, I'll be there."
The radio station announced that it would be granting Brenda's wishes with a family trip to Disney World, a spa trip for Jane, and food drops for the local doctors and nurses.
"We wish you Merry Christmas, David," Auge declared. The video recording of the inspirational letter reading and Christmas wish program has more than 1,000,000 hits on YouTube. It also has over 7,000 "likes."