Merry Christmas From the Holderness Family: The Viral Video Newsletter That Will Inspire You to Follow Your Dreams, Even If You Have Young Kids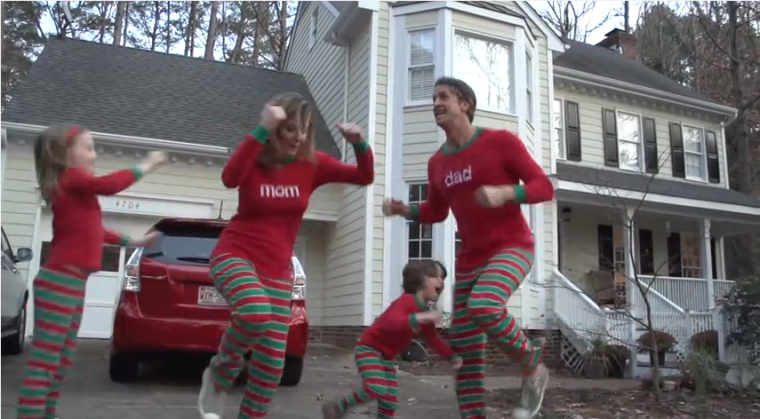 Penn Holderness, a news anchor with WNCN 17 in Raleigh, N.C., decided to quit his job this month and start a new business with his wife in the New Year, and he demonstrated why he is bound to succeed with a riotous YouTube video of his family rapping in Christmas-themed pajamas. Now, millions of people are cheering him on.
The YouTube video titled "#XMAS JAMMIES - Merry Christmas from the Holderness Family!" has already been viewed nearly 8 million times after just a week online as of Wednesday evening.
"I've always wondered what it means to go viral – and here we are. Our greenroom website has crashed (fixing it). So far we have been on Fox and Friends, GMA, GMA again, HLN, and Greta Von Susteren. But for me, the greatest part of all this was getting a call from Jeannie Moos at CNN," wrote Holderness on his blog on Tuesday.
The father of two, a girl, Lola and a boy, Penn Charles, revealed on his blog that after 18 years in the news business that he would join his wife, Kim Dean Holderness, in a production and marketing business.
"After those 18 years, he's decided that he isn't really interested in about half of the things he talked about on the news. So he's quitting. He now owns a production and marketing company (visitthegreenroom.com), and is using this blog to showcase 100 percent of the things he actually cares about," explains information on his blog.
Greenroom Communications LLC, is described as "a full service video production firm offering professional HD video, Internet marketing, social media management and more," according to a Pinterest page.
The video, which is set to the music of Will Smith's "Miami," also highlights Holderness' vasectomy, which he gets into on his blog as well, and people are now praising his ingenious approach to building his career.
"Creative, organized, impressive. Looks like a loving family who truly knows how to stop and smell the roses, 'er poinsettias. Yes, the kids will never live this down in school, but keep your chins up and you'll probably be Disney stars someday. Well done!" noted one commenter only identified as Josh.
"Dad, you are freaking awesome man. I am a 44-year-old guy with two daughters, 11 and 6, and can relate to everything. Including the vasectomy! Ouch," wrote Donnie Miller.