Defiant Roy Moore Wants to Bring 'Truth About God to Our Capitol' Despite Sexual Misconduct Allegations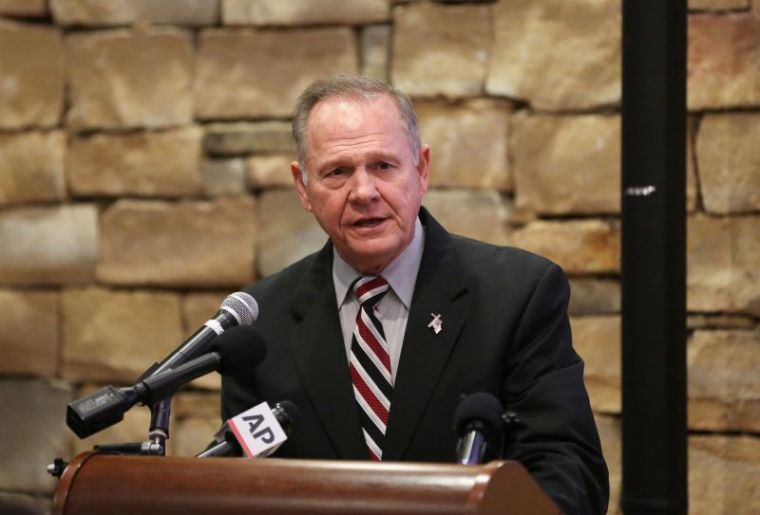 A defiant Republican Senate candidate Roy Moore in Alabama believes he can take the "truth about God to our Capitol," despite his campaign reeling under a cloud of allegations from multiple women that he sexually pursued them as teenagers.
Speaking at the "God Save America Revival Conference" at Walker Springs Road Baptist Church in Jackson Tuesday night, according to ABC News, Moore told the congregants that he wants "to speak the truth, I want to take the truth about God to our Capitol."
"Now I'm running for — Senate of the United States — what do you think I'm going to do? Why do you think they're giving me this trouble? Why do you think I'm being harassed by the media and by people pushing forth allegations in the last 28 days of this election, last 30 days it began?" Moore asked. "After 40 something years of fighting this battle I'm now facing allegations and that's all the press want to talk about, but I want to talk about the issues, I want to talk about where this country is going and if we don't come back to God, we're not going anywhere."
On Monday, Alabama resident Beverly Young Nelson, the latest of five women to accuse Moore of sexually pursuing them as teenagers, said at a press conference in New York City with celebrity attorney Gloria Allred , that during an encounter with the Republican nominee for Senate in Alabama when she was just 16, she thought Moore was "going to rape me."
"I was determined that I was not going to allow him to force me to have sex with him. I was terrified. He was also trying to pull my shirt off. I thought that he was going to rape me. I was twisting and struggling and begging him to stop. I had tears running down my face," Nelson said.
Moore suggested Tuesday however that the sexual misconduct allegations against him were triggered because he has "made a few people mad."
"Obviously I've made a few people mad. I'm the only one who can unite Democrats and Republicans because I seem to be opposed by both," Moore said. "They've spent over $30 million to try to take me out, they've done everything they could, and now they're together to try to keep me from going to Washington."
With his wife Kayla providing support, Moore was applauded at the church when he declared: "Today you find out that people would rather hear criticisms of a person than look at what he's done for 20 to 30 to 40 years," said Moore.
Prominent Republican leaders, including House Speaker Paul Ryan and Texas Sen. Ted Cruz, urged Moore Monday to step aside from the race as allegations from the women mounted this week.
"One of two things should happen: If these allegations are true, Judge Moore should drop out now. Today," Cruz told reporters Monday, according to the Texas Tribune. "The people of Alabama deserve to have the option of voting for a strong conservative who has not committed criminal conduct. Or two, if these allegations are not true, then Judge Moore needs to come forward with a strong, persuasive rebuttal demonstrating that they are untrue."
Conservative Fox News host Sean Hannity said Tuesday night that Moore has 24 hours to explain the inconsitencies in his answers or he "needs to get out of this race."