DeGeneres Flips Brad Pitt's Former Home for $13 Million
Just months after purchasing what was once Brad Pitt's Malibu home, Ellen DeGeneres has sold the gorgeous house for an impressive profit.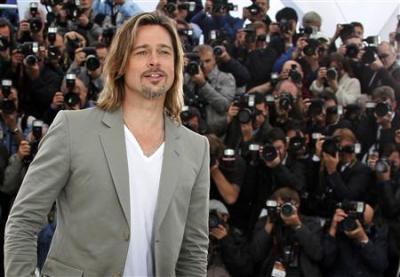 The comedienne originally purchased the property, which is complete with a state-of-the-art security system, pool, tennis court, lush gardens, and access to a private beach, for $12 million last year.
The home overlooks the Pacific Ocean and is nestles in the desirable Encinal Bluffs area. DeGeneres lived there with her partner Portia de Rossi for just seven months.
In flipping the home and selling it to wealthy cosmetics company owner Victoria Jackson, the couple earned a $1 million profit, according to Us Weekly.
Pitt, a self-professed architectural buff, purchased the 4-bedroom home in 2005 for $8 million following his divorce from Jennifer Aniston. The 48-year-old actor shares six children with fiancée Angelina Jolie. Today the family lives in Scotland while Pitt films his latest project, "World War Z."
Before purchasing Pitt's Malibu home, DeGeneres and de Rossi had sold their Beverly Hills home to "American Idol" host Ryan Seacrest. In buying Pitt's former home, the couple downsized from 15,000-square-feet of interior space to 4,000, according to People magazine.
The host of CBS' "The Ellen Show" has kept busy this year. In December, DeGeneres was named a special envoy to the Obama Administration for raising AIDS awareness. The actress will use her game to combat the spread of the disease in sub-Saharan Africa, as well as raise global responsiveness to AIDS.
Moreover, DeGeneres and Rossi celebrated their 4-year anniversary this month. The 54-year-old actress will prepare for a 10th season of "Ellen" which begins Sept. 10.
Alternately, Pitt and Jolie reportedly have plans to build another home in California in the future. Sources close to the couple said that Jolie purchased a waterfall as well as the land surrounding it as a birthday present for Pitt late last year, and that the couple wish to build a home around it.
"Angelina wanted to get him something incredibly special and, because she knows how much he loves architecture, this would be perfect," a source said, according to the Daily Mail.
Ellen DeGeneres Interviews Lady Gaga
Brad Pitt, Angelina Jolie & Kids Play at the Park