Deion Sanders Glorifies God After He Says People 'Tried to Kill Me'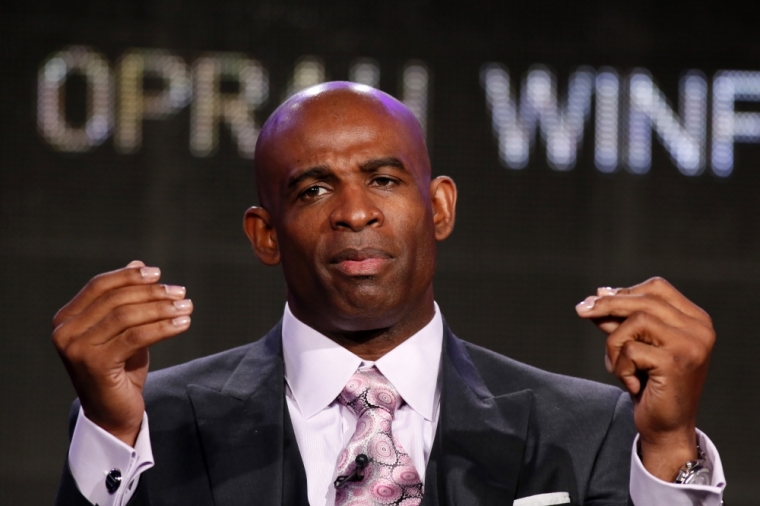 Former Dallas Cowboys football player Deion Sanders is praising God for helping him survive what he says were threats against his life from people who "tried to kill me physically and verbally."
"God was there when many of y'all talked about me, doubted me, lied on me, cheated me, turned your back on me, bet against me, hated on me, stole from me and tried to kill me physically and verbally," the 48-year-old Hall of Fame NFL player wrote on Instagram Sunday. "That's why I praise Him like there's no tomorrow!"
While Sanders did not provide details about when his life was threatened or when he was mistreated, one event he might have been referring to was last January when his Dallas-based Prime Prep Academy charter school was shut down due to a lack of funding. The school's custodian, Reginald Hall, previously said he believed that negative reports were being spun to spite Sanders.
"You have a lot of people who want to do this [to] spite Deion Sanders, and this isn't about Deion Sanders, this is about the kids," Hall said in an interview with The Dallas Morning News in January 2015. "You want to do something to shut Deion down, but you're not thinking about these kids and what they are going through. A lot of kids don't even talk to Deion. They are here to get an education."
Sanders is known for posting his spiritual insights on Twitter.
"You have No idea what God is capable of doing until you fully trust him and let God be God. God can't fail! #TRUTH,"Sanders tweeted shortly after news broke that his charter would soon be shuttered.
Aside from his public charter school troubles, Sanders leaned on God during a public divorce and custody battle with his actress ex-wife of 12 years, Pilar, who accused her ex-husband of abusing both her and their children.
In 2014, a domestic altercation allegedly took place at the former couple's $5.7 million home where each alleged that they were attacked by the other.
Deion, however, was granted custody of their children.
"At one point in my life fishing was the only thing that brought me peace and then I surrendered to Jesus and He made me a fisher or men, women and children of all ethnicities," Sanders wrote on Instagram.