Deion Sanders' prayers are constitutionally protected, lawyer tells University of Colorado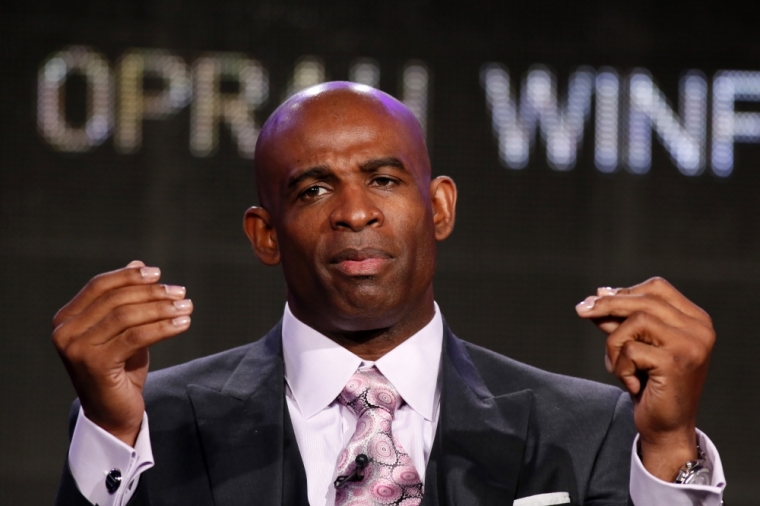 A religious liberty legal organization has urged the University of Colorado Boulder to uphold the free speech rights of its new football coach Deion Sanders amid a complaint from an atheist organization over his leading the team in prayer. 
First Liberty Institute sent a letter to the university and its leadership Tuesday to correct what it characterized as "Freedom From Religion Foundation (FFRF) 's misstatements regarding the requirements imposed by the First Amendment on public school employees' religious expression."
The letter follows a Jan. 24 complaint from FFRF, a Wisconsin-based secularist legal group that advocates for a strict separation of church and state, over what the organization described as Sanders engaging in "school-sponsored proselytizing."
FFRF Staff Attorney Christopher Line took issue with Sanders' directing a staff member to lead players and coaches in a prayer before a team meeting. He cited the prayer as a violation of the Establishment Clause of the First Amendment to the United States Constitution and an act of discrimination against non-Christians. 
A week after FFRF raised concerns about Sanders leading the football team in prayer, the group indicated that it had received a response from CU. In the reply, dated Jan. 27, CU Boulder Executive Vice Chancellor and Chief Operating Officer Patrick O'Rourke assured FFRF that "the Office of Institutional Equity and Compliance personally met with Coach Sanders to provide guidance on the non-discrimination policies, including guidance on the boundaries in which players may and may not engage in religious expression."
First Liberty Institute Counsel Keisha Russell outlined the group's disagreement with FFRF's analysis in its letter to CU leadership, obtained by The Christian Post.
"The [U.S.] Supreme Court has repeatedly held that public school employees may engage in religious expression and exercise; therefore, public universities like CU may not target Coach Sanders (or other members of the football staff) for exercising constitutional rights on campus," Russell wrote in the letter. 
Russell repeatedly quoted from the June 2022 Kennedy v. Bremerton School District decision, which determined that a Washington state school district discriminated against a football coach by suspending him for engaging in prayer on the football field after games.
FFRF concluded in its initial complaint that the Kennedy decision prevents schools from making religious observances "compulsory" and pushed back on the idea that participation in the school-led prayer could be considered "voluntary." 
Russell stressed that based on the Kennedy ruling and previous jurisprudence, "First Amendment protections extend to both public employees and students, 'neither of whom shed their constitutional rights to freedom of speech or expression at the schoolhouse gate.'" According to Russell, "The Supreme Court distinguishes forced compliance from expression."
"Public school employees may not compel students to participate in religious exercise just as the government may not force citizens to attend church or otherwise engage in formal religious exercise," she noted. "But there is a distinct difference in compulsion and mere observance of a public employee's private speech. Under Kennedy, private speech, like Coach Sanders' prayers, does not present Establishment Clause concerns. Rather, censorship of such speech can quickly become a violation of the Free Exercise Clause."
Russell concluded by requesting that the school provide "all training materials from the CU Office of Institutional Equity and Compliance (or any other relevant CU department) relevant to 'the requirements of both the Establishment Clause and the Free Exercise Clause' used to provide 'guidance' to Coach Sanders and other [members] of the CU football staff." 
Stressing that "Coach Sanders does not lose his constitutional right to free exercise of religion simply because he is an employee of CU," Russell warned that "giving 'guidance on the boundaries in which players and coaches may and may not engage in religious expression' presents a risk of state-sponsored censorship of Coach Sanders' private speech." 
Sanders, a Pro Football Hall of Fame inductee who also played Major League Baseball, has been outspoken about his faith. After the discovery of blood clots in his leg led to the amputation of two of his toes while he was coaching at Jackson State University, the former football star told Chris Neely of "Thee Pregame Show" that he "got to really see God's face and the different personalities of God" as he went through the ordeal. 
Sanders recalled the "quiet cries at night that were in that hospital," specifically "all the speaking in tongues, and the prayer, and the fellowship of God, and the praising Him through and through, I'm pretty sure that some of those nurses thought I was crazy."