Deion Sanders Shares Message God Whispered to Him (Watch)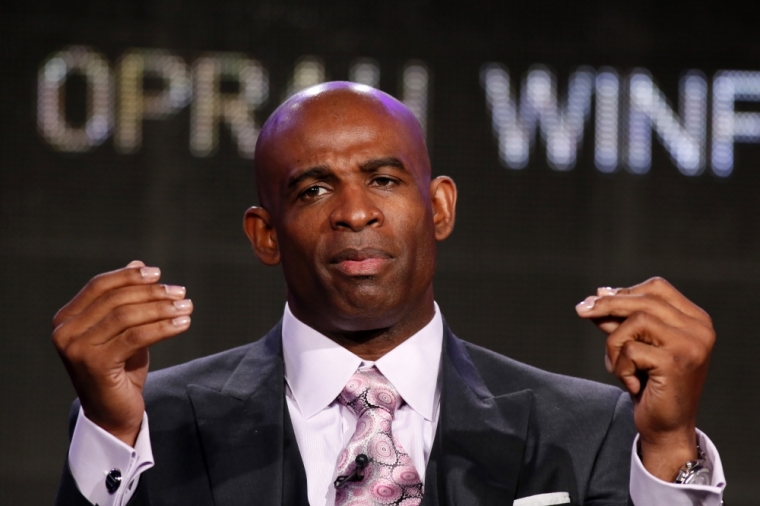 Deion Sanders believes that during his recent run, God shared a message with him. Now, the NFL Hall of Famer wants to share that message with the world.
On Wednesday, the 49-year-old former NFL star turned-football-analyst posted a video on social media about how God urged him to advance to another level in his life.
"God whispered something to me that I want to share with you. He said, 'I put too much in you to be where you are. I've given you too much grace for you to be where you are. I put you around some people that could take you to the next level, but yet and still you stay where you are.' The problem is I've been depending on people to do certain things that I can do for myself," Sanders said. 
"Let's stop depending on people to do the things that God has gifted and graced us to do for ourselves," he said, captioning the video. "We are better than what we're showing. #Thinkaboutthat #Truth."
Sanders has been using social media to post messages about his faith, and last year he spoke about surrendering to Jesus.
"At one point in my life fishing was the only thing that brought me peace and then I surrendered to Jesus and He made me a fisher or men, women and children of all ethnicities," he wrote on Instagram last year. 
While overcoming public trials, Sanders has also made sure to publicly glorify God.
"God was there when many of y'all talked about me, doubted me, lied on me, cheated me, turned your back on me, bet against me, hated on me, stole from me and tried to kill me physically and verbally," the former professional football and baseball player wrote on Instagram earlier this year. "That's why I praise Him like there's no tomorrow!"
After news broke that his Dallas, Texas-based charter school Prime Prep Academy had closed its doors due to financial debt, he still gave God the glory.
"You have no idea what God is capable of doing until you fully trust Him and let God be God. God can't fail! #TRUTH," Sanders tweeted last year.