Democrat mayor blames Biden for explosion of immigrants in his town coming in 'without any consequence'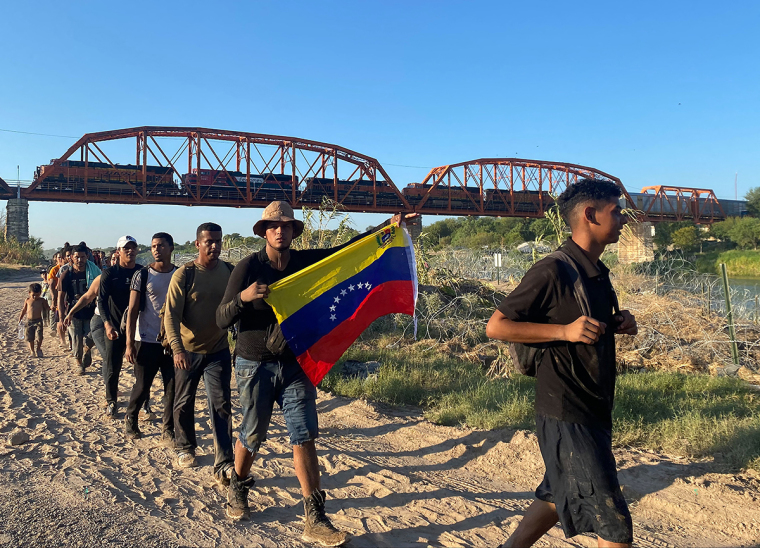 A surge of illegal immigrants in a Texas town has led to increased crime and forced the closure of a lucrative international bridge, prompting the town's Democrat mayor to blame President Joe Biden for the crisis.
During a recent interview with Erin Burnett on CNN's "OutFront," Eagle Pass Mayor Rolando Salinas described the situation as "very serious" for the city, which has a population ranging from 28,000 to 30,000.
"In the last couple of days, we've had an excess of 5,000 people cross from Piedras Negras, Mexico, into Eagle Pass, Texas," he told the cable news network.
Salinas lamented that people were being "let loose" into the community, raising safety concerns and leading to the closure of their international bridge, a significant source of revenue. "You have all these thousands of people just walking in, without any consequence whatsoever," he was quoted as saying.
State and federal agencies, including the Department of Public Safety and Border Patrol, are assisting the town. However, Salinas expressed disappointment with the Biden administration's lack of action. "I'll be honest with you, I believe 100 percent he does [bear some responsibility]," Salinas said.
The mayor also criticized the federal government for not reaching out to him or his staff. "Nobody has bothered to call me, anyone in the city staff saying, 'Hey, this is the federal government. We know what you're going through. We're worried about you. This is our plan of action,'" he said.
Salinas called for the enforcement of existing laws. "Please, just enforce the laws that are on the books. We are a nation of laws," he urged, emphasizing that the situation is unfair to those who have immigrated legally in the past.
Salinas concluded by saying that the situation is "unacceptable."
"It takes a lot of money and years to do it the right way. And it's not fair for those people that now we have thousands of people coming in without one single consequence," he said.
Texas and the Biden administration have had considerable differences over immigration policy for the U.S. southern border with Mexico, which has seen a significant increase in illegal migration since Biden took office. In the first 10 months of fiscal year 2023, U.S. Customs and Border Protection reported nearly 2 million encounters with illegal immigrants at the southwest border. 
According to preliminary data from The Washington Post, a record number of migrants crossed the southern border in August. There were reportedly 177,000 arrests along the Mexico border last month, an increase from 132,652 in July and 99,539 in June. U.S. Border Patrol arrested at least 91,000 migrants who entered the country as part of a family group in August. 
A DHS spokesperson told the outlet that the increases are part of "seasonal trends," and the government has repatriated over 17,000 parents and children who crossed the border as families since May.
Earlier this month, U.S. District Judge David Alan Ezra of the Western District of Texas, Austin Division, ruled that the state can't have a floating barrier on the Rio Grande without permission from the federal government, a victory for the Biden administration that the state has vowed to appeal.
Ezra issued a preliminary injunction ordering Texas to remove a 1,000-foot buoy barrier along the Rio Grande.
In July, under the directive of Gov. Greg Abbott, Texas deployed the buoy barrier to curb illegal entry into the U.S. amid an increase in border crossings in recent years. The U.S. Department of Justice argued that the buoys were installed in violation of the Rivers and Harbors Appropriation Act because they were placed without permission from the United States Army Corps of Engineers.
"Governor Abbott announced that he was not 'asking for permission' for Operation Lone Star, the anti-immigration program under which Texas constructed the floating barrier. Unfortunately for Texas, permission is exactly what federal law requires before installing obstructions in the nation's navigable waters," wrote Ezra, an appointee of former President Ronald Reagan.