Top Democrat Rebukes Obama's Claim: ISIS Not Contained, 'It's Now in 12 Other Countries'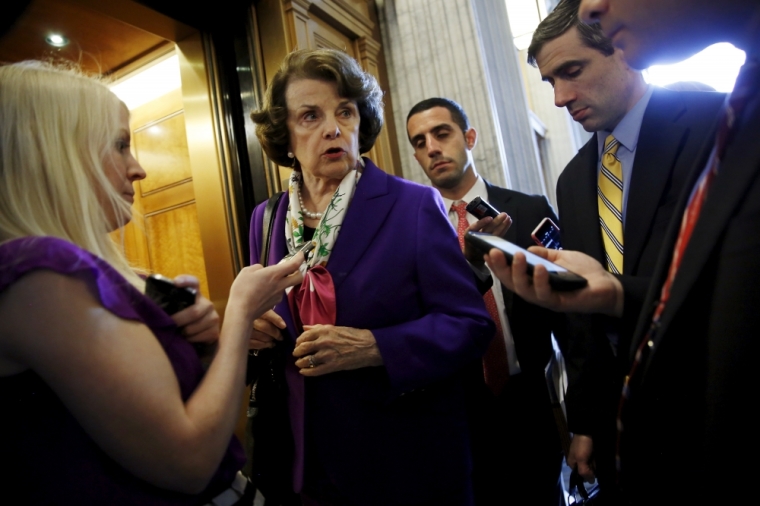 In an introduction for Hillary Clinton at a Washington D.C. fundraiser, Sen. Dianne Feinstein (D-CA) criticized the president, declaring ISIS is not contained and is instead spreading.
"It's often said that we have a big problem with terrorist groups and that ISIS is being contained. Well, it is now in twelve other countries," declared Feinstein.
The senior Senator from California, long considered a national security expert and the top Democrat on the intelligence committee, has been increasingly critical of President Obama's strategy towards ISIS, also known as the Islamic State or ISIL.
Feinstein offered similar comments to Andrea of Mitchell of MSNBC last month.
"I have never been more concerned. I read the intelligence faithfully. ISIL is not contained. ISIL is expanding. They've just put out a video saying it is their intent to attack this country," she said.
"Hopefully, we will work with our allies to put together the kind of coalitions and attack plans in more than one place at a given time.
"There's only one way we are going to diminish them and that is by taking them out, because they are growing. They are in more than a dozen countries now," Feinstein added.
Her comments reflected Tuesday's admission by the Chairman of the Joint Chiefs of Staff, Marine Gen. Joseph Dunford Jr. that ISIS is not contained.
Prompted by questioning from Congressman Randy Forbes, R-Va., Gen. Dunford noted, "We have not contained ISIL. Tactically they have been contained in areas, but strategically they have spread since 2010."
Gen. Dunford added that "I think we have the right elements of the strategy today to defeat ISIS," but added "the campaign against ISIS was "not fully resourced since 2010."
Senator Dan Coates, R-Ind., a member of the Senate Intelligence Committee, told Fox News Tuesday that the Obama administration is currently changing its tactics to combat ISIS "even though they are not willing to admit it."
The White House has argued that the president's comments last months which occurred before the deadly attack in Paris about containment of ISIS had nothing to do with their ability to inflict global terror, but that they are currently strategically contained in Syria and Iraq.
Two days after the Paris attack in November, Deputy National Security Adviser Ben Rhodes told ABC's "This Week," "The president was responding very specifically to the geographic expansion of ISIL in Iraq and Syria."
"A year ago, we saw them on the march in Iraq and Syria, taking more and more population centers. The fact is that we have been able to stop that geographic advance and take back significant amounts of territory in both northern Iraq and northern Syria," Rhodes declared.
"At the same time, that does not diminish the fact that there is a threat posed by ISIL, not just in those countries but in their aspirations to project power overseas," he added.
Defense Secretary Ash Carter told lawmakers on Capitol Hill that the administration was boosting its efforts to contain ISIS, with the possibility of opening up a new front against Islamic State militants in Syria.
"We are using the might of the finest fighting force the world has ever known," Carter said.
To build on on momentum, we are sending special operation forces to Syria to support the fighters," he added.
Carter called on the international community to step up their effort to join the fights against ISIS, while accusing Russia of primarily supporting the Assad regime in Syria.