Democratic candidate performed sex acts with husband online for tips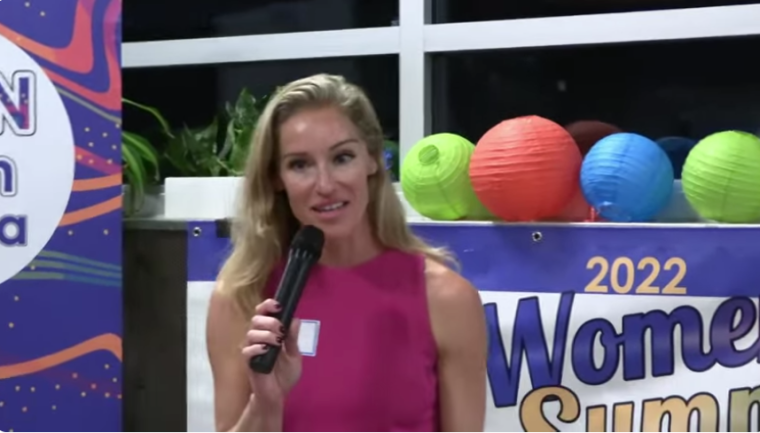 Editor's note: This article contains sexually graphic depictions that some readers may find disturbing. 

A Democratic candidate running for state office in Virginia performed sex acts online with her husband for tips, assuring viewers that the money would go to a "good cause." It remains unclear if she was referring to her House of Delegates campaign. 
Susanna Gibson, a nurse practitioner and a mother of two children, is running to represent the 57th District in the Virginia House of Delegates. Gibson is running against Republican David Owen in the general election on Nov. 7. 
As The Washington Post reported, Gibson posted the videos on the website Chaturbate. The footage of the candidate and her husband, attorney John David Gibson, was later archived on other sites. While the outlet noted that the date of the stream is unclear, the most recent videos of Gibson were archived on Sept. 30, 2022. 
The outlet viewed the archived footage after an unnamed Republican operative alerted the newspaper to the existence of the videos. In several videos, Gibson asks viewers to provide tips, which users can do by buying tokens through the site, and she promises to perform certain sex acts if the viewers buy more. 
"I need, like, more tokens before I let him do that," Gibson said in one video in response to a request. "One token, no. More. Raising money for a good cause."
Susanna Gibson did not immediately respond to The Christian Post's request for comment.
In response to the exposed videos, Gibson argued that this was an "illegal invasion" of her privacy and accused her political opponents of attempting to "intimidate" her. 
"My political opponents and their Republican allies have proven they're willing to commit a sex crime to attack me and my family because there's no line they won't cross to silence women when they speak up," she stated. 
Gibson claims that she had not authorized the videos posted to Chaturbate to be made available to the public on other websites. 
Gibson's opponent stated Monday that he and his team only heard about the videos after The Washington Post covered the story. While he expressed sympathy for Gibson and her family, Owen indicated that he would remain focused on his campaign. 
According to Gibson's lawyer, Daniel P. Watkins, the candidate did not authorize, nor was she aware, that Chaturbate's material is available on other websites. On the site where Gibson originally posted the live stream, she and her husband had more than 5,700 followers, according to The Post. 
Watkins contends that disseminating videos online is a Class 1 misdemeanor under Virginia's revenge porn law, revealing that he and his client are working with state and federal law enforcement.
On Monday, The Daily Wire noted that it had reviewed the videos that Gibson posted on Chaturbate under the name "HotWifeExperience." In one of the videos, the candidate promises that she will have anal sex with her husband in a private room if someone wanted to pay. 
In another video, Gibson tells viewers they could watch her urinate if they pay, reminding them that she was "raising the money for a good cause." Another video posted on Sept. 11, 2022, depicted the candidate saying she likes it when she's choked or hit. 
At one point, Gibson encouraged viewers to buy 500 tokens if they wanted to see her order room service and allow the employee who came to her door to see her naked, stating that she is "definitely a slut." 
The candidate reportedly revealed that she once had sex with three men in one day, and later, Gibson's husband is heard saying he doesn't like sharing his wife with others, but sometimes she makes him. 
According to public filings in Virginia, Gibson's husband donated $5,000 to his wife's campaign around the time that the videos were filmed.
On her campaign website, Gibson informs voters that she will focus on issues such as affordable healthcare and abortion, vowing to "fight for you, our families, and our community" if elected as a delegate.