Ex-porn star, pastor-husband share tips for transforming habits to lead holier lives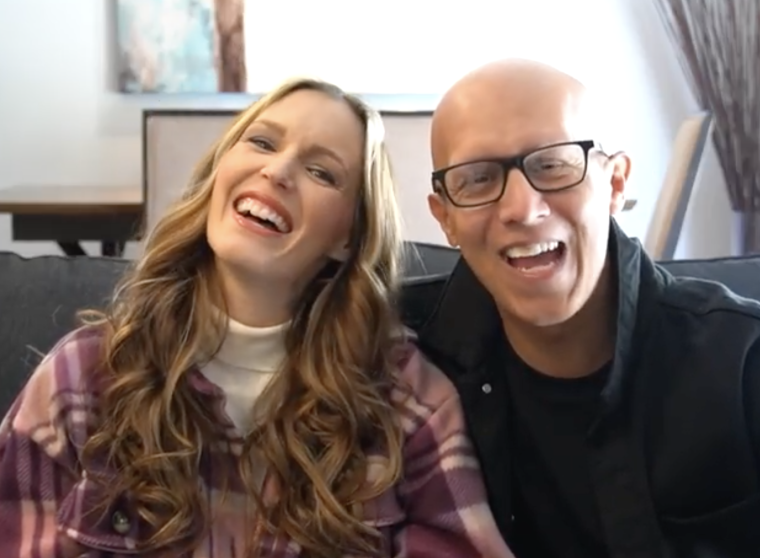 If a believer wants to change their life, they first need to change their habits, advised Brittni and Richard De La Mora.
In a recent episode of their "Let's Talk Purity" podcast titled "The Habits of Holiness," the De La Moras said often in secular society the word "holiness" gets a bad rep, but the words holiness and holy means "to be set apart."
Listen to this podcast and many others on the Edifi Podcast Network
"Our routines are a reflection of our habits. And our habits are what we do persistently and consistently on an everyday basis. So, if we're going to change our life, then we need to change our habits. We need to work at living a holy life," Richard said. 
The De La Mora's said one habit that Christians should be cultivating in their everyday lives is the habit of seeking God daily.
"That has been one of my biggest convictions since becoming a Christian. … I don't want to go one day without seeking the Lord because if we're going to bring Him into the center of everything, then how can you go a day without seeking Him?" Brittni said. 
"You can't be holy; you can't be set apart unless you're spending time in the presence of a holy God. … The more time that you spend in His presence, the less you're going to desire the things of this world."
Brittini added that Psalm 37 is her favorite verse in Scripture because it reminds her to "take delight in the Lord and He will give you the desires of your heart." 
The verse, she said, can apply to the struggle that many Christians have with habitual sins because it can serve as a reminder that a believer needs to spend time in the presence of God to see more spiritual breakthroughs. 
"Some of us, we're like, 'Well, I want to quit watching porn. I want to stop smoking cigarettes. I want to stop drinking so much.' But you don't even spend time with God. So those desires are still so heavy and prevalent in your heart," Brittni added.  
"When you're spending time with God, He has a way of lovingly and graciously convicting you at the right time because He knows when the right time is. He knows when you're ready to give things up and when you're not. So, He'll start speaking to you, and, little by little, your desires will change." 
Another holy habit for Christians to strive for is "watching over your tongue," the De La Moras noted, referencing Psalm 141:3, which reads, "Set a guard over my mouth, Lord; keep watch over the door of my lips." 
"Our words get us in trouble at times. And our tongue gets us in trouble at times. … I believe if we are going to live a life of holiness ... then our tongues should be set apart. … What does that look like? We're people who speak words of edification. We build people up. We strengthen people. Our words should be words that reflect the Words of Jesus," Richard De La Mora said. 
Walking out a holy life can also be done through the holy habit of "fleeing from sexual immorality," they added.
Brittni De La Mora, who escaped the porn industry to pursue Christ, said she remembers that on the day she gave her life to Christ she felt led to read her Bible while she was traveling on a plane on her way to film a porn scene. 
On that day she said the Holy Spirit spoke to her directly through a Scripture, which convicted her and she ended up "running from sexual immorality."  
"I ran from sexual immorality. I was like, 'I'm not going to do this anymore.' … Because I wanted to follow Jesus. I wanted to honor Him, not only with my heart but I wanted to honor Him with my body. … If you don't run from it, it will find you," Brittni warned. 
"If you don't block that person in your direct message, they will keep coming after you. … There are some scandalous people out there. If you don't turn your eyes from that coworker that dresses crazy at work, it will affect you," she added.  
"We have to be so intentional about guarding our hearts because [of] the enemy. What does the Scripture say? It says that he 'roams around like a roaring lion looking for someone to devour.' … You need to guard your ears. You need to guard your eyes. You need to guard your heart." 
Brittni said that entertaining sexual sin in a weak moment has the potential to "take you down a slippery slope and sexual immorality will ruin your life." 
"I lived a sexually immoral life from 18 to 25. It ruined my life for many years. Thank God for His redemption and His restoration. But it will ruin your life. Don't let it. Don't let it ruin your life. Run from it," she declared.
Christians need to be mindful of how sexual sin works and how the enemy tempts Christians, Richard added. Sexual sin, he said, starts with the eyes and then goes into the heart. 
At times, Richard noted, Christians tend to think that one lustful look is harmless. But, he said, sometimes all it takes is one lustful look for someone to become fully deceived.  
"The reason why we believe we need to create this as a habit is because some of us, your habit is looking and entertaining it, and we're good at that. 'I'm going to just look one or two times.' But, the look is the hook. Eventually, that look is going to hook you in. Well, think about someone like David. Just a look got him in trouble," Richard said. 
"The Bible teaches us about someone like Joseph. He didn't stare or stay in that situation. He ran. He ran from sexual sin. And I think if we're going to create a habit of holiness, we need to be great runners and not great entertainers," he emphasized.  
"It starts with that look. It's that seed that will eventually deceive you. … You got to be intentional about that. … If not, you will have a negative habit and that habit is 'I'm going to look.' … So, let's learn to create that habit by fleeing from sexual temptation."