Dennis Rodman Explodes During Interview, Avoids Questions About Imprisoned Christian Missionary Kenneth Bae (VIDEO)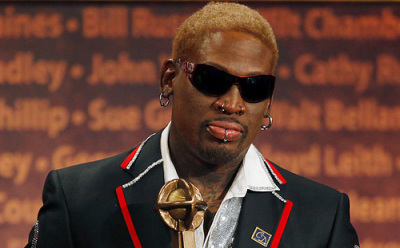 Dennis Rodman became noticeably agitated after being asked a question regarding imprisoned American Kenneth Bae during an interview about him coaching a basketball team that will play an exhibition game in honor of the North Koran dictator Kim Jung Un.
On Tuesday, Rodman was speaking with CNN's Chris Cuomo on "New Day" and insisted that his repeated trips to the country, his friendship with the North Korean dictator and the basketball game were all great "for the world."
Rodman, who is in the North Korean capital, Pyongyang, reacted angrily when pressed on whether the group should have traveled there given recent events in country.
The trip and subsequent game will take place just weeks after Kim Jung Un had his Uncle executed and more than a year after American Christian missionary Kenneth Bae was imprisoned.
When asked if he would ask the country's leader about Bae, Rodman came just short of claiming that the Korean-American had done something to deserve his sentence but did elaborate on what exactly that was.
Rodman, becoming increasingly disgruntled, said, "Kenneth Bae did one thing ... If you understand what Kenneth Bae did. Do you understand what he did in this country? No, no, no, you tell me, you tell me. Why is he held captive here in this country, why? ... I would love to speak on this."
Despite his insistence and enthusiasm Rodman did not speak on the issue, but rather stated that the 10 former NBA players who traveled to North Korea are away from their families and claimed they would face abuse when they returned.
Rodman's trips to North Korea have been overshadowed with the fact that Bae was sentenced earlier this year to 15 years of hard labor supposedly for plots he had made against the government.
When asked previously about the situation, Rodman said that he was not "going to talk about that" with Kim.
"I'm not there to be a diplomat. I'm there to go there and just have a good time, sit with (Kim) and his family, and that's pretty much it," Rodman explained.
The country has yet to issue formal charges against Bae who is the longest serving American-detainee since the Korean War.