Derwin Gray at Catalyst: 7 Tips for Leaders Looking to Build Multi-Ethnic Churches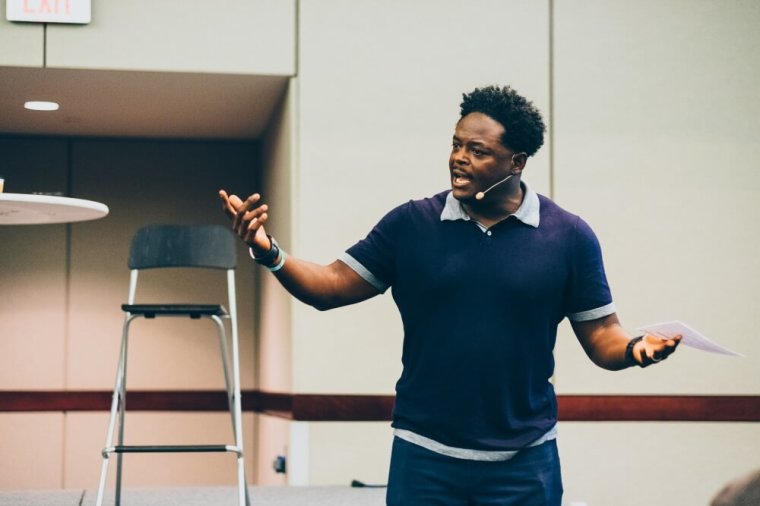 DULUTH, Georgia — Former NFL player and lead pastor of Transformation Church in South Carolina, Derwin Gray, provided Christian leaders from across the country with seven tips for how to build and maintain ethnically diverse congregations.
Gray, who played for the Indianapolis Colts and Carolina Panthers during the '90s, founded one of the most successful multi-ethnic church plants in the nation and is the author of the 2015 book, The High Definition Leader: Building Multiethnic Churches in a Multiethnic World, spoke at the three-day Catalyst Atlanta 2016 conference Wednesday afternoon.
As the conference's theme for this year is unity through "uncommon fellowship," many church leaders came to the conference looking for answers on how they can diversify their churches and take concrete steps to tackle the widely perceived notion that Sunday morning services are the most segregated hour in America.
"Every Time there is a police shooting, every time there is something that goes on and the scab of the racial horrors of this country are exposed, we as the Church can't say a whole bunch as a the most segregated institution in America," Gray told the audience. "It was the integrated church that made [Roman emperor] Nero wonder, 'How are you all bringing that unity? I can't force it. How are you all doing that?'"
Gray organized his address in the form of seven characteristics that "high definition leaders" need to develop in order to build successful multi-cultural churches.
"God doesn't want us to be color blind, he wants us to be color blessed," Gray explained. "Our different cultural backgrounds, the way our hair looks, the way our eyes are shaped, some of us with great tans and some of us with not so great tans. That is not by accident. That is a part of God's beautiful tapestry reflecting His glory. So, a high definition leader values all people and sees them for who they are, and that is what the Apostle Paul was."
1. Develop a Gospel ethos (culture)
Gray stressed that the atmosphere, including every aspect of the church, must have a "Gospel ethos," or a "Good News ethos."
"Gospel ethos is No. 1 — from the parking lot, to the children's ministry, to elder meetings, to the way you treat people, everything has to be permeated by the light, death, resurrection and ascension of Christ through the Holy Spirit's power," Gray said. "Make Jesus the hero of everything. When people leave and converse of about your sermons, they should go, 'Wow, I never knew He did everything.'"
"What I mean by Gospel ethos is: do we preach self-help messages like 'Jesus, pretty much His role is to save you and help you fill your purpose?'" Gray asked. "I know it is catchy, but I haven't found it. I want to propose that when we talk about God's vision of the Great Commandment and a Great Commission, it will make our dreams look pretty selfish, and God will take us on an amazing adventure."
2. Develop diverse leadership teams
In order to build a multi-racial church, more is needed than just hiring a token African-American to do the music or to be a figurehead. Gray stressed that people of different races need to be put in real leadership positions where they can have a real impact on the church, preach and share from their own perspective, which will give the congregation more of an understanding of his or her own experiences and perspective.
"One of the critiques I hear is, 'Well, I don't know anybody that is diverse.' Then, you need to expand the life of your relationships. You can't lead a multi-ethnic church if you don't lead a multi-ethnic life," Gray asserted. "My wife and I have had diverse friends from day one. So, planting a diverse church wasn't something new. It was the outflow and overflow of the relationships that we already had."
"Also, pray. We got companies that will give us sermons, companies that will do this, companies that will do that. How about the company of the Holy Ghost? How about get on your knees and fast and pray and cry out," Gray continued. "We fasted and prayed and cried out for our leadership."
3. Develop cross-cultural competency
One aspect of being a good leader, especially one in a multi-cultural church, is to be a good listener and learn about the experiences, perspectives and injustices of people within the church who are not of the same ethnicity, Gray said.
"Be a good learner," Gray told the audience. "Leading is not just telling everybody what to do. That's being a dictator. Learn something."
Gray explained that being an African-American has led him to be a good learner because he has always needed to listen to the "narrative of the dominant culture."
"For those of you in the dominant culture, you haven't had that lesson to have to listen. One of the greatest things you can do in this hour is be a good listener and listen to the stories of another," Gray said. "For my Caucasian brothers and sisters, it is important for you to be a good learner because we view situations in life differently based on the perspective in which we come from. So, it is important for me not to put my perspective on everybody else, but to say, 'Let me hear what you have to say. Let's exchange ideas. That takes humility, Gospel humility."
Gray stressed that by creating cross-cultural diversity, it will undoubtedly create some awkward conversations.
"If you are not having difficult conversations, you are not really pursuing multi-ethnic ministry," Grey said. "Subway cars in New York City are diverse, but no one talks to each other. … What the Gospel allows you to do is give each other grace. If you are not having these conversations, you are not really intentionally pursuing this, and it is difficult and it is awkward and It is hard."