DeSantis blasts Disney, 'cultural Marxism,' gender ideology in Liberty University speech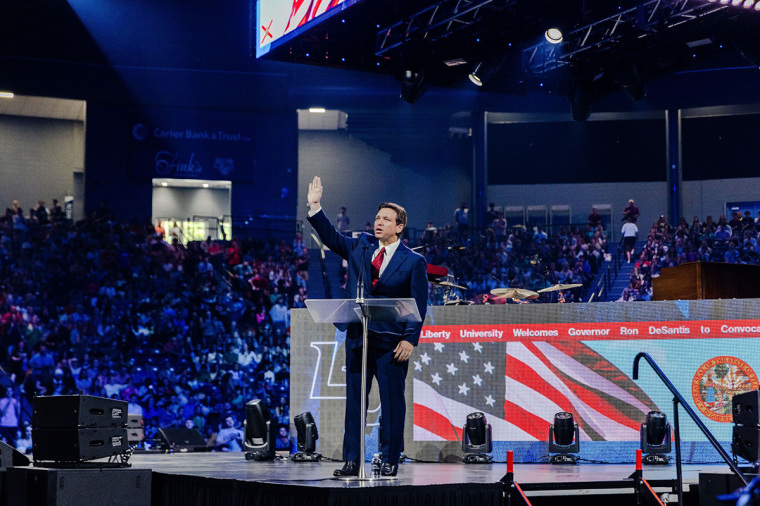 Florida Gov. Ron DeSantis didn't mince words as he spoke at Liberty University's convocation ceremony Friday, criticizing the spread of "gender ideology" and calling trans-identified swimmer Lia Thomas a "fraud" as he pushed back against what he calls "cultural Marxism."
DeSantis, widely viewed as a potential contender for the 2024 Republican presidential nomination, addressed the bi-weekly convocation, his first time speaking at the Evangelical higher education institution Jerry Falwell Sr. founded in Lynchburg, Virginia. 
The governor devoted a substantial portion of his remarks to addressing his efforts to combat what he called "woke" ideology, which he described as "a form of cultural Marxism that seeks to use identity politics to divide Americans" and a "war on truth."
"It is wrong for a teacher in school to tell second graders that they may have been born in the wrong body or that their gender is a choice," DeSantis said.
"In Florida, gender ideology has no place in our schools, and if that means taking on Disney to make sure that's the case, we will do it," he declared.
DeSantis' comment appears to be a defense of a highly debated law he signed last year banning public school teachers from giving instruction on gender identity and sexual orientation to students in third grade and younger. The law, labeled by critics as the "Don't Say Gay" bill, sparked the ire of the Walt Disney Company, which operates the famous Walt Disney World theme park in Orlando and is the largest employer in the state. 
After the company vowed to advocate against the law, the Florida legislature and DeSantis revoked the theme park's self-governing status.
DeSantis also chastised Lia Thomas, a trans-identified swimmer who received national attention last year as he won a national championship competing on the University of Pennsylvania's women's swim team after competing for three years on the men's team. Florida is one of 21 states requiring athletes to compete on sports teams that correspond with their biological sex instead of gender identity.
"It is wrong to have a swimmer compete for three years on the men's swim team, switch to the women's team and then win the women's national championship," the governor stressed. "That is a fraud. That is wrong."
"It is also wrong for physicians to pump minors with puberty blockers or to perform sex-change operations on them, and in Florida now, physicians who are doing those things to these minors will lose their medical license," he stated. Florida has banned gender transition procedures for minors, one of 15 states prohibiting some or all such procedures. 
DeSantis also told the crowd, "We must embrace our founding creed that our rights are not the courtesy of the government; they are the gift from Almighty God." He vowed to "fight the good fight" as his remarks came to a close," adding, "I will finish the race, and I will keep the faith."
DeSantis' speech at Liberty came less than a day after he signed into law a ban on abortions in the Sunshine State as early as six weeks gestation. Senate Bill 300, also known as the Heartbeat Protection Act, bans abortions after a fetal heartbeat can be detected, usually at around six weeks gestation. 
When Campus Pastor Jonathan Falwell informed the audience that DeSantis signed the Heartbeat Protection Act, the crowd erupted into cheers and applause.
While he did not address the abortion bill directly as he spoke to the Liberty student body, DeSantis touted how the state has "promoted a culture of life" during his governorship. In a statement issued shortly after he approved the measure, DeSantis asserted that "We are proud to support life and family in the state of Florida."
"I applaud the Legislature for passing the Heartbeat Protection Act that expands pro-life protections and provides additional resources for young mothers and families," he added. 
The Florida Senate approved the Heartbeat Protection Act in a 26-13 vote on April 3, with all but two Republicans voting in favor of the measure and all Democrats voting against it. The Florida House of Representatives passed the bill in a 70-40 vote, with all of the votes in favor of passage coming from Republicans and votes against coming from Democrats, along with seven Republicans.
Senate Bill 300 also prohibits using state funds to pay for someone to travel to another state to receive an abortion and expands the availability of "pregnancy support and wellness services" to women who have given birth within the past year and their parents or guardians.
Services now available include the provision of "clothing, car seats, cribs, formula, and diapers" as well as "counseling or mentoring, education materials, and classes regarding pregnancy, parenting, adoption, [and] life skills."
Although he has not announced a campaign, DeSantis is widely seen as a strong contender for the 2024 Republican presidential nomination should he choose to run.
The RealClearPolitics average of polls measuring voter preferences in the Republican Party presidential primary shows DeSantis receiving 24.7% support, coming in a distant second behind former President Donald Trump, who gets 51.4% support. The polling average covers the time period from March 22 to April 6, when the possibility of an indictment against Trump that ultimately became a reality dominated national headlines.
Leaders of advocacy groups on both sides of the abortion debate issued dueling statements in response to Florida's new abortion law.
Marjorie Dannenfelser, president of the pro-life group Susan B. Anthony Pro-Life America, described Thursday as "an enormous victory in the battle for human rights."
"No longer will Florida account for 10% of abortions in the nation or be known as an abortion destination," she asserted. "We thank Gov. Ron DeSantis for following the science and the will of the people by signing the Heartbeat Protection Act into law. It is thanks to his leadership and the leadership of pro-life state leaders throughout the country that we are seeing incredible momentum in the states to protect unborn lives."
Information compiled by Susan B. Anthony Pro-Life America shows that more than a dozen states have total or near-total abortion bans on the books: Alabama, Georgia, Idaho, Kentucky, Louisiana, Mississippi, Missouri, Oklahoma, South Dakota, Tennessee, Texas, West Virginia and Wisconsin. While most of the states with bans prohibit abortions in all cases except to save the life of the mother, Georgia has a heartbeat bill than bans abortion after six weeks of gestation.
Like Florida, Iowa is scheduled to have a heartbeat bill take effect in the near future. Current Florida law prohibits abortions after 15 weeks gestation. The state bans on abortion follow the U.S. Supreme Court's ruling in Dobbs v. Jackson Women's Health Organization, which determined that the U.S. Constitution does not contain a right to abortion. The Dobbs decision enabled states to ban abortion.
NARAL Pro-Choice America President Mini Timmaraju condemned the six-week abortion ban as "dangerous, plain and simple."
"It will not only cut off abortion access for Floridians but the countless people who have sought care there as extremists in their own states enforce bans," Timmaraju said in a statement.
In his Liberty University speech, DeSantis also expressed gratitude for the prayers his family received after his wife, Casey, was diagnosed with breast cancer in 2021.
"When we put out the statement letting folks know that this is something she was going to have to fight, the prayers that we received as a result of that lifted up her spirit, she was able to go through a lot of excruciating treatment and surgery," he recalled. "I can tell you right now, she's never been healthier, never been better. The prayers have been answered."