Detroit Lions' Don Carey Pens News Column, Using Platform to Share the Gospel in NFL Season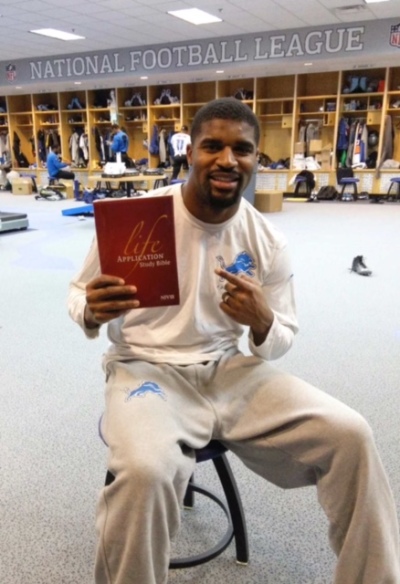 Aside from being an NFL player and ministry leader, Detroit Lions defensive back Don Carey is using his new newspaper column as an opportunity to warn people about the dangers of following what society defines as acceptable behavior.
Carey, 28, will write commentary for the Detroit Free Press throughout the NFL season, and wrote his first column about secular culture on Tuesday.
In the column, Carey cited Christian apologist Ravi Zacharias' explanation of dividing culture into three categories: theonomous, heteronomous and autonomous.
He explained that theonomous culture is one in which people are governed by God's law within themselves; heteronomous culture as the culture of many being determined by a few individuals, and autonomous culture as a person's morality being determined by themself.
Carey revealed that he believed in God's law determining people's morality, but asserted that people do not live by this principle.
"As a Christian, I believe that the law of God is written on the hearts of men to the point that we all know the difference between right and wrong, even though we often choose the latter over the former. However, I do not believe that we live in such a culture," Carey wrote. "I think the vast majority would agree that we live in an autonomous culture. Each one of us follows a standard of morality he or she chooses."
According to Carey, this a dangerous way of thinking.
"Nevertheless, we find ourselves in a prodigious predicament. The moment one person's autonomous view disagrees with another person's autonomous view, we then often switch to a heteronomous view and dictate what that person must now believe," he wrote.
"It is at this time that we are in danger of falling into a culture where morality is governed by what society deems to be acceptable. This is dangerous, because we lose the ability to hold and argue conflicting ideologies."
Last year, Carey spoke to The Christian Post about his faith and how important it was to be an NFL player that proclaims his Christianity.
"Some people, I used to be one of them, have this notion that Christianity is a religion of poor, weak-minded, lazy individuals, when in reality this not the case. NFL players are some of the hardest working, most driven, wealthy and famous people in the country," Carey told CP. "If players who are believers would stand up and be more vocal about their faith, not only would it destroy this notion ... it would also set positive examples for our young men to follow."
Carey added that he understands his status as an NFL player gives him the ability to capture people's attention, and he wants to use the platform to follow Jesus' command to tell all nations about the Gospel.
"Because I'm on this platform I'm able to spread a particular message faster, stronger and further than I could have if I had a typical 9 to 5 job," Carey told CP. "As a believer in Christ, I believe that we're all given a command by Christ to spread His Gospel according to Matthew 28. I am only trying to fulfill that command."
For Carey, it's important for people from all walks of life to share their faith with others.
"I know some of you say you're not smart enough to share the Gospel. I say you are perfect because God uses the foolish things to confound the wise," Carey said. "Some say you are not strong enough to share the Gospel, but I say you are perfect because God uses the weak to overtake the strong."