CP Exclusive: Detroit Lions' Don Carey Talks Balancing Seminary, Leading Ministry Ahead of Playoffs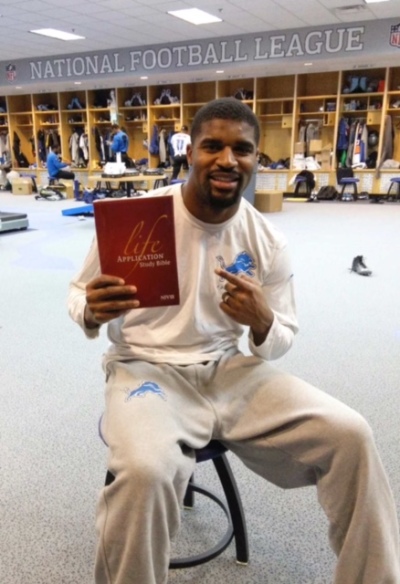 Making it to the big leagues is the dream of countless athletes, but for playoffs-bound Don Carey, being an NFL player does not fulfill his purpose.
Carey, the 27-year-old Lions safety, has had to endure the same grueling practice and game schedules as the rest of his peers in the NFL. However, he manages to find the time to pursue a masters degree at Moody Theological Seminary in Plymouth Township, Michigan, while being a family man to his new wife and soon-to-be newborn son.
Carey married his wife, LaKeisha, last June and the pair are expecting their first son together. Some might question why the young athlete would not wait until his time in the NFL is over to pursue his theological degree, but Carey seems to have no qualms about balancing his workload, which includes heading Don Carey International Ministries with his wife.
"Tomorrow is not promised to any of us," Carey told The Christian Post. "I am more than able to pursue my masters and be successful in the NFL so I see no reason why I should wait."
The Christian athlete joked that cutting out television has helped him balance his life as a professional athlete, student, ministry leader and husband. However, he credits his wife and the ability to prioritize for helping him pursue his calling to uplift the kingdom of God.
"On a more serious note, there are enough hours in the day to complete these tasks. It is important to prioritize your time and it helps to have a wonderful wife to help me with all these things," Carey told CP. "Honestly, without her help I couldn't do it all. Her devotion to my dream has given me the ability to do more than I ever could have imagined."
Although some may believe Carey has it all figured out, the Christian athlete admits that there was once a time when he did not have the most positive opinion about Christianity. While Carey was raised in a church with family members who are preachers, he did not believe the faith was for people doing well in life.
He believes Christian athletes should express their faith more to help dispel stereotypes about it for people looking up to them.
"Some people, I used to be one of them, have this notion that Christianity is a religion of poor, weak-minded, lazy individuals, when in reality this not the case. NFL players are some of the hardest working, most driven, wealthy and famous people in the country," Carey told CP. "If players who are believers would stand up and be more vocal about their faith, not only would it destroy this notion ... it would also set positive examples for our young men to follow."
It was not until 2011 that Carey decided to do his part and submit to God. After attending a Professional Athletes Outreach conference where he heard the Gospel being presented in a unique way, the NFL player decided it was time to take his faith seriously.
Carey said he recognizes that his status as an NFL player gives him the ability to capture people's attention when he speaks to people in the workforce. He is seeking to use that ability to follow the command of Jesus Christ to tell all nations about the Gospel.
"Because I am on this platform I am able to spread a particular message faster, stronger and further than I could have if I had a typical 9 to 5 job," Carey told CP. "As a believer in Christ, I believe that we are all given a command by Christ to spread His Gospel according to Matthew 28. I am only trying to fulfill that command."
Still, the NFL player recognizes that some may criticize his decision to mix faith with football.
"Throughout history believers have been persecuted, killed, criticized, and shunned as social pariahs for sharing their faith, yet through all the adversity they still kept their faith knowing that true security is found in Christ. He was their all in all," Carey said. "The same goes for my wife and I. No matter what criticism comes our way we will persist for the sake of our Lord."
Carey has a few years to go before obtaining his Masters degree with a focus on the Old Testament, which could aid him in becoming a minister one day. However, the NFL player is adamant about letting people know that anybody in any position can do their part to further the kingdom of God.
"I know some of you say you're not smart enough to share the Gospel. I say you are perfect because God uses the foolish things to confound the wise," Carey told CP. "Some say you are not strong enough to share the Gospel, but I say you are perfect because God uses the weak to over take the strong."
Carey went on to assure young people that they are strong, while reminding older people about their maturity in the faith that they need to pass to the next generation.
"Every one of you is uniquely equipped to share the Gospel of Christ. Remember we are one body with many members all working toward one glorious goal to spread the knowledge of our great God King and make disciples of all men," Carey said. "So let the Word of the Lord go forth and His name be magnified through you. Hallelujah! Praise the Lord."
Carey will join his Detroit Lions for a playoff game against the Dallas Cowboys at 4:40 p.m. ET. on Sunday, Jan. 4, 2015.