DeVon Franklin Defends Wife Meagan Good Against Church Critics Who Disapprove of Her Clothing Choices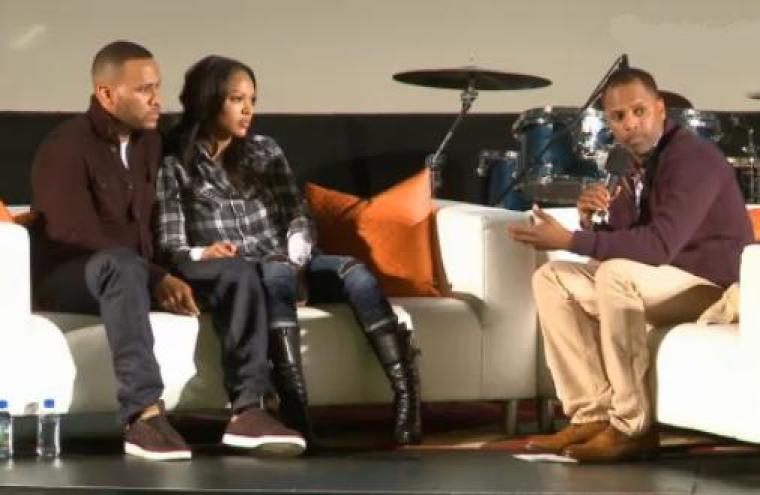 DeVon Franklin, the Seventh-day Adventist preacher and Hollywood executive, is defending his wife, actress Meagan Good, against critics who've disapproved of her clothing choices throughout the years.
The couple appeared as speakers at the ESSENCE Festival empowerment panel on July 3 where they spoke about overcoming harsh criticism from the church. Good, 33, has not shied away from choosing clothing options with a plunging neckline or exposed skin and admitted to being upset with her critics from the church after receiving their negative feedback.
"It kind of made me upset with the church for a while. People don't know what they do, but you have to love them regardless," she said at Essence Festival. "But you have to own your truth."
Even though her husband is a preacher, he supported his wife and shared another perspective on the matter.
"So many people try to live by a label, but that's not the box God put us in," he said while serving on the panel with his wife. "Who we are is not defined by a box. When I live by your expectations of what I should do, then I limit who I am and then I become depressed because I can't be my true self."
Franklin, the senior vice president of production for Columbia Tristar Pictures, made it clear that he does not seek to take any ownership of his wife or her choices in clothing.
"I don't own her [and] she doesn't own me. We are together and I respect whatever she chooses to put on," Franklin said on the panel. "When I married her, I said, 'I accept you for who you are. And whatever you choose to wear, that is your right.'"
Good came under fire in 2013 when she presented the BET "Best Gospel Artist" award in a revealing blue dress with a plunging neckline. The Christian actress' wardrobe caused a number of people on social media to question her dress selection, especially since she often speaks about being saved since the age of 12.
The actress' 37-year-old preacher-husband, however, did not see anything wrong with her risque dress.
"I saw her before she walked out, and I said, 'Amen, praise the Lord,'" he joked to the audience that attended the ESSENCE Festival panel.
For Franklin, Good's heart is more important than her attire.
"The only ones with the guns out were those that read the same word that says, 'Love your neighbor as yourself.' But the love was not there," Franklin said. "I don't have an issue [with her clothes]. It's not about the dress; it's about her heart. And I know her heart is amazing, that's why I love her."
In 2013, Good revealed that she's not the type of minister's wife that people expect her to be.
"I was shocked that people cared so much. I guess it's because I'm married to a minister," Good said in a previous interview with VLAD TV about her outfit choices. "Some people feel like I should wear a turtleneck or something but that's not who I am. If that's not what God tells me to do then I'm not going to do that to make other people comfortable."