Devout Evangelical Christian Marina Silva Started Life Illiterate in the Amazon; Now She's Primed to Become Brazil's First Black President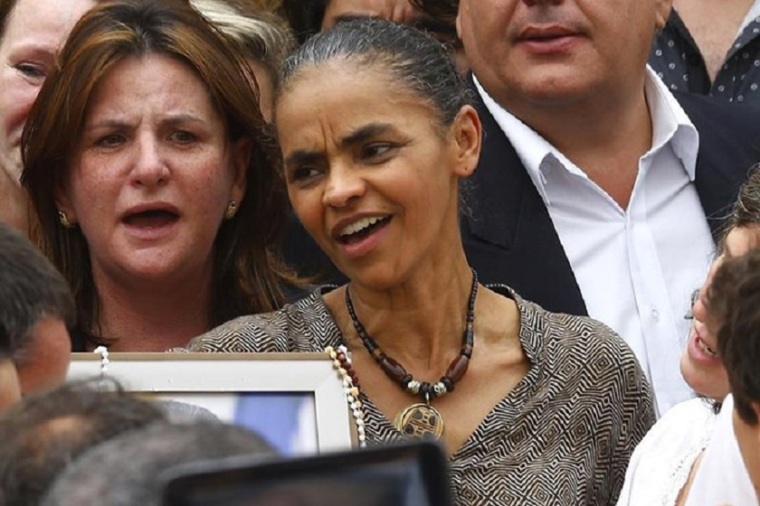 She almost died twice and never learned to read or write until she left the Amazon forest as a teenager, now at 56, Marina Silva, a devout evangelical Christian, is primed to become Brazil's first black president.
A poll released late Tuesday by the Ibope research firm cited by The Wall Street Journal showed Silva defeating incumbent Brazilian President Dilma Rousseff with 45 percent to 36 percent in a runoff.
The narrative of how Silva has come to the brink of being the leader of the world's fifth largest country is ripe for the silver screen and the country's majority population of non-white voters, once frustrated with Brazils politics, have now been energized by her candidacy.
"Her voters have the same profile as the protesters, younger, more education," said Marcia Cavallari, who runs Ibope's inteligencia public-opinion division, in a televised interview noted the Journal. "She represents this desire for change, doing politics differently."
According to The Globe and Mail Silva grew up in Brazil's Amazon forest as one of 11 children of traditional rubber tappers. As a teenager, she almost died from hepatitis and malaria, but she found her way to the city and got rescued by Catholic clerics who taught her how to read and made her a student of liberation theology.
She went on to become a teacher and popular environmental activist, and quickly translated that popularity into political capital to become the youngest person ever elected to Brazil's senate at 36.
She almost died again after that, this time from heavy-metal poisoning, leading her to become an evangelical Christian.
Silva was later appointed a federal cabinet minister but she walked away from the job due to laws she argued sold out the Amazon forest.
In 2010, she shocked Brazil's political establishment when she garnered 20 percent of the votes in national elections running as a "third way" candidate. She had no shot at winning then but she managed to use the platform to draw attention to environmental issues important to her.
She had planned to run for the presidency again this October through her Sustainability Network but it was unable to qualify as a party. Silva argued that foul play was involved in the process but she was shut down by electoral courts.
Silva, however, refused to give up and offered to run as a vice presidential candidate to a young politician named Eduardo Campos of the Brazilian Socialist Party. They made a great team but they were lingering just below 10 percent in the polls.
Then about two weeks ago tragedy struck. Campos died in a plane crash while campaigning near Sao Paulo and Silva became the head of the Brazilian Socialist Party's ticket, and now she is the favorite to take Brazil's presidency after the elections in October.