Did Candace Cameron Bure Lower Christian Standards for 'Fuller House'?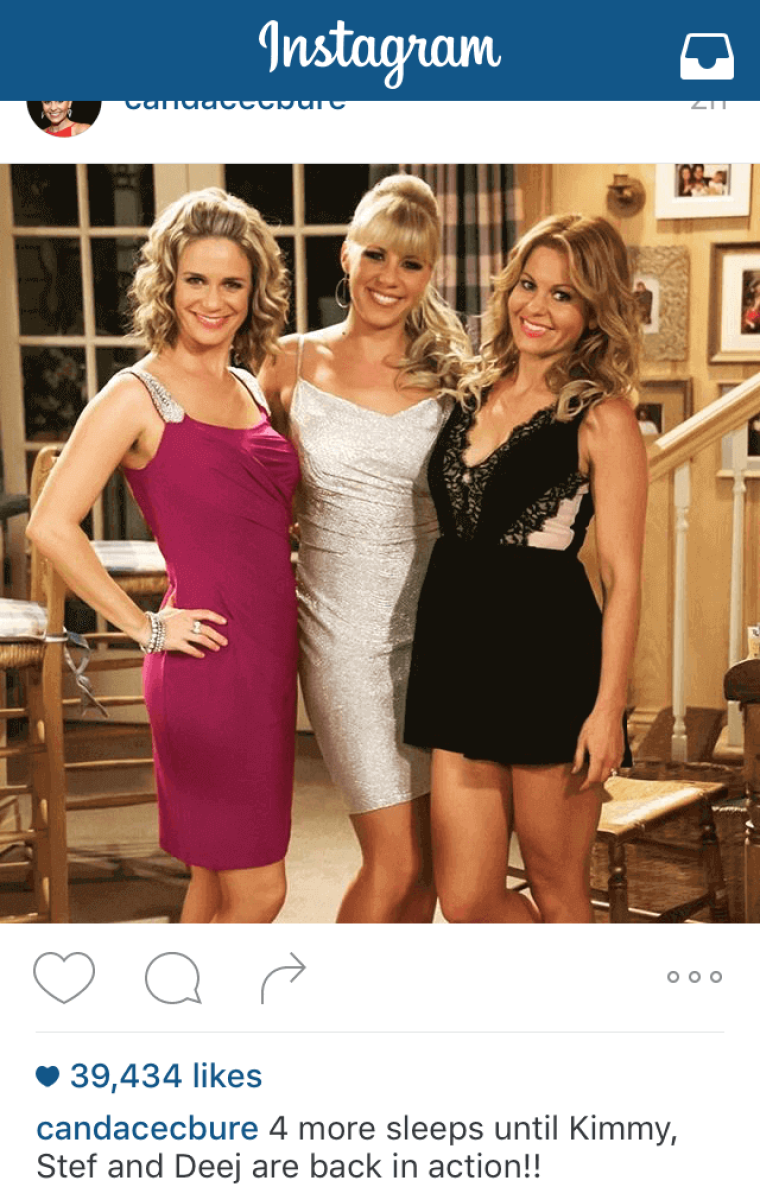 "Fuller House" made its season one debut on Netflix Feb 26. with 13 episodes that reunited most of the original "Full House" cast. The sitcom spin-off is receiving a lot of heat from evangelicals who were hoping Candace Cameron Bure's Christian values would keep the show family-friendly.
"Fuller house" is centered around Bure's character, DJ Tanner, who is a recently widowed mother of three boys. Her sister Stephanie offers to move in and help her raise her sons, and Kimmy, her best friend, also moves in with her teenage daughter Romona.
The 13 short episodes take viewers on a ride of family, motherhood, the party life and dating.
Although family focused, there is a lot of reference to alcohol and crude humor. Bure's character is also eventually caught in a love triangle, which has the actress locking lips with multiple men quite often.
While perusing through Bure's Facebook page, it's evident that some of the actress' fans are taken back by "Fuller House" and the heavy adult content.
"We were promised over and over again that this would be the 'family friendly' show that we loved in the original 'Full House,'" one Facebook user wrote.
"'Fuller House' is disappointing. There were some good points, but sadly, they were overshadowed by the very ugly parts," another added.
In episode 12 of the spin off, Stephanie and Kimmy deliberately share a girl-on-girl kiss, while earlier in the same episode DJ's two love interest Matt and Steve also accidentally kiss each other. The same-sex affection has people up in arms.
"I waited a long time to watch this and I was so excited, but the gay/lesbian act scenes uh NO..the profanity used, and the lack of clothing on some were just a huge disappointment..If you're going to state youre a Christian then you can't live in a world of sin and act like it's ok," a comment on Bure's social media read.
Someone else said, "Disappointed, only because I definitely can not watch it with my children. Clothing, drinking, it is just too much for us."
Not everyone shared in the disappointment, however, with many celebrating the show and reminiscing about their childhood. These "Fuller House" fans also blasted the critical Christians for making everything in the show a big deal.
"I am not watching this show being judgmental and searching for DJ Tanner to be religious, I'm watching this for nostalgia, to see who the girls have become and watching a cast genuinely happy to reunite," another commenter argued.
In the past, Bure has addressed critics who've bashed her for not being their idea of "Christian enough."
"'I'm too religious, I'm not Godly enough, I'm too thin now, I'm not very humble, I've had too much plastic surgery, My brother Kirk is a better Christian than me, I'm too worldly, I'm too conservative, I'm not modest enough, I'm a show-off.' Those are just a few of the types of comments I get no matter what I share, what photo I post or what I say," Bure said in a blog posted in 2014.
In the past, the California native delighted fans with her modest stance on "Dancing with the Stars" Season 18, after re-emerging back in the mainstream spotlight. "The View" co-host also regularly argues from a conservative standpoint on the hit ABC daytime talk show for which she regularly receives praises from her Christian fans.