Did Judge Really Place 'Gag Order' on Bakers Who Refused Gay Wedding, Prohibit From Speaking About Their Christian Faith?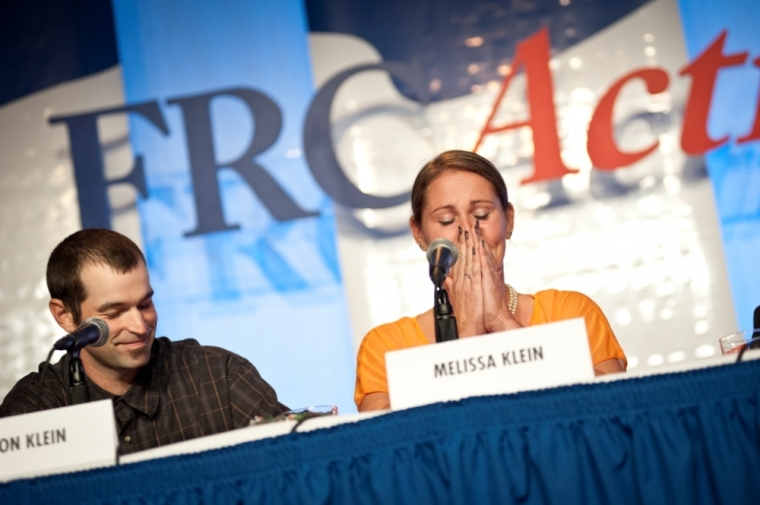 A debate has erupted over whether Oregon's labor commissioner actually placed a "gag order" on Christian bakery owners who refused to serve a same-sex wedding after he issued a final order telling the couple to "cease and desist" from speaking publicly about their Christian conviction to refuse serving same-sex weddings.
As previously reported, the Commissioner of Oregon's Bureau of Labor and Industries, Brad Avakian, ordered Aaron and Melissa Klein, the owners of the now-closed Sweet Cakes by Melissa bakery in Gresham, Oregon, to pay $135,000 in emotional damages to Rachel and Laurel Bowman-Cryer because they refused to bake a cake for their commitment ceremony in 2013.
In Avakian's final order, he demands the Kleins to "cease and desist from publishing, circulating, issuing or displaying … any communication, notice, advertisement or sign of any kind to the effect that any of the accommodations, advantages, facilities, services or privileges or a place of public accommodation will be refused, withheld from or denied to, or that any discrimination will be made against, any person on account of sexual orientation."
After Avakian's final order was issued, The Daily Signal, which is a site founded by the conservative Heritage Foundation, ran an article stating that "Avakian placed an effective gag order on the Kleins, ordering them to 'cease and desist' from speaking publicly about not wanting to bake cakes for same-sex weddings based on their Christian faith."
In a Monday op-ed, Slate writer Mark Joseph Stern wrote that the Daily Signal article, which was also cited by the National Review and Weekly Standard, was incorrect to claim that Avakian's order prevents them from speaking about their Christian faith or speaking out against the Oregon law.
Stern argues that the "cease and desist" order only forces the Kleins to obey an already existing law that prevents business owners from talking in an official capacity about how their businesses would not provide service based on sexual orientation.
"It's this law that prevents a hotel from declaring on its website 'no interacial couples.' An individual hotelier, of course, retains his private First Amendment right to preach about God's intent to separate the races," Stern wrote. "But when he's speaking publicly in his official capacity as a hotelier, he may not declare that his business will refuse service to the public based on their identity."
In an article entitled "Sorry, Slate: Oregon Did Put a 'Gag Order' on Those Christian Bakers," Daily Signal's Hans von Spakovsky replied to Stern's op-ed by stating that Stern overlooked how Avakian cited specific comments that the Klein's made during 2013 interviews with Tony Perkins and the Christian Broadcasting Network.
In the final order, Avakian cited Aaron Klein as saying, "I didn't want to be a part of her marriage, which I think is wrong." Avakian also quoted Melissa Klein as saying, "I am who I am and I want to live my life the way I want to live my life and, you know, I choose to serve God."
Avakian also quoted Aaron Klein as saying: 'It's one of those things where you never want to see something you've put so much work into go belly up, but on the other hand, um, I have faith in the Lord and he's taken care of us up to this point and I'm sure he will in the future."
Avakian's order also mentions a sign that the Kleins posted in the bakery's front window that stated that the bakery is now closed but they are still running their business on Facebook and through the bakery's website. The sign also said, "This fight is not over. We will continue to stand strong. Your religious freedom is becoming not free anymore. This is ridiculous that we cannot practice our faith. The Lord is good and we will continue to serve Him with all our heart."
Avakian overturned a previous ruling by an administrative law judge and ruled that the Klein's provided "prospective intent to discriminate" by citing their Christian faith as the reason they did not want to bake a same-sex wedding cake.
"Whatever Respondents' intentions may have been or may still be with regard to providing wedding cake services for same-sex weddings, the Commissioner finds that AK's above-quoted statements, evaluated both for text and context, are properly construed as recounting of past events that led to the present charges being filed," Avakian's order states. "In addition, they also constitute notice that discrimination will be made in the future by refusing such services."
Although interviews with Perkins and CBN is what likely inspired the cease and desist order, Aaron Klein and the Klein's lawyer, Anna Harmon from the Alliance Defending Freedom, spoke with Perkins on Family Research Council's Washington Watch radio program on Monday evening.
Harmon admitted that she isn't quite sure what the cease and desist order refers to or what the punishment would be if the Kleins were to violate it, saying that the the Kleins have closed their bakery and shouldn't be forced to obey an Oregon law that pertains to business owners and representatives.
"To cease and desist, if it was the activity that got them into this position in the first place and that was simply saying 'our faith does not allow us to participate in same-sex weddings,' they are no longer in business so they couldn't do that again," Perkins explained. "It couldn't be a reference to that, it would have to be to the ongoing challenging of these outrageous actions of the Department of Labor there in the state of Oregon."
Harmon agreed with Perkins and stated that what Avakian labeled as unlawful in his order, is really just the Kleins speaking on their own accounts, not on behalf of the bakery, which does not exist anymore.
"I think you are on point there. I think we are kind of wondering what is this directed at. This business is closed and right now; they are talking in their personal capacity. They were talking as their personal interests," Harmon told Perkins. "They have personal resolve. They were stating their personal resolve and that is what Brad Avakian calls unlawful. So, to what does the cease and desist order refer, we don't know but we can only assume that it is something that makes absolutely no sense."
Although the Kleins have closed their bakery, they still sell baked goods out of their home mostly to friends and families and word-of-mouth orders. Harmon told The Christian Post that the Kleins' home business is not a place of public accommodation under Oregon law.
"They could possibly file another complaint against Aaron and Melissa, I suppose that is possible," Harmon added. "I find it unlikely, but I suppose that is possible."
Aaron Klein told Perkins on Monday that the family plans to appeal Avakian's order to the Oregon Court of Appeals. He added that neither he nor his wife will bow to Avakian's cease and desist order.
"We are going to continue to fight and quite honestly, despite this cease and desist, this gag order in effect, we are going to continue to speak out on this issue," Klein said. "This is not a closed issue. The Supreme Court may have ruled on it, Brad Avakian may have ruled on it, but I got to tell you, this is not a settled issue and we are going to continue to speak for God's truth."
"I personally, I am a man of faith and I believe that Jesus Christ is the answer and I have every right to continue to speak on that and Melissa has every right to speak on that," he continued. "It's an affront to the freedom in this country for any government agency to do what they are doing."