Did Saying 'Have a Blessed Day' Cause a Woman to Lose Her Job?
A Kentucky woman has filed a lawsuit against U.S. Bank, claiming that the company fired her for saying "Have a blessed day."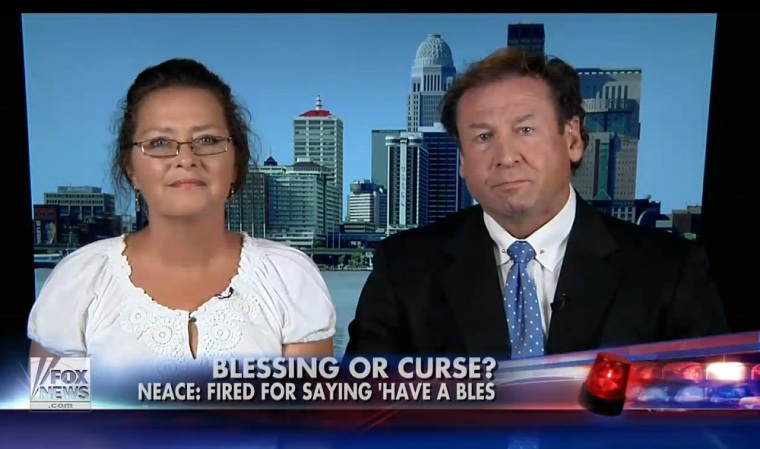 Polly Neace told Fox News on Sunday that she picked up the phrase after somebody told it to her "and I thought, 'what a wonderful thing to say to somebody.' In my opinion, I don't think there's any better day to have than a blessed day. So I started telling all of the customers [that]."
Neace claimed that several years ago she was confronted by the company and "was told that I was not allowed to tell customers to have a blessed day anymore — that there had been several complaints."
"I told them that I didn't agree with that. I had been saying that for over two years at that point without complaint from anybody, management, anything. And ultimately, I was let go because of that," she said.
Neace was joined on the program with her attorney Jeff Blankenship.
"The proof in the record has shown that Polly was discharged because she insisted on the right to say, 'Have a blessed day.' After she was initially written up for doing so, she filed a complaint with the Equal Opportunity Commission. ... She quit saying it. She quit telling people telling to have a blessed day, but she complained about it a couple months later and said, 'Well, I might as well go back to saying it.' The very next day she was terminated," he said.
According to News 13, U. S. Bank alleged that Neace also asked customers if they had accepted Jesus as their savior. In the Fox interview, Neace did not address those claims, but did brush off concerns that part of her firing had been because of another exchange with a customer.
"Here was a situation that arose with a customer who did take the Lord's name in vain and I asked him not to do that. That was the worst thing my ears could hear; that it went straight to my heart. The customer was not offended. In fact, he told me to have a blessed weekend before he left," she recounted.
Blankenship backed his client up.
"I think it's important that you know that that incident had nothing to do with her termination. Her termination occurred months later when she insisted on being allowed to say have a blessed day. The next day was when she was terminated. That incident was a red herring. It has nothing to do with it," he added.
In a statement from U.S. Bank included on the Fox News program, the company said that it holds its "employees to high ethical standards when interacting with customers and co-workers and take violations of these standards seriously. We believe that this lawsuit without merit and believe the facts presented in future legal proceedings will justify our actions."