Disgruntled Ex-Employee Vester L. Flanagan, Also Known as Bryce Williams, Suspected of Killing WDBJ7 TV Journalists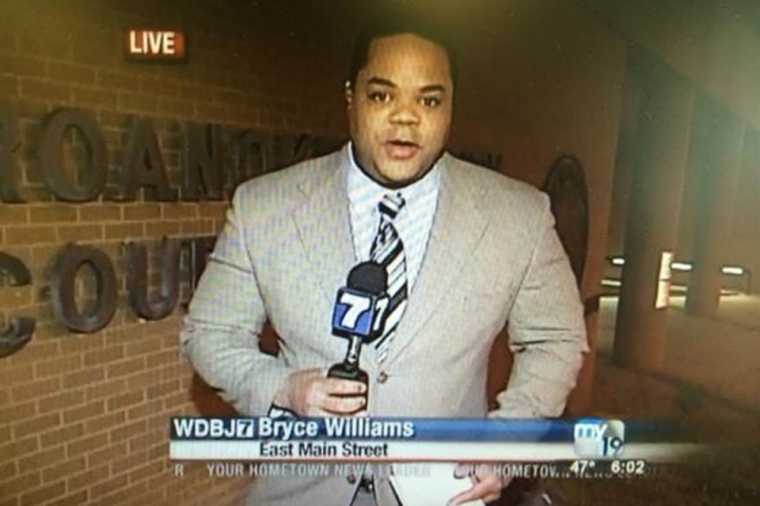 Just hours after two journalists were shot dead during a live broadcast from a strip mall in Moneta, Virginia, near Roanoke Wednesday morning, authorities revealed that the suspected shooter is a disgruntled former employee of WDBJ7-TV who also took to social media to explain his motive.
Police said they were looking for the former employee, reporter Vester L. Flanagan, who also went by the name Bryce Williams on air. CNN reported Wednesday morning that Flanagan shot himself as he was being pursued by police but he was not dead.
Virginia Gov. Terry McAuliffe had told WTOP radio earlier Wednesday that police were pursuing Flanagan who is suspected of killing WDBJ7's cameraman Adam Ward, 27, and reporter Alison Parker, 24, during the live broadcast at about 6:45 a.m.
Vicki Gardner, head of the Smith Mountain Lake Chamber of Commerce, who was being interviewed by Parker at the time of the attack, was also shot in the back and was in surgery Wednesday morning.
Shortly after 11 a.m. Wednesday under his on-air name, Bryce Williams Flanagan appears to explain his motive for attacking his former colleagues in a series of tweets. He also posted video of the horrific shooting on both his Twitter and Facebook accounts which The Christian Post watched him live tweet.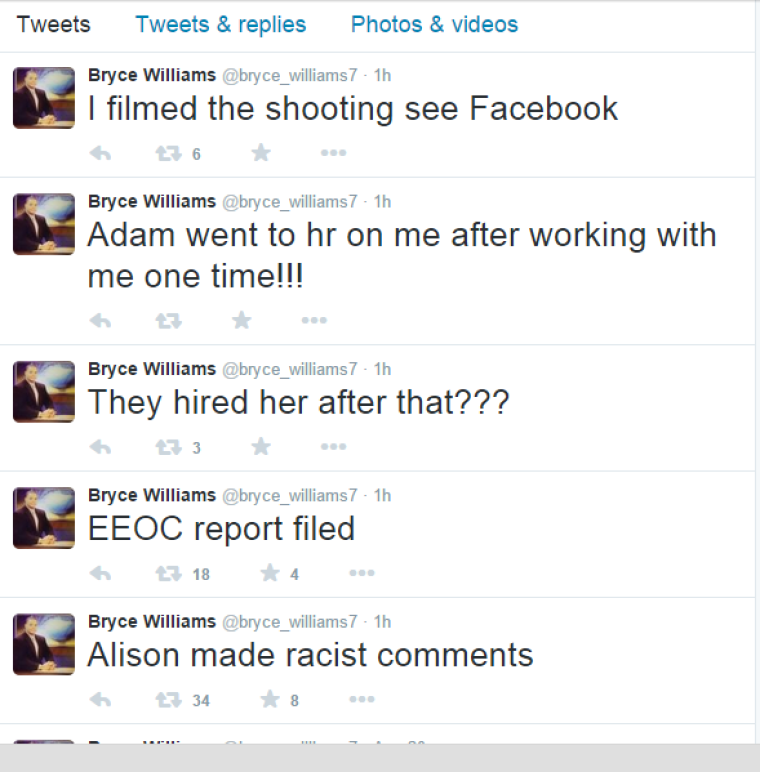 "Alison made racist comments. EEOC report filed. They hired her after that???" noted Flanagan.
"Adam went to hr on me after working with me one time!!!" he continued before adding, "I filmed the shooting see Facebook."
On Facebook, his account was suspended within minutes of the announcement, Flanagan posted a 54-second video showing him walking up to his oblivious victims and opening fire.
He explains a bit of his employment history on Facebook including his stint of less than a year at WDBJ7.
"My employment info is on LinkedIn but in addition to working as an anchor and reporter at WNCT, I also worked at WDBJ7 in Roanoke, VA from 3/29/12-2/1/13," Flanagan wrote under his on-air name Bryce Williams.
Video from the live broadcast at the time of the shooting shows Parker interviewing Gardner when just off camera, shots ring out and Parker can be heard screaming.
"This kind of loss will resonate in these halls for a long, long time as we remember in their short lives what dedicated journalism they produced and what outstanding journalists they were," Station manager Jeffrey Marks noted in a WFAA report.
Shortly after the shooting Marks reacted to what those at the station saw.
"We heard screaming, and then we heard nothing, and the camera fell," Marks said. "We are choosing not to run the video of that right now because, frankly, we don't need to see it again, and our staff doesn't need to see it again."
He added: "How can this individual have robbed these families, the families of Alison and Adam, of their lives and their happiness and their love, for whatever reason?"
[WARNING: GRAPHIC VIDEO]