DJ Khaled Proposes to Nicki Minaj: Rapper Reacts to Restraining Order Reports, 'Y'all Know Better'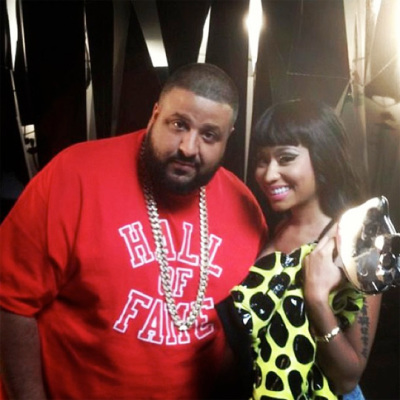 DJ Khaled recently responded to reports claiming Nicki Minaj filed a restraining order against him after he publicly proposed to her.
The Hip Hop producer, whose real name is Khaled bin Abdul Khaled, proposed to Minaj, 30, on Thursday via MTV with a 10-carat, radiant-cut sparkler worth approximately $500,000. The following day various blogs claimed the "Starships" singer filed a restraining order against Khaled, 37, in response to the proposal however he appeared to dispel these rumors via Twitter.
"Y'all know better than that they don't put restraining orders on bosses," DJ Khaled tweeted Sunday. "I'm the DON U witnessing greatness I'm the best that ever did it! JUS KNOW! #sufferingfromsuccess."
Fans are still speculating whether or not Khaled's bizarre marriage proposal is legitimate particularly because Minaj has been romantically linked to her hype man, Safaree Lloyd Samuels, in the past.
"Nicki Minaj, I'm at MTV. I love you. I like you. I want you. I want you to be mine. I'm here at MTV because it's a worldwide network. Only reason I'm not telling you this face to face is because I understand that you're busy," Khaled said in the now viral video.
"Nicki Minaj, will you marry me?" Khaled asked while flashing the alleged engagement ring. "I feel like you need a man like me in your life."
Minaj, who is yet to formally address Khaled's proposal, has done little to dispel engagement rumors. Just days after the MTV video surfaced online the pop star was photographed at Crustacean restaurant in Beverly Hill, wearing a diamond ring on her wedding finger., according to the New York Post.
On Monday she remained coy whilst announcing the launch of her new fragrance "Minajesty" which is set for release during the fall of 2013.
"#Minajesty smells like a passionate love affair. Mysterious and sexy. An unforgettable and hypnotizing scent," Minaj tweeted to her 16 million followers.