Do Kids Need Both a Mom and a Dad? Mark Regnerus Discusses His Controversial Study at ERLC Summit
NASHVILLE—University of Texas sociology professor Mark Regnerus addressed criticisms of his recent study that compared the outcomes of children raised by same-sex couples against those who are raised by their biological and heterosexual parents during a panel discussion at the Ethics & Religious Liberty leadership summit in Nashville, Monday night.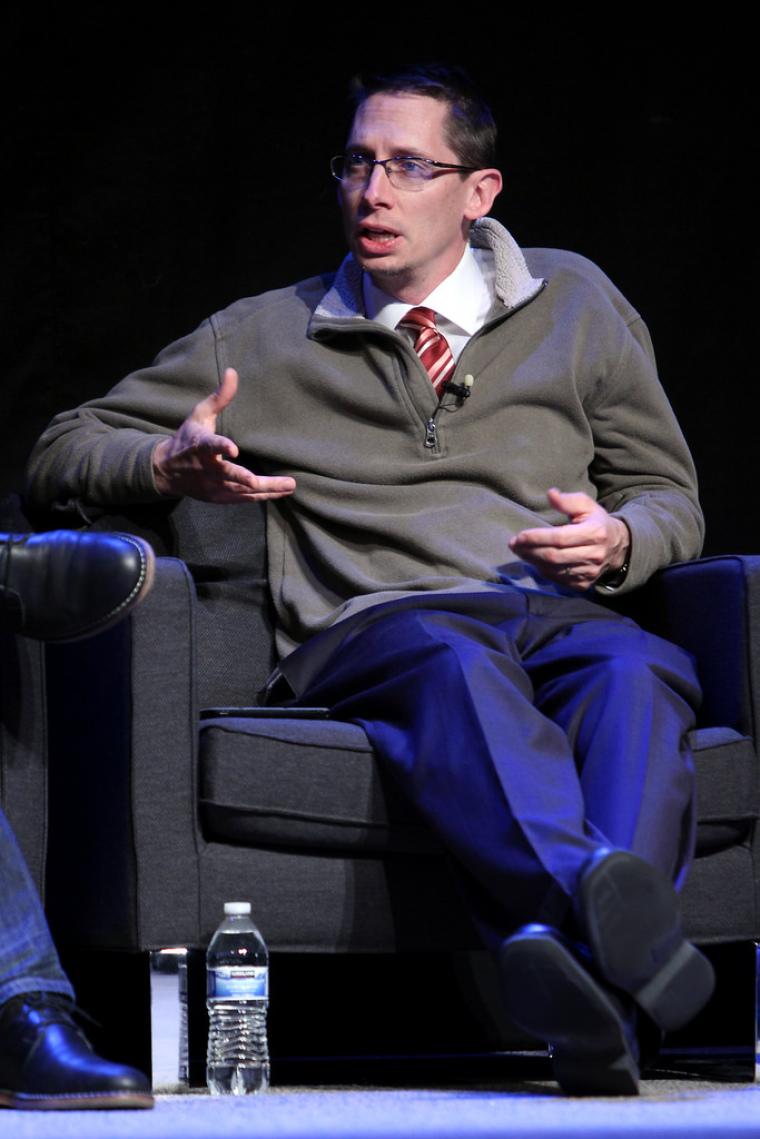 Regnerus' social science study found that children function best as adolescents and young adults when they are raised by their biological mother and father or are adopted by a mother and father who remain married.
During the panel discussion he commented that among the majority of same-sex headed families that he had studied, few had relationships characterized by "stability and longevity," and consequently his findings that children raised by heterosexual couples fared better than those in same-sex households could not been seen as a "slam-dunk."
"There was not that much stability in that era. Is there that stability today? That is an empirical question and I don't think we know the answer to that," Regnerus said.
"You find people will listen to what their itching ears want to hear. I can't afford that luxury," he added.
Regnerus addressed his research in a question from ERLC Director of Policy Studies Andrew Walker, who moderated the hour-long dialogue, which included Southern Baptist pastors Greg Belser, Jimmy Scroggins and J.D. Greear.
In his 2012 "The New Family Structure Study," Regnerus, a Catholic, looked at the emotional, social and economic outcomes of roughly 3,000 young adults ages 18 to 39, the vast majority of whom were raised in households headed by heterosexual couples. Only 248 of them were raised in families of same-sex couples.
While his study suggested that those families raised by married heterosexual couples fared "significantly" better than those raised by gay couples, some LGBT activists have complained that the sociologist's work overlooked the fact that the vast majority of children of gay couples had not been raised in the household arrangement since birth.
Because Regnerus predominately studied children who came from divorced homes, which then had turned into gay households after one parent left the other for a same-sex relationship, critics argued that it is unfair to come to any conclusions about what types of parenting situation created better outcomes, especially given the strong evidence suggesting that divorce negatively correlated with a child's life.
Regnerus characterized the reaction to his study as "polarized." Following its release, 200 sociologist and family studies academics criticized his study in an open letter and the left-leaning sociology department at UT distanced itself from its findings.
As expected with all academic works, Regnerus acknowledges the weaknesses in his study, but also points out his study's strengths. Unlike most sociological studies of gay parenting, Regnerus used a random sample, which is considered more reliable. Since gay parenting is a new phenomenon, Regnerus points out, obtaining a large, random sample is difficult. He considers his 2012 study a first step, rather than a final answer, to a question that will require decades of research.
During the panel session, Regnerus concluded that the strongest conclusion of his study was a strong endorsement of households headed by a mother and father.
"One of the things we learned is that living in a stable mother-father household is fabulous. There's no guarantee of this success in life, but I'm going to bet on those odds," said Regnerus.
In March, Regnerus testified as an expert witness in hearings determining the constitutionality of Michigan's same-sex marriage ban.
Judge Bernard Friedman, (who was nominated to the court by President Ronald Reagan), criticized Regnerus' testimony as "entirely unbelievable and not worthy of serious consideration."
Friedman also suggested that his study had been biased by the Witherspoon Institute, and accused Regnerus of being influenced by the goals of the study's funder, the conservative-leaning Witherspoon Institute, which gave $700,000 to it.
Regnerus told LifeSiteNews that he did not "understand why the judge elected to pass on a discussion of some of the very real concerns our research raised," adding that he believes the judge had privileged "certain scholars as well as research that leaned on self-selected samples."
Regnerus gave a keynote at the leadership summit Tuesday morning discussing changes in American marriage and sexual practices.