Do wives have to submit to their husbands as 'weaker vessels' in marriage? Pastor answers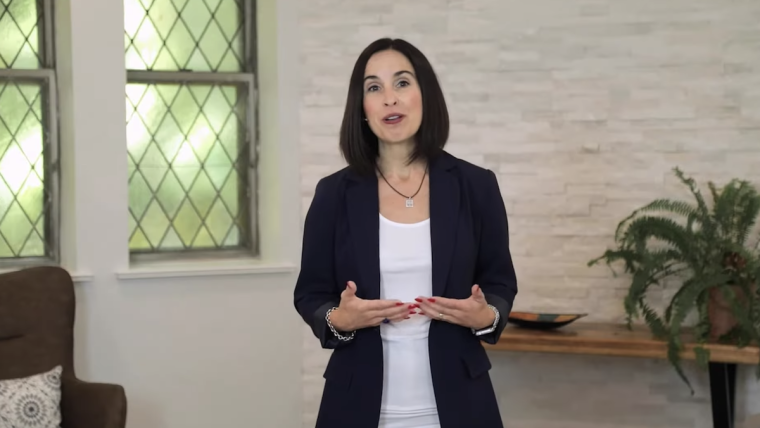 On the Sunday before Valentine's Day, a Washington, D.C., pastor told her congregation that God commands His married followers to have Ephesians 5:24 marriages, with male and female partners being "mutually submissive" rather than men dominating over women. 
Pastor Amy Graham of The District Church, a congregation of over 50 small groups that meet weekly to study the Bible, warned in a Feb. 12 sermon to watch out for false ideas that Christians and non-Christians in society tend to let guide them in their marriages. 

Before Christians can begin understanding what the Bible means about submission in marriage, Graham said that they must first recognize that secular society tends to perpetuate false ideas about marriage. 
She said the world tends to emphasize that people need to "prioritize self-care" and that if their needs are not being met, they can "just look elsewhere." It also stresses that "you better make sure you are not sacrificing more than your spouse." 
"But with God, the purpose of marriage is not actually about you, your happiness or you getting your needs met first," she said. "The purpose of marriage is all about your being shaped, formed and redeemed to be more like Jesus so that others will know God's love."
Graham said it is important that Christians understand the context of Ephesians 5:24, in which the Apostle Paul was speaking to the residents of Ephesus.
"Paul frames marriage with the same vision that we see throughout Scripture, reflecting Christ's love for the Church. He begins his teaching from a very countercultural perspective of the mutual submission of husbands and wives," Graham preached to the Columbia Heights-based congregation. 
"Mutual submission is necessary because of the disease of sin that has infected our human relationships. Submit to one another out of reverence for Christ. Spirit-filled submission, which I would argue is a foundational biblical truth that is a corrective lens for us today." 
Graham noted that since societal views on marriage are often skewed, Christians need to be aware that marriage is like "a war" where both partners are on a battlefield. She said their primary goal should be to be transformed by Christ during the process. 
"Marriage in our culture is about me getting my needs met. Relationships are more transactional than they are unifying partnerships. We live in a what's-in-it-for-me culture. Concepts, such as self-denial, or putting others before ourselves, seem absolutely crazy," Graham said.  
"In society today, and perhaps even in the broader Church today, very few people view marriage as the 'giving up of my own rights for the sake of the other person.'" 
Graham warned Christians in the Church often make mistakes by doing the opposite of what secular society tends to do.
Graham said that Christian women, in many scenarios, will operate under the idea that they should be powerless in the face of their husbands because 1 Peter 3:7 states that women are the "weaker vessel."
She said that women are called the "weaker vessel" due to their physical makeup, not their gender. 
"Some women might hear this and think that it's coming from a place of pride or that this gives men permission to have a 'trophy wife' of sorts. But that couldn't be farther from the truth," Graham said. "The man's goal is to present his wife in all of her splendor because this is what Jesus does with the Church."
Both verses in 1 Peter and Ephesians are just as relevant today as they were when Paul and Peter wrote them, Graham said.
"Paul's vision for marriage in this passage is an extreme command of mutuality: both persons giving of themselves to one another because they have common values, a common purpose and a deeper revelation of the story of God," Graham stressed, adding that she and her husband have been happily married for nearly 20 years.  
"A healthy Christian marriage is built on a sense of mutual abandon to one another. If one person holds back or refrains from this vision, then it doesn't work. If we continue to walk through this passage, Paul keeps on going with a very corrective narrative both for them and for now. He pulls back power and control, and he replaces it with servanthood and love."
Graham said husbands should submit to their wives in love, and wives should do the same. Although submission looks different depending on the gender, it should be mutual, she said. 
"The way that a man submits to a woman in marriage is by sacrificing his ego, his selfishness and his agenda to love his wife, which can be difficult as many men are very driven. A husband who can humble himself to see his wife raised up, fully supporting her and encouraging her in her calling, that is what sanctifying love is all about," Graham said. 
"And women are not called to submit to any and all men. Not at all. This is about mutual submission and marriage. … God knows women to be capable. … [Submission] doesn't mean that this wife and mother is stuck at home having babies, not qualified to work and not intelligent or educated," she continued. 
"With this in mind, the Apostle Paul gives words of instruction to wives in Spirit-filled submission within a covenant marriage. First, let your husbands love you well. That's what submission is, letting go and letting your husband love you."