Dog the Bounty Hunter turns to God after learning of wife's incurable cancer diagnosis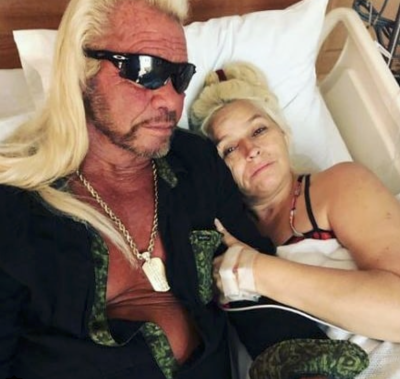 Reality TV star Duane Chapman, who's best known as Dog the Bounty Hunter, says he's turned to God in fervent prayer after his wife, Beth, was diagnosed with an incurable form of cancer.
Chapman said he's trying to "keep everything positive" despite finding out that there's a lump in his wife's throat that was twice the size of a mass doctors discovered in 2017.
"I pray a lot, anywhere. I cry all the time," Chapman said in an interview with In Touch Weekly. 
"I'm a sinner. I pray a lot. I have done double that," he said. "I constantly ask God to heal my honey and make sure He takes care of it."
The bounty hunter and former bail bondsman has made a name for himself on reality TV by being stern and crass, but also a mentor to people who are running from the law but want to turn their lives around. 
"I've been telling him that I'm going to try and quit smoking and cursing. I'm a deal maker, and I'll do anything," he said.
Beth is reportedly receiving treatment in Los Angeles, California. Doctors have recommended four to eight chemo sessions but Beth wants to try alternate therapy options.
Despite the prognosis, Beth is still cooking and helping advise her husband with work. Chapman revealed that she's remaining strong through it all.
"Beth will not take anything the doctors want to give her. Even the doctor told me he doesn't want her to have seizures if the pain is that bad, but she won't do it," the 65-year-old added.
The cancer was diagnosed as incurable after it spread to her lungs.
Chapman said his wife has been preparing her own funeral, but he doesn't want to face it. 
"I think I'm in a bad dream and I need to wake up. People keep saying to me, 'Dog, are you OK?'" he told In Touch. 
Chapman has asked fans to "pray" for Beth as they do "what they feel is right" given the circumstances. The couple have opted to return home while she battles the disease.
"Despite doctor's orders, Duane 'Dog the Bounty Hunter' Chapman and his wife, Beth Chapman, have returned to their home in Colorado following her emergency surgery that revealed her throat cancer has returned," a statement on Dog's official website reads.