Dolly Parton Embraces 'Book Lady' Title; Aims to Distribute 1 Million Free Books a Month to Children
Country music legend Dolly Parton is best known for her entertainment career that spans more than 50 years, but the role she's most proud of is that of the "book lady," a title bestowed on her by the hundreds of thousands of children who receive free books delivered to their homes, courtesy of Parton's Imagination Library.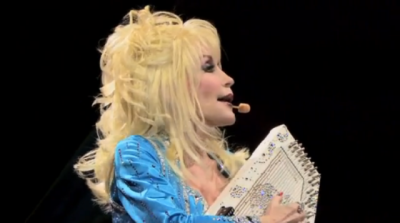 Launched in 1996, Parton's Imagination Library has distributed nearly 50 million free books to children throughout the United States, Canada, England and Australia. The Dollywood Foundation in Pigeon Forge, Tenn., is the organization that oversees the book distribution program that has a budget of $20 million and delivers 700,000 books a month.
"Everywhere I go the kids call me the book lady," Parton said during an interview with John Merrow, PBS's NewsHour education correspondent. "The older I get, the more appreciative I seem to be of the book lady title. It makes me feel more like a legitimate person, not just a singer or an entertainer. But it makes me feel like I've done something good with my life and with my success."
Parton explained to Merrow that her literacy program was born out of being the daughter, one of 12 children, of a brilliant father who also happened to be illiterate. "There were no books in our house growing up. And my dad couldn't read nor write. It was a very crippling thing for him."
Originally created exclusively for children who live in Sevier County, Tenn., where every newborn receives a free book, and every child receives 12 free books a year from birth until age 5, for a total of 60 books. The program now serves more than 1,600 communities in the U.S. and participating countries.
"We send the books to them with their names on them, and they look forward to going to the mailbox," said Parton, as she described how children use the age-appropriate books to practice their reading skills, and to encourage their parents and caregivers to read to them.
Jeff Conyers, the executive director of the Dollywood Foundation, told The Christian Post on Thursday that a lot of people are surprised to discover that close-to 50 million books have already been distributed to children. "Fifty million is a large impact for children that we're very proud of. We'll mail over eight million books in 2013 alone. Even more exciting is that the program continues to grow and expand quickly. We have a few states where the program is moving toward statewide availability."
Conyers, who's in his second year at the foundation, previously worked for three years as the president of the governor's Books from Birth Foundation in Tennessee, which utilizes state funds to help ensure that every child in the state can participate in the Imagination Library program.
"We've had countless families share with us how beautifully simple yet significant this program has been for their children and families as a whole, and that keeps us all flying high," he said, noting the multitude of benefits experienced by children who are exposed to books in their homes early in life.
Conyers credits the program's success to Parton's leadership and vision that's put into action under David Dotson, president of the foundation, who's been working on the Imagination Library for more than 15 years. "One milestone on our horizon that we're looking forward to reaching is mailing one million books a month, and we hope to achieve that goal in the next few years."
Watch Country Music Legend Dolly Parton's New Role: "Book Lady" on PBS. See more from PBS NewsHour.