Dolly Parton: Vows To Be Renewed on 50th Wedding Anniversary
Dolly Parton is reestablishing the marital bond with her husband Carl Dean on their upcoming 50th wedding anniversary.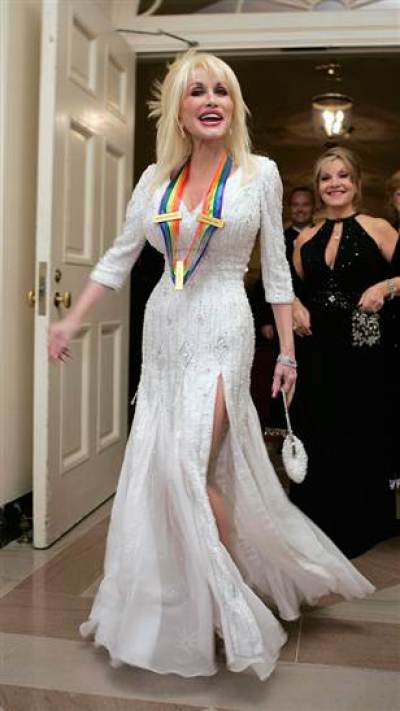 The country music legend got married at age 20 in 1966, but she and Dean are seldom seen in public and almost never discuss their marriage.
Nevertheless, Parton revealed that she and her husband are considering renewing their vows come the year 2016.
"We've talked about that- we might do it all over again," she told Closer Weekly.
"Another big wedding," Parton continued, noting that this time, the ceremony would take place at their beloved home.
"At our big old plantation home [in Tennessee]," she said. "We love it there."
Parton also owns a theme park, Dollywood, in the Smoky Mountains in Tennessee.
The 67-year-old went on to explain the dynamics of her marriage and why the longtime married couple is never photographed together.
"He's happy staying home and I'm happy traveling," she told Closer Weekly of her husband. "Once many, many years ago, he went with me to Hawaii, and he enjoyed that, but he never wanted to go anywhere else. We're both pretty much old mountain goats."
Meanwhile, Parton made headlines in October after a "fender bender" that left her with minor injuries.
Fortunately, the "Jolene" singer updated fans via Twitter reporting that she was doing well.
"I was in a fender bender this morning here in Nashville, but I am all good," Parton posted on Oct. 20th. "Just a little tired and sore. Resting at home now!"
Also, Parton recently appeared on "The Queen Latifah Show" where she talked about her famous goddaughter, Miley Cyrus.
"Hey Miley, I've got your wrecking balls right here," she joked of Cyrus hit song "Wrecking Ball" during a rap spoof.
The legendary singer also mentioned "twerking," the dance move that Cyrus made famous during her MTV VMA's performance.
As one of the most successful female country music artists of all time, Parton has composed over 3,000 songs, including "I Will Always Love You" which was famously covered by the late Whitney Houston.
Parton is also well known for hit songs such as "Coat of Many Colors" and "My Tennessee Mountain Home," among many others.
Dolly Parton - He´s alive (Full song)